Samantha Chase | 5 Vacation Retreat Spots

June 8, 2016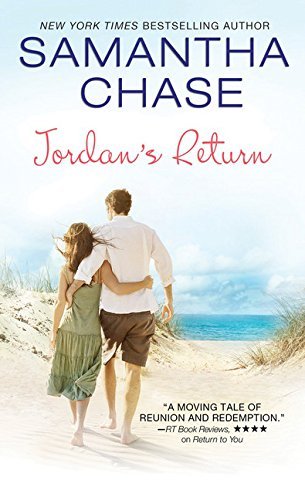 Jordan's Return
Samantha Chase
AVAILABLE
First Time in Print

June 2016
On Sale: June 1, 2016
Featuring: Jordan Manning; Rob Tyler
288 pages
ISBN: 1492618098
EAN: 9781492618096
Kindle: B00O4CPOLU
Paperback / e-Book
Add to Wish List

Also by Samantha Chase:
One More Moment, September 2018
Until There Was Us, May 2018
In the Eye of the Storm / Catering to the CEO, April 2018
One More Promise, February 2018

In JORDANíS RETURN, sheís taking her kids on a month-long vacation to help her get her focus on what she where she wants their lives to go from here. So in honor of that, Iím looking at the top five vacation ideas for when you need a retreat.
The beach. It may be a clichť, but there is just something soothing and healing about sitting on the sand and listening to the waves crash on the shore. In Jordanís Return, she chooses Virginia Beach. When youíre needing to go someplace to relax and think, itís important to choose a place that doesnít have a lot of distractions. Coastal rather than tropical would be the key here. And if you can get a bungalow on the beach or only a block or two in? Even better!
The mountains. There is also something to be said for looking out at the mountains and the greenery that surrounds it. I live in North Carolina and I donít make that four hour drive west often enough! But when I do? There is nothing better. I love just sitting outside and breathing the fresh air and being out of the city. Itís so quiet and peaceful and renting a house or cabin that isnít right on top of another house or cabin is a perfect retreat.
A lake house. And it doesnít have to be of the time-traveling variety! We did this only once and I was pleasantly surprised. I think itís just having the ability to step outside and see the water that makes it so tranquil and relaxing and has you just wanting to almost be one with nature. It doesnít need to be a cabin or a mansion, just someplace where you have that view.
A spa. And you know what? It doesnít even MATTER where it is - beach, mountains? Who cares? As long as you are away from all of your worries and getting pampered, all will be right with the world.
The open road. Yup. Sometimes the most peaceful place for you to get your head in the right place is on a long drive. Iíve always loved to drive and if I could simply avoid ever driving on I-95 up and down the east coast Iíd love it even more! But a beautiful scenic drive could be the ultimate way to really get away from it all. There are so many routes to choose from that you can pretty much pick what kind of scenery you want and go for it. From the historical routes through New England to driving the California Coast and the Blue Ridge Highway here in North Carolina, there really is something for everyone.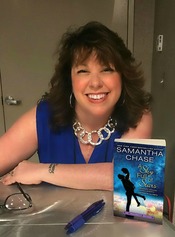 New York Times and USA Today Bestseller/contemporary romance writer Samantha Chase released her debut novel, Jordan's Return, in November 2011. Although she waited until she was in her 40's to publish for the first time, writing has been a lifelong passion. Her motivation to take that step was her students: teaching creative writing to elementary age students all the way up through high school and encouraging those students to follow their writing dreams gave Samantha the confidence to take that step as well.
When she's not working on a new story, she spends her time reading contemporary romances, playing way too many games of Scrabble or Solitaire on Facebook and spending time with her husband of 25 years and their two sons in North Carolina.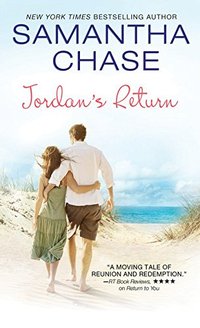 First Time in Print
For the first time in print, New York Times and USA Today bestseller Samantha Chase's debut novel is a heartwarming story of second chances
WILL ONE SUMMER TOGETHER
All Jordan Manning wants is a quiet summer on the Virginia coast with her sons to recover from a near-fatal accident and an abusive relationship. Her plans to find a new direction for her future are turned upside down when she runs into the first man who ever broke her heart...and he's determined to win it back.
BE ENOUGH TO HEAL OLD WOUNDS?
Rob Tyler thought he'd moved on, but when fate drops a second chance with his first love right in his path, his feelings rush back stronger than ever. Rob is determined to give Jordan the future they should have had years ago, but making up for past mistakes isn't easy...
GIVEAWAY
Win a copy of JORDANíS RETURN from Samantha Chase, just tell us your favorite vacation spots!
Comments
31 comments posted.
Re: Samantha Chase | 5 Vacation Retreat Spots

the beach first-hoping it's relatively secluded, then the mountains, then the lake are my choices! Thanks for the interview!
(Kathleen Bylsma 2:17pm June 8, 2016)
I love the lake in a nice peaceful site. It's so calming!
(Bonnie Capuano 7:30pm June 8, 2016)
Cruising to some beautiful islands.
(Colleen Conklin 8:37pm June 8, 2016)
Well if you like mountains and lake houses with wildlife
and open air -- I'd suggest the Poconos.
(Kimberly Miller 9:25pm June 9, 2016)
36 km north from where I live there is a resort village
called Cochin. My mom and her 8 siblings grew up there
and my 90+ year old Grandpa still lives there - without
no running water and no indoor toilet. It is the only
place in our Province which has a Lighthouse. Cochin has
an awesome beach for swimming or relaxing, rolling hills,
and surrounded by two lakes to get your boating and
fishing on ;)
(Holly Loch 3:57am June 10, 2016)
Anywhere warm, tropical and relaxing!
(Lily Shah 11:17am June 10, 2016)
Any place near a body of water. the water seems calming to me.
(Melinda Marks 9:18pm June 10, 2016)
the drive
(Dawna Preston 10:15pm June 10, 2016)
I like your list of favorite vacation places! I have great memories of beach vacations, so that would be my number 1 choice toO!
(Joanne Schultz 4:32pm June 11, 2016)
Sticking with my choices of secluded beach, mountains and lake house. Wish I could sit long enough for road trip!
(Kathleen Bylsma 1:34pm June 12, 2016)
To a city during Christmas Season so I can see all the decorations , lights and hear the Christmas music and shop and shop till I drop !!! I love Christmas and putting up all the decorations and lights . I wish we could keep lights up all year .
(Joan Thrasher 4:47pm June 12, 2016)
Disney World
(Kelly Powell 5:55pm June 12, 2016)
Anywhere I can sit in the sun and read a book.
(Valerie Miller 9:37pm June 12, 2016)
My most favorite vacation place is Estes Park, Colorado. Rocky Mountain National Park is so close and it is such a beautiful park! What a great place to enjoy the scenery and relax!
(Sandy Fielder 7:17pm June 13, 2016)
I love to go to Wallowa Lake State Park in Oregon
(Vicki Clevinger 8:42pm June 13, 2016)
State and National Parks in the Mountains. :-)
(Glenda Martillotti 10:24pm June 13, 2016)
My fav vacation spot is our family cottage. But a close runner up is the
beaches of Long Island. Sun sand and a chance to sit and read!
(Laura Scott 10:47pm June 13, 2016)
A beach house on your own private property
(Jackie Stieghorst 12:38pm June 14, 2016)
going to jasper and camping at miette
(Darci Paice 12:54pm June 14, 2016)
I grew up in Kansas and we had a cabin at Cedar Bluff Lake
which was very nice. When, my folks retired they moved to
Rogers, Arkansas and had a lakeview home on Beaver Lake in
the Ozarks and that was beautiful and peaceful sitting on
the deck looking at the lake. Please enter me in your great
contest and I love the book cover too. Thanks, Cecilia
(Cecilia Dunbar Hernandez 1:27am June 14, 2016)
the beach
(Missy Ellis 2:44am June 14, 2016)
I love a summer vacation at a lake with the mountains in the background in Montana.
(Donna Graham 7:54am June 14, 2016)
Any place that I go with my wife is my favorite spot!
(Richard Proctor 12:27pm June 14, 2016)
My husband, Rich, & I went to Spring Lake, NJ, for our
honeymoon, so that's my favorite vacation spot!
(Maria Proctor 12:31pm June 14, 2016)
I live in the deep south, so I find the mountains a favorite spot for a vacation. By the way, I love stories about second chances.
(Anna Speed 12:32pm June 14, 2016)
Caribbean
(Natasha Persaud 2:36pm June 14, 2016)
a sunny beach
(Jeri Dickinson 2:54pm June 14, 2016)
I don't really have a favorite vacation spot, since almost all of mine while working meant going to see family, and since I have retired, I rather like to stay home since I traveled so much for work!
(Carol Gowett 2:59pm June 14, 2016)
My first love is Bryce Canyon but if I can't afford to go across country then the lake is perfect for me..it is so relaxing!
(Bonnie Capuano 6:17pm June 14, 2016)
The beach and mountains are both wonderful! Anywhere to rest and
recharge with an amazing view would be great!
(Jenny Solis 7:55pm June 14, 2016)
I enjoy the beaches on Isle of Palms, SC.
(Diane Sallans 8:17pm June 14, 2016)
Registered users may leave comments.
Log in or register now!