If we rewind about five or six years ago, I discovered Paranormal Romance for the very first time. The genre was about to reach its peak with the presence of vampires and werewolves on the big and small screen. Since then, however, there have been plenty more books written and released. Some follow the same tried and true trends of Paranormal Romance but others, like the ones I will recommend this week, are books that bend and break the rules when it comes to what readers typically find in their books.
I've noticed that authors are creating more complex worlds, deriving inspiration from ancient mythology and putting their own twists on it like Gena Showalter has with her Lords of the Underworld series. Now we see more and more authors who are combining species like Sandra Hill has with her vangels or other authors who are skip over typical species and create their own special abilities like Alexandra Ivy.
With the abundance of books already out there covering what feels like everything already, do you think Paranormal Romance writers need to work harder to come up with something original? My answer is a complex combination of yes and no.
When it comes to the Paranormal Romance genre, the worldbuilding almost becomes its own character. If you don't have a unique world in your books, readers can tend to get bored. So I do think having a world that hasn't been done before is important. But that is not to say that a book or series cannot be enjoyable if you stick to typical tropes. A series is just as likely to take off as long as you have relatable characters. As lovely as it is to have your hero be a demon, readers must still be able to connect with this supernatural creature. If not, there is a gap that readers cannot cross.
My question for you this week is if you are a long-time love of PNR, what are your thoughts on the evolution of Paranormal Romance? Do you expect writers to come up with something completely new and different? If you are new to PNR, what are some things that draw you to the genre?
THE DARKEST TORMENT by Gena Showalter
I love to consider Showalter was one of the premier authors of PNR. Her Lords of the Underworld continues to impress and enchant readers with its passionate love stories and hilarious dialogue. This one is not to be missed.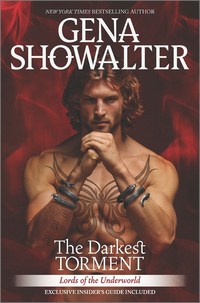 New York Times bestselling author Gena Showalter returns with her most explosive Lords of the Underworld tale to date, about a fierce warrior on the brink of sanity who will stop at nothing to claim the exquisite human with the power to soothe the beast inside him…
Driven to his death by the demon of Distrust, Baden spent centuries in purgatory. Now he's back, but at what cost? Bound to the king of the underworld, an even darker force, he's unable to withstand the touch of another…and he's quickly devolving into a heartless assassin with an uncontrollable temper. Things only get worse when a mission goes awry and he finds himself saddled with a bride—just not his own.
Famed dog trainer Katarina Joelle is forced to marry a monster to protect her loved ones. When she's taken hostage by the ruthless, beautiful Baden immediately after the ceremony, she's plunged into a war between two evils—with a protector more dangerous than the monsters he hunts. They are meant to be enemies, but neither can resist the passion burning between them…and all too soon the biggest threat is to her heart.
But as Baden slips deeper into the abyss, she'll have to teach him to love…or lose him forever.
BLOOD LUST by Alexandra Ivy
The Sentinels series is PNR with a little bit of a twist. In this particular book we have a clairvoyant heroine. The rest of the characters have various hidden abilities as well.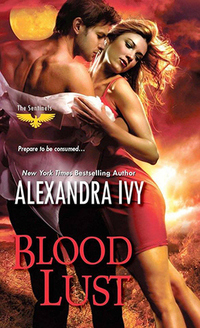 Blessed and cursed by their hidden abilities, the Sentinels have no choice but to live, and love, on the edge of humanity…

The Sentinel assassin, Bas, is facing the greatest challenge of his outcast existence. His young daughter, Molly, has been kidnapped. But her disappearance has brought the return of her mother, Myst, whom Bas has never forgotten--or forgiven.

Haunted by a vision that she's destined to create a weapon that will destroy thousands, Myst was never impulsive--until she met the irresistibly handsome Bas. But with the Brotherhood, the enemy of the high-bloods hunting for her, Myst had to stay on the run, to keep her child, and the world, safe. Now, with the most important thing in both their lives at stake, she and Bas must embark on a treacherous journey to save Molly, to confront the truth of Myst's fate--and to face their fierce desire for one another.
THE ANGEL WORE FANGS by Sandra Hill
Perhaps you love PNR so much that you can't decide between vampires and angels. How about trying a vangel - a Viking vampire angel?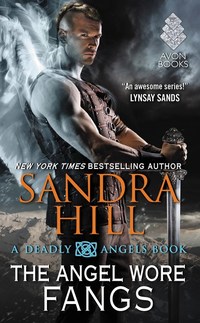 New York Times bestselling author Sandra Hill continues her sexy Deadly Angels series, as a Viking vangel's otherworldly mission pairs him with a beautiful chef who whets his thousand-year-old appetite . . .
Once guilty of the deadly sin of gluttony, thousand-year-old Viking vampire angel Cnut Sigurdsson is now a lean, mean, vampire-devil fighting machine. His new side-job? No biggie: just ridding the world of a threat called ISIS while keeping the evil Lucipires (demon vampires) at bay. So when chef Andrea Stewart hires him to rescue her sister from a cult recruiting terrorists at a Montana dude ranch, vangel turns cowboy. Yeehaw!
The too-tempting mortal insists on accompanying him, surprising Cnut with her bravery at every turn. But with terrorists stalking the ranch in demonoid form, Cnut teletransports Andrea and himself out of danger—accidentally into the tenth-century Norselands. Suddenly, they have to find their way back to the future to save her family and the world . . . and to satisfy their insatiable attraction.
6 comments posted.
I've read paranormal for years and those I read all have elements of romance....e.g. Faith Hunter's books, Darynda Jones Charlie books, Suzanne Johnson's Sentinels of New Orleans etc. I find them all enjoyable...
(Kathleen Bylsma 7:32pm May 20, 2016)
Nice choice of books. I've only read Alexandra Ivy books from this list ... love her stuff. I tend to like action (same with my movies I don't watch chick flicks) to go along with my romance. Mostly, though I do have other author favorites not writing in the genre, I prefer paranormal because contemporary can be too real. I want to escape. To get away from the real world and what better than with a vampire, wolf or dragon.
(Annetta Sweetko 9:18pm May 20, 2016)