In this week's edition of Gail Ingis blog we will meet K.M. Weiland, a talented author, and more . . . and she loves make-believe, chocolate and espresso.
K.M. Weiland lives in Make-believe worlds, talks to imaginary friends, and survives primarily on chocolate truffles and espresso. She is the IPPY and NIEA Award-winning and internationally published author of the . . . read more . . .
What do you think? Can we show her our CTRWA hospitality?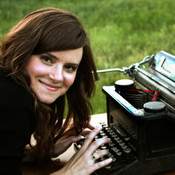 K.M. Weiland lives in make-believe worlds, talks to imaginary friends, and survives primarily on chocolate truffles and espresso. She is the IPPY and NIEA Award-winning and internationally published author of the Amazon bestsellers Outlining Your Novel and Structuring Your Novel, as well as the western A Man Called Outlaw, the medieval epic Behold the Dawn, and the portal fantasy Dreamlander. She makes her home in western Nebraska.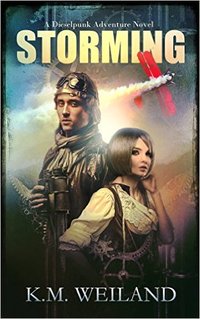 A Dieselpunk Adventure Novel
In the high-flying, heady world of 1920s aviation, brash pilot Robert "Hitch" Hitchcock's life does a barrel roll when a young woman in an old-fashioned ball gown falls from the clouds smack in front of his biplane. As fearless as she is peculiar, Jael immediately proves she's game for just about anything, including wing-walking in his struggling airshow. In return for her help, she demands a ride back home . . . to the sky.
Hitch thinks she's nuts—until he steers his plane into the midst of a bizarre storm and nearly crashes into a strange airship like none he's ever run afoul of, an airship with the power to control the weather. Caught between a corrupt sheriff and dangerous new enemies from above, Hitch must take his last chance to gain forgiveness from his estranged family, deliver Jael safely home before she flies off with his freewheeling heart, and save his Nebraska hometown from storm-wielding sky pirates.
Cocky, funny, and full of heart, Storming is a jaunty historical adventure / dieselpunk mash-up that combines rip-roaring steampunk adventure and small-town charm with the thrill of futuristic possibilities.
Buy on:
Amazon.com
|
Kindle
|
BN.com
|
Kobo
|
iTunes/iBooks
|
Google Play
Gail Ingis writes historical romance, loves history and romance of course, has taught history, and her weekly blog frequently covers historical content. A native of Brooklyn, New York, Ingis's early days began and ended with writing, drawing and music. Her inspiration to write came from books gifted to her by an aunt. But life had other ideas.
After graduating from the New York School of Interior Design with a BFA in Interior Architecture and Design and masters' studies in Architecture and Design Criticism at The New School (Parsons). Her career in interior design and architecture led her to the other arts. Ingis founded the Interior Design Institute, a school of interior design, that she eventually sold, but during her tenure, she was twice asked by publishers to write a textbook, her efforts were thwarted by a heavy schedule.
Ingis resides in Connecticut with her scientist-writer husband. She and her husband travel and enjoy tennis. Currently, she sits on the Lockwood-Mathews Mansion Museum Board of Trustees and serves as Curator of Art for exhibitions at the museum.
She is a member of the CTRWA—Connecticut Chapter of Romance Writer's of America.
Website
|
Gail's Artist Facebook
|
Twitter
|
Facebook
|
Blog

In a whirlwind romance, a lovely New York socialite marries a fêted, debonair author. But beneath the charm is a cheating husband addicted to hasheesh. Her dream marriage turns sour and the simplicity of her life runs amok when a handsome stranger, her husband's business partner, threatens her staunch loyalty to her wayward husband.
When she faces the ugly truth about her marriage, her need to finalize her divorce sends her on mad chase across the wilds of nineteenth century America with a handsome stranger where she learns the hard lessons of murder, kidnapping, and more, that almost destroy her.
No comments posted.