Terry Spear | Family—The Best Holiday Gift Ever!

October 8, 2015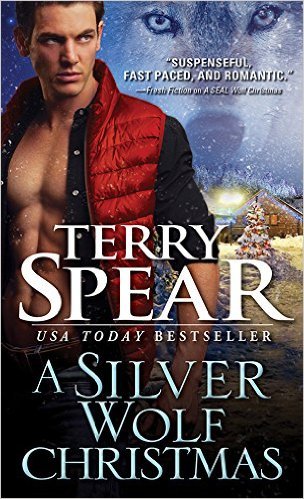 A Silver Wolf Christmas
Terry Spear
AVAILABLE
Heart of the Wolf #17 / Silver Town Wolf #5

October 2015
On Sale: October 6, 2015
Featuring: CJ Silver; Laurel MacTire
352 pages
ISBN: 1492609501
EAN: 9781492609506
Kindle: B00XWMC63W
Paperback / e-Book
Add to Wish List

Also by Terry Spear:
All's Fair in Love and Wolf, May 2018
Flight of the White Wolf, March 2018
Heart of the Wolf, January 2018
Dreaming of a White Wolf Christmas, October 2017

I write about wolf shifters, and one thing they have in common with me is they love family, just like real wolves. I was always close to my parents, and I raised my son and daughter on my own, so I'm really close to them too.
I don't have a big family. All I have left is my son and daughter and son-in-law. Never had any cousins. Parents and my aunt are gone. And so that's it. Just my son and daughter and son-in-law.
They're all young adults now, and for some years, they have been gone, living in other areas of Texas or the country, though my daughter and son-in-law visit every Christmas, then bounce to his parents' house in the same area. But my son is with the Air Force, and for the past several years, he's had missions in Afghanistan during Christmas and he lives several states away.
So truly, the best holiday gift ever was for both of my children and my daughter's husband, who is just as much a son to me, to be home with me for Christmas last year. I'm thrilled that they will all be here again this year to make the holidays extra special. I was in Scotland researching for new books, and my son happened to be stationed temporarily in England and wanted to come up and join us on a trip, but he couldn't manage until after we left. If we are close by, even in another country, we want to make time to see each other if we can.
Several years ago, the kids and my son-in-law were all here for Christmas, and my son said, "Mom, are you sure the turkey's cooking? I don't smell anything."
Sure enough, the turkey was sitting in a cold oven. The oven had decided to stop working.
Not to be thwarted, I thought we could cook it in the roaster oven. My son cut up the turkey and we cooked half of it in the roaster oven, and then worked on the other half after that with the lovely aroma of roasting turkey filling the air. We laughed and played games, and watched Christmas movies, and talked and opened gifts.
The crazy oven fiasco just made Christmas all the more memorable.
I don't remember all the gifts, except for the Japanese lions my son gave me after his tour in Japan, but all that really mattered was the lovely time we all had together. I can't wait for the gathering of the pack again!
In my stories, no matter if they're wolf shifters, jaguar shifters, or other kinds of stories, family is so important.
Whether it's Christmas or any other time of year, being there for each other means everything.
GIVEAWAY
If you ended up with the Silver wolf pack in Silver Town, Colorado, what would you give your favorite wolf for Christmas? Leave a comment below and be entered for a chance to win a copy of A SILVER WOLF CHRISTMAS.
USA Today bestselling author Terry Spear has written over two dozen paranormal romance novels and medieval Highland historical romances. In 2008 HEART OF THE WOLF was named a Publishers Weekly Best Book of the Year. A retired officer of the U.S. Army Reserves, Terry also creates award-winning teddy bears that have found homes all over the world. She lives in Crawford, Texas.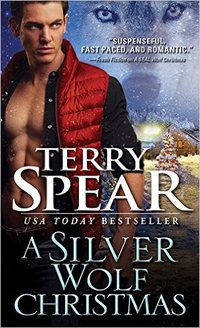 IT'S A SILVER TOWN CHRISTMAS, AND THE WOLVES ARE READY TO HOWL
CJ Silver and his brothers have returned to Silver Town eager to reconnect with the pack. And with the she-wolf newcomers renovating the old Victorian Silver Town Hotel, it looks like the holidays are going to be very merry indeed.
Laurel MacTire and her sisters are excited to be living in a wolf-run town, but they have another motive- to solve the fifty-year-old mystery of their aunt's disappearance. When CJ gets a whiff of trouble brewing, his protective instincts kick in-now Laurel has a hotel opening to prepare for, a mystery to solve, and a brawny wolf shifter underfoot. Perhaps she should have resisted the temptation to kiss him so wickedly in the snow.
Comments
23 comments posted.
Re: Terry Spear | Family—The Best Holiday Gift Ever!

Whatever he desires
(Marissa Yip-Young 5:43am October 8, 2015)
Anything he wants!
(Cheryl Haut 7:25am October 8, 2015)
An outing extraordinaire.
(Sharon Berger 12:20pm October 8, 2015)
WOW anything and everything he wants!!!!
(Bonnie Capuano 12:23pm October 8, 2015)
Whatever he wishes, to the 100th Power! LOL
(Felicia Ciaudelli 12:56pm October 8, 2015)
A very special Christmas! ;)
(Colleen Conklin 1:07pm October 8, 2015)
I'd give him a special day together.
(Janie McGaugh 3:28pm October 8, 2015)
that sounds like my first turkey I made and the last one I ever tried to cook. what would I give he I guess what wouldn't I give him. anything he wants and more.
(Jennifer Beck 12:54pm October 9, 2015)
Can't wait to read
(Kari Behune 5:06pm October 9, 2015)
I would give him the most wonderfulest day in his life. The
best of the best!
(Renae Kelly 6:32pm October 9, 2015)
Like most of the others, I'd give him the most and all I could give . I'd love to read this book of yours , it sounds like it will be a very good one .
(Joan Thrasher 10:51pm October 9, 2015)
I would give him something personal that means something only
to us.
(Debra Guyette 3:58pm October 10, 2015)
I winter coat or sweater
(Emily Stemp 5:46pm October 10, 2015)
I'd give him a cozy sweater to wear when he's not lupine.
(Diane Sallans 10:23pm October 10, 2015)
Time to just be together.
(Diana Thomas 11:00pm October 10, 2015)
I would crochet him something warm and also spend more time
with him
(Peggy Clayton 12:25pm October 11, 2015)
I am thinking a new wardrobe, he has to tear up a few
things when he shifts!!!
(LaCinda Jameson 1:53am October 11, 2015)
I gift card to a clothing store
(Emily Stemp 1:16pm October 11, 2015)
Gift certificate to his favorite butcher
(Eva Millien 2:01pm October 11, 2015)
Anything he wants. I hope I win I just love Christmas stories!
(Denise Austin 2:52pm October 11, 2015)
a good steak
(Lynn Anderson 6:22pm October 11, 2015)
that would be hard to say. I love to give gifts that I know my friends and family will love but never expect.
(Larena Hubble 7:35pm October 11, 2015)
Accompany to an outing that he always love doing but I have never gone with him to.
(Kai Wong 8:30pm October 11, 2015)
Registered users may leave comments.
Log in or register now!