And now for the third surprise – My new website it coming! www.jadeleeauthor.com is getting a much needed make-over. Not sure when it's going live, but if you click on the link, you can sign up to be notified when I'm live. There will be prizes!
A USA Today Bestseller, Jade Lee has been scripting love stories since she first picked up a set of paper dolls. Ball gowns and rakish lords caught her attention early (thank you Georgette Heyer), and her fascination with the Regency began. And as a Taurus, she lives to pit a headstrong woman against a tortured hero just to watch them butt heads on the way to true love. Flesh wounds are rare, but the healing and laughter are real.
Now an author of more than 30 romance novels, she finally gets to set these couples in the best girl- heaven of all: a Bridal Salon! This way she gets to live out all her wedding fantasies, one by one. (Let's be honest, what girl has only one idea for her dream wedding?)
And don't forget Jade's other name, Kathy Lyons. That's Jade's lighter, contemporary side. She writes for Harlequin Blaze merging hawt sex and funny relationships into really great reads.
Website | Facebook | Twitter | Goodreads | Blog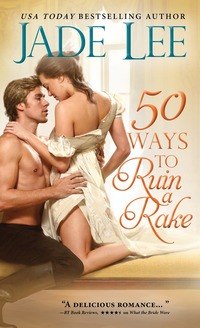 Mellie has a plan
Mellie Smithson is trapped in the country with no suitors and no prospects on the horizon except, perhaps, the exasperating—although admittedly handsome—guest of her father. She's looking for any excuse to go to London to meet more eligible men.
Trevor has a problem Trevor Anaedsley's grandfather has cut off his funds until such time as he gets engaged. Trevor escapes to the country—ostensibly to visit his old tutor Mr. Smithson but actually to duck his creditors—where he meets Smithson's lovely daughter Mellie. The obvious solution is suddenly before him—but the lady has ideas of her own, and Trevor's going to have to measure up...
Comments
2 comments posted.
Re: Jade Lee | In Just 2 minutes, I Can Make You a Horse!

Incredible substance material and extraordinary design. Your site merits the majority of the positive criticism it's been gett http://mugnumcrete.com/
(Jack Statham 2:16pm August 28)
In the event that more individuals that compose articles truly fretted about composing awesome substance like you, more perusers would be occupied with their compositions. Much thanks to you for thinking about your substance. Calgary Movers
(Jack Statham 4:31am September 1)
Registered users may leave comments.
Log in or register now!