Hello and welcome to the blog tour for my newest Brides of Blueberry Cove books, SNOWFLAKE BAY. Thanks so much to Fresh Fiction for putting up with—er, having me here as a guest blogger today. :)
In SNOWFLAKE BAY, the heroine, Fiona McCrae, grew up with the hero, Ben Campbell, who is her older brother's best friend. Her crush on him goes unnoticed, as he only has eyes for her older sister, Hannah—who, naturally, doesn't give him the time of day. Fiona's unrequited school girl crush is hard enough to take, but in addition to thinking of her as his buddy's brat kid sister, Ben also gives her a nickname that stick in her mind over the years, and not in a good way. While the behavior is typical of a boy of braid-pulling-to-get-her-attention age and meant to be teasing, that doesn't make it any easier Fiona to handle. Especially when, unbeknownst to Ben, her young, tender heart is on the line.
When the two are reunited as adults, both returning to Blueberry Cove for family reasons, Fiona finally gets the chance to set the record straight on her opinion of that nickname. (I love it when the underdogs have their Moment, and I loved giving Fiona hers with Ben.) Even better, Ben gets his chance to try to make amends. Where the story goes from there is the really fun part!
I had my share of nicknames at that age, some more unkind than others, and while I dreamed of having my moment, back then I never had the nerve to take a stand. It was great fun getting to have one vicariously through Fiona. (It's one the many fun parts of writing books for a living!) Have you ever been given a pet name or nickname that makes you want to stand up and deliver your This is My Moment speech? Did you stand up and deliver? If so, what happened? If not…here's your chance!
USA Today bestselling author of the Bachelors of Blueberry Cove series, Donna Kauffman has been gratified to see her books get rave reviews in venues ranging from Kirkus Reviews and Library Journal to Entertainment Weekly and Cosmopolitan.
She lives in the beautiful Blue Ridge Mountains in western Virginia, where she is presently applying her crafty DIY skills to decorating her new mountainside abode. Well, when she isn't busy trying to keep the bears from hanging out in her flower and vegetable garden all day and night!
With her new Brides of Blueberry Cove series, Donna's been having a blast applying those same restoration and design skills to doing some fictional wedding planning. Of course, if that means haunting all those lovely antique shops and flea markets that are so plentiful in her new neck of the woods, well, it's a sacrifice she's willing to make. When she's not finding ways to take her love of all things rustic and vintage and give them a fabulous seaside, coastal Maine wedding party twist, she loves to hear from readers! You can contact her through her website at www.donnakauffman.com.
Website | Facebook | Twitter | Pinterest | Instagram | YouTube | Goodreads | Blog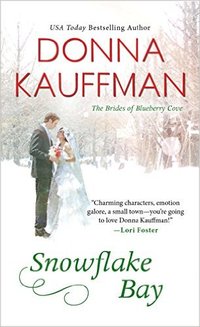 There's no place like seaside Blueberry Cove, Maine, at Christmas—and there's nothing like a wedding, the warmth of the holidays, and an old crush, to create the perfect new start…
Interior designer Fiona McCrae has left fast-paced Manhattan to move back home to peaceful Blueberry Cove. But she's barely arrived before she's hooked into planning her big sister Hannah's Christmas wedding—in less than seven weeks. The last thing she needs is for her first love, Ben Campbell, to return to neighboring Snowflake Bay…
As kids, Fiona was the bratty little sister Ben mercilessly teased—while pining after Hannah. But Fi never once thought of Ben like a brother. And that hasn't changed. Except Fi is all grown up. Will Ben notice her now? More importantly, with her life in a jumble, should he? Or might the romance of the occasion, the spirit of the season, and the gifts of time ignite a long-held flame for many Christmases to come…
Something old might just become something new…
Includes a DIY wedding project!
No comments posted.