I have to admit that I love best friends. You know, the hero and heroine who have known each other since they were in diapers. Yes, usually the heroine tagged along after the hero, usually along with her brother. She might be a bit of an ill- fit among her local society. He might never notice. He just knows that she's always there. She always knows he'll be her defender and confident.
And then, they grow up. And suddenly being friends isn't enough. What was once comfortable as old shoes is now confusing and frustrating. They both know dynamics have changed, but they didn't expect it (I have no idea why. I mean, they're in a romance novel). What was once easily understood is now uncertain. And, of course, hormones intrude in the worst way.
I'm kind of surprised that I haven't written more books like this. I love the idea that the hero and heroine already have a shorthand when the book begins.
It starts the story farther forward than usual. It livens dialog with remembered cracks and jibes, and diminishes the space between our couple. Or, it suddenly increases it along with the tension. Things become much livelier.
My couple in ISN'T IT ROMANTIC? grew up in the tiny town of Rupert Springs, Arkansas. Brooke Ferguson and Pete Cooper, or Coop, as Brooke calls him, informally shared Coop's aunt Mamie, who raised him and welcomed the socially uncomfortable Brooke, a redhead who grew too soon and too tall. Coop, an orphan of alcoholics knew he never belonged in that town and left as soon as he could. Brooke, not realizing how much better she was than the people she lived among, stayed.
They come back together to bury Coop's Aunt Mamie and carry out her wishes for a memorial, wishes her surviving sisters had refused. So it was that Brooke and Coop set out in Mamie's vintage robin's egg blue 1959 T-Bird coupe to recite limericks at sunrise, ride with Hell's Angels, dress up as their favorite characters in Gone with the Wind, strut down Bourbon Street with a Jazz funeral—and fall in love.
Of course we knew that was going to happen. The fun is in how they do it, especially since they have to accomplish the feat while running from tornadoes, escaping muggers and and survive Bourbon Street in New Orleans.
ISN'T IT ROMANTIC? is a reprint. The first time Brooke and Coop made this pilgrimage was back in 1992 when I was writing as Kathleen Korbel for Silhouette. I have to say it's really been fun to become acquainted once again. I hope you'll enjoy making their acquaintances too.
New York Times bestselling, RWA Hall of Fame author Eileen Dreyer has published 31 romance novels in most genres, 8 medical-forensic suspenses, and 10 short stories.
2015 sees Eileen enjoying critical acclaim for her foray into historical romance, the Drake's Rakes series, which Eileen labels as Regency Romantic Adventure that follows a group of Regency aristocrats who are willing to sacrifice everything to keep their country safe. She is also working on her first nonfiction book, TRAVELS WITH DAVE, about a journey she's been taking with a friend's ashes.
A retired trauma nurse, Eileen lives in her native St. Louis with her husband, children, and large and noisy Irish family, of which she is the reluctant matriarch. She has animals but refuses to subject them to the limelight.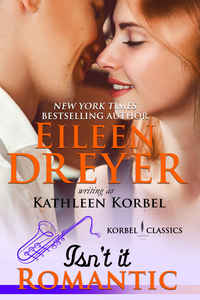 Pete Cooper and Brooke Ferguson were once childhood friends who spent evenings watching TV with Pete's Aunt Mamie.
Now Pete is a famous cable news anchor who earned his stripes in war zones, and Brooke watches Pete on the same old TV in the same small town.
Then Aunt Mamie passes away, and everything changes.
When Pete and Brooke set out on a road trip to fulfill Mamie's last wishes, they discover more than tornadoes, Hell's Angels, New Orleans Jazz Funerals, and one unique antebellum mansion. They find they might just be falling in love.
1 comment posted.
Hi there, I discovered your site via Google while looking for a comparable topic, your website came up, it seems great. I¡¯ve bookmarked it in my Google bookmarks. Safety vest
(Stella Qi 4:07am September 24, 2015)