In THE ROGUE YOU KNOW, a thief from London's criminal underworld meets a Society princess on a quest. Think Disney's Tangled meets Pride and Prejudice. Gideon is a pickpocket who runs with Seven Dials's Covent Garden Cubs gang. He's concocted one last heist with a big payoff. It's his ticket out of the slums. Only he doesn't anticipate getting caught up with Lady Susanna, an earl's daughter, who steals a valuable necklace from Gideon and won't give it back until he takes her to Vauxhall Pleasure Gardens.
Susanna envisions Vauxhall as a place where all the rules for behavior are relaxed and she can be free. Vauxhall also holds a secret her mother has been keeping, a secret Susanna—who has always lived under her mother's crushing thumb—longs to know.
All of us live with rules and strictures, but Susanna's rules for being a lady are all but suffocating her.
Susanna did not need to be told how to behave. She had been raised to be a perfectly proper young lady. She was the daughter of an earl. She knew what was expected of her.
One: She must marry well.
Two: She must at all times exhibit good ton.
Three: She must be accomplished, beautiful, fashionable, and witty.
That third expectation was daunting indeed. Susanna had spent two decades playing the perfect earl's daughter. She'd had little choice. If she rebelled, even minutely, her mother quickly put her back in her place.
With Gideon, Susanna finds a freedom she never knew before. If she could write her own rules for a (not so) proper lady, these three would be at the top.
1. Get dirty.
Even as a child, Susanna never played outside like her older brothers. She had to stay inside and keep her clothes neat and clean. With Gideon, Susanna discovers the joy of running in the rain, lying in the grass, and snuggling with a friendly dog. The trade-off for dirt and dog hair is more love than she ever knew existed. Every lady should get some dirt under her fingernails if it means experiencing life.
2. Follow your dreams.
When Susanna and Gideon run into a ragtag group of thieves who want to turn Gideon in for the price on his head, Susanna convinces them to let Gideon stay with her a little longer so she can realize her dream of going to Vauxhall. But her dream is so much bigger than just a visit to the pleasure gardens. She wants to find out who her mother really is, and by extension, who she is. She wants to live one night free of all the rules for ladies. Susanna wants to kiss a rogue under the stars, drink champagne while fireworks explode above, and dance in bare feet. Every not-so-proper lady should realize her wildest dreams.
3. Have fun.
Proper ladies do not have fun. They might at times smile stiffly if something is slightly diverting, but they don't laugh out loud or throw back their heads and twirl with abandon. Susanna's rules for not-so-proper ladies would dictate that every lady should take risks and laugh until her sides ache. Susanna and Gideon are chased by ruffians numerous times in The Rogue You Know, and while the notion of being caught is terrifying, it's also strangely exhilarating for Susanna. Whether it's running for her life or facing down someone called Dagger Dan, Susanna would instruct all not-so-proper ladies to enjoy every exciting moment.
What would your rule(s) for (not so) proper ladies be?
Shana Galen is the bestselling author of fast-paced adventurous Regency historicals, including the RT Reviewers' Choice The Making of a Gentleman. Booklist says, "Galen expertly entwines espionage-flavored intrigue with sizzling passion," and RT Bookreviews calls her "a grand mistress of the action/adventure subgenre." She taught English at the middle and high school level off and on for eleven years. Most of those years were spent working in Houston's inner city. Now she writes full time. She's happily married and has a daughter who is most definitely a romance heroine in the making.
Shana loves to hear from readers, you can reach on her Website or see what she's up to daily on Facebook and Twitter.
Website | Twitter | Facebook | Goodreads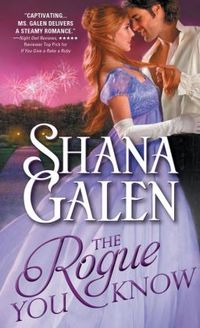 She's beyond his reach...
Gideon Harrow has spent his life in London's dark underworld-and he wants out. A thief and a con, he plans one last heist to finally win his freedom. But when everything goes wrong, he finds himself at the tender mercies of one of Society's most untouchable women-Lady Susanna Derring.
...and out of her depth.
Susanna has spent her life in London's glittering ton, under the thumb of a domineering mother-and she wants out. When a wickedly charming rogue lands at her feet, she jumps at the chance to experience life before it's too late. But as she descends into London's underworld, she finds that nothing- not even Gideon-is as it seems. As excitement turns to danger, Susanna must decide what price she's willing to pay...for the love of a reformed thief.
2 comments posted.
Peggy, it sounds like all the strictness made you want to rebel. But you also don't want to go too far. Your choices seem completely reasonable. Thanks!
(Shana Galen 10:47am September 2, 2015)