Sharon Hamilton | Under the Radar

May 20, 2015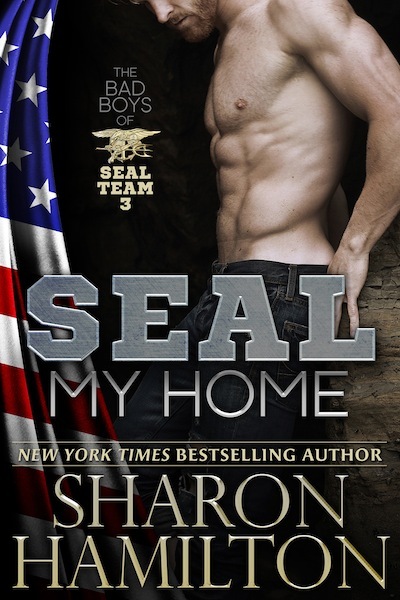 AVAILABLE
Bad Boys of SEAL Team 3 #2

April 2015
On Sale: March 31, 2015
ISBN: 1508858616
EAN: 9781508858614
Kindle: B00TSXRDW8
Paperback / e-Book
Add to Wish List

Also by Sharon Hamilton:
SEALed At The Altar, May 2018
New Years SEAL Dream, February 2018
Bachelor SEAL, December 2017
Big Band of Bachelors Bundle, December 2017

Much has been written about Navy SEALs, especially since 9-11, when terrorism on U.S. soil became prominent. In my newest book, SEAL MY HOME, I explored this home-grown terrorist connection and created a story using returning exchange students and long-time businessmen who were familiar with many aspects of American life, and could operate "under the radar." These individuals had been compromised and "converted" by more radical elements.
I had to think long and hard whether or not I wanted to write such stories, and decided they were indeed worthy of being told. Romance mirrors plots and events that occur in real life, though the stories are pure fiction.
Many people don't realize that John Adams and Thomas Jefferson created the United States Navy in 1794, which had been disarmed after the Revolutionary War, partially to defend merchant ships that were being boarded and seized by Sultans and warlords who had asked the young United States to pay ransom for shipping protection. Jefferson and Franklin refused. "You have not paid the tax, therefore you are the enemy," was said to a surprised Benjamin Franklin, sent to negotiate a peaceful agreement in Paris to avoid further bloodshed and acts of terrorism.
Some things never change.
Giveaway
So, I have a question for you. If you were in charge of the country, what would an elite paramilitary group of former Navy SEALs look like, operating in the United States, helping to defend our homes here, rather than overseas? What would you order them to do to protect us and keep us safe? Be creative!
We will pick one answer from your comments. The winner will get a signed print book from my SEAL Brotherhood Series (Books 1-9), and a pink camo tee shirt. This contest is open to International.
Bad boy Rory Kennedy was raised in foster care, bouncing in and out of trouble along the way. He finds his true family and real brothers as a Navy SEAL, one of the Navy's elite warriors. When his BUD/S instructor barked the SEAL's Motto: Only Easy Day Was Yesterday, he knew he had found home.
Megan Palmer works in a bookstore and finds her passion in life through reading steamy romance novels. Her brief affair with a man she later found out was married has left her damaged, until she meets the handsome SEAL, who stands ready to open her world and give her things she's only dreamed.
On a skiing trip, Rory suffers a possible career-ending injury and also comes face to face with a past he never knew of, and a family who had abandoned him. His relationship with Megan is tested to the breaking point as Rory wades through the dark waters of recovery and whether or not he can live without the life he loves. A home-grown terrorist cell forces his hand and he discovers his true purpose.
About Sharon Hamilton
Sharon's NYT and USA Today bestselling novels are almost-erotic Navy SEAL stories of the SEAL Brotherhood. Her characters follow a spicy road to redemption through passion and true love. She has maintained an Amazon top 100 author status in Romantic Suspense for since the end of 2012.
Sharon lives in Sonoma County, California, with her husband and two Dobermans. A lifelong organic gardener, when she's not writing, she's getting verra verra dirty in the mud, or wandering Farmer's Markets looking for new Heirloom varieties of vegetables and flowers. Connect with Sharon on her website.
Comments
14 comments posted.
Re: Sharon Hamilton | Under the Radar

WOW that's some question. There is just so many bad things going on here at home that I think I'd rather have them here protecting us. I'm just so thankful we have them no matter whee they go! God Bless them all!!!
(Bonnie Capuano 8:33am May 20, 2015)
I think that I would put them on the borders, interspersed
with Border Patrol, to not only give them a hand, but to go
over the Southern border, especially, to locate the trouble
spots, and get rid of them. I would also have them located
in troubled areas to be sure that no harm arises. Their job
isn't fun, and not only do I think about them every day, and
say a prayer for them to stay safe, but I worry about them
when they have to go after undesirables on foreign shores.
Our Country's safety should really come first!!
(Peggy Roberson 10:55am May 20, 2015)
Happy Wednesday friends
(Emily Stemp 11:37am May 20, 2015)
To work in areas for border patrol and other trouble spots. It
might not hurt to have a couple in the secret service for the
protection of the president.
(Nancy Luebke 7:59pm May 20, 2015)
An interesting question you have posed. I would have them
work as handymen. That way they can keep their physic,
skills, and still blend in. They can gain access to homes
and buildings without causing issues or fanfare. OR have
them dress as FIREMEN. WOO HOO.. everyone loves FIREMEN
(Tina Ullrich 12:29pm May 21, 2015)
Happy Thursday friends
(Emily Stemp 2:18pm May 21, 2015)
If they weren't aligned with the corrupt government, I
would have them protect us against the government. Did
you know that the 'tent' camp they established for
victims of Hurricane Sandy in New Jersey had a tall
fence around it with the rows of barbed wire at the
top curving inward, rather than out, and armed guards
at the gate? To keep the 'inmates' in rather than keep
out those who did not belong. And there was a curfew
and you could not get out of that place without
authorization once you were in. And this is weeks and
more after the storm. Doesn't the ordinary citizen
deserve protection from the government? A wounded war
veteran was denied a permit to purchase and own a
hunting firearm simply because he was wounded. The VA
divulged his medical records to whomever approves
these permits. And if one's bank account is below a
certain amount, one can be denied a permit also. So
the rich can have weapons and the criminals don't
bother with permits, but the ordinary law-abiding
citizen who has never been arrested for anything can
be denied a permit simply because he doesn't have a
lot of money. Sorry for the rant, but I am incensed at
how our elected officials, who are supposed to be
public servants, take advantage of their position to
line their pockets at our expense. A certain governor
in a Mid-Atlantic to Northeastern state spent more
than $87000 of the taxpayers money buying snacks at
MetLife Stadium over the course of three years. Nearly
$30k per year. It boggles the mind to think of the
mound of hot dogs that must be. Not to speak of the
$90k he spent on groceries at Wegman's, ShopRite, etc.
And this came out of his state accound, not his
salary. It is sad when we need protection from those
who are supposed to protect us.
(Irene Menge 12:20pm May 22, 2015)
The SEALS are a well trained, proud group, and deserve all the praise they receive. A group of former SEALS would be a big help to our government in locating and arresting misguided men and women who do not realize what a wonderful county we live in and are finding ways to terrorize American citizens.
(Anna Speed 12:36pm May 23, 2015)
I would make it a coed both men and women cause the enemy
would not expect that i think i would like some of them
clean shaven but some looking rough they all have to work
well together i would want them to be comfortable in
themselves and what they wear no body shaming. I want
them well trained but sensitive to the point of not
scaring children and i want them aware of everything
going on around them
(Misty Clarkson 10:08pm May 23, 2015)
And I would give them free rain to do whatever it too to
protect us
(Misty Clarkson 10:10pm May 23, 2015)
I think they should be investigating compounds that have little access and are mysterious about what they do there. There is a place near us that actually is in the middle of nowhere but has a great big temple in Gold built on the property and a lot of other barracks' type buildings and tents on the property. They do not advertise as a church and the gates are closed with a guard, makes you wonder what they are doing. If there were trained seals that could check on places like that I would feel a whole lot safer.
(Sandy Scheer 10:28pm May 23, 2015)
Not only would I have them helping with border control but I
would also have them in different locations throughout the
country to assist with natural and national emergencies when
needed. I would also have them in DC to watch over the
government and the president. Not necessarily to protect them
but to protect our own. I would also give women the
opportunity to become Seals as long as they can pass all the
exact same training the men go through. No need for special
treatment. Also with the Seals working within the government
they could help bring this country out of debt. With all the
illegals and refugees here they could help instill equal
rights for everyone. That means anyone that wants to live in
this country should have to pay taxes. No special privileges
for anyone. This is the land of the free not the land of the
free ride.
(Robin Henley 1:21am May 24, 2015)
First, the teams would need to have specializations in all
aspects of warfare. There needs to also be profilers and
psychological experts as well. They should focus on the
homefront, because whether we like it or not, the battle is
coming to us. They should work in secret--SEALs work the
best this way. Their identities should be protected. They
should have the latest technology and RELIABLE intel. They
should not rely on someone that is not where they are to
give them the order to go. Too many problems with bad
occurrences in war come from a general/admiral not being
where the action is and giving orders when they aren't
there. It should be purely volunteer and they should get
paid like they were professional athletes. It might could
also eventually include Rangers. There should be at least
six to eight bases located in several different locations in
the US. They should also not be thrown under the bus if
someone somewhere doesn't like the fact that they caught
their bad guy. We need to protect America first.
(Tracy Stoudnour 3:46pm May 24, 2015)
We need protection on all borders and the includes ever international
airport. We also need to recertifiy any veteran that would like and is
physically & emotionally able to protect at a any time. We should pair all
retired war dogs with a veteran. Use shelter dogs to train with veterans to
guard their own part of the country
(Karen Henderson 8:37pm May 25, 2015)
Registered users may leave comments.
Log in or register now!