Author Julia Justiss joins Fresh Fiction for another installment of the History ReFreshed column. Welcome, Julia!
In a nod to the recent releases of movies Unbroken and American Sniper, in this installment, we'll examine a selection of novels that explore life and love during World War II. In keeping with the world-wide scope of that conflict, one book is set in home front England, one in home front USA, one in Paris and one in Berlin.
WAR BRIDES by Helen Bryan
| | |
| --- | --- |
| WAR BRIDES | First up is WAR BRIDES by Helen Bryan. As the war makes its mark of the village of Crowmarsh Priors with air raids, rationing, evacuees to be billeted and the disappearance of local men into the army, five women of disparate backgrounds meet and forge a friendship and loyalty that will last for fifty years. Vividly evoking the world from which each came—the vicar's daughter, the American her fiancé broke their engagement to marry instead, the evacuee from the slums of East End, the Jewish girl fleeing the Nazis, and the headstrong debutant—and the progression of their friendship through the war years, the story shifts to a reunion fifty years after VE day—and the grim purpose that drew them back together. |
THE MAJOR'S DAUGHTER by J.P. Francis
| | |
| --- | --- |
| THE MAJOR'S DAUGHTER | Hopping across the ocean to American, we have THE MAJOR'S DAUGHTER by J.P. Francis. Inspired by a real World War II POW camp, the story takes place in the rural village of Stark, New Hampshire, whose placid existence is jolted by the arrival of 150 German prisoners of war in the spring of 1944. Camp Stark is commanded by the widowed Major John Brennan, whose devoted daughter Collie serves as translator. The beautiful Collie is soon drawn to Private August Wahrlich, a poet traumatized by war. As the two become involved, they are confronted by the conflict between duty, patriotism and forbidden love. |
LAST TRAIN TO ISTANBUL by Ayse Kulin
| | |
| --- | --- |
| LAST TRAIN TO ISTANBUL | Next up is a more exotic setting and characters who remind us that not just the Western World suffered in the conflict. In LAST TRAIN TO ISTANBUL: A NOVEL by Ayse Kulin (John W. Baker, translator,) Selva, the daughter of Turkey's Ottoman Pasha, could have married as highly as she chose. But her heart belongs to Rafael Alfandari, the handsome son of the Jewish court physician. Defying their families, they flee to Paris…only to encounter the terror of Nazi occupation during WWII. With their lives and love threatened, they turn to a group of brave Turkish diplomats who are smuggling endangered innocents out of Paris, setting out upon a dangerous and desperate trip across a war-torn continent. |
BERLIN CALLING by Kelly Durham
| | |
| --- | --- |
| BERLIN CALLING | Finally, in BERLIN CALLING by Kelly Durham, we explore life in the heart of the German war machine itself. English-hating Irish-American Maggie O'Dea meets dashing German soldier Kurt Engel while studying at Heidelberg. Bewitched, she follows Kurt to Berlin, where he helps her get a job as assistant to "Lord Lyon," an Englishman who broadcasts Nazi propaganda to his home country. American Erich Greinke, who fought with the Germans during the Spanish Civil War and was then recruited to report on developments in the German capital, sees in Maggie the chance to penetrate the inner circle of the Ministry of Propaganda. As war envelops Europe, Maggie comes to question the propaganda she's disseminating, creating a confrontation between conscience, love, loyalty—and with the watching Gestapo ever present—survival itself. |
For next time, you can put away your Betty Grable pumps and pull out your flapper dress—we'll be exploring America of the Roaring Twenties!
About Julia Justiss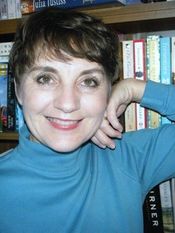 After twelve years as a vagabond Navy wife, an adventure that took her from Virginia Beach, VA, to Monterrey, CA, to Tunis, Tunisia to Oslo, Norway and back, Julia Justiss followed her husband to his family's East Texas homeland. On a hill above a pond with a view of pasture land, they built an English Georgian-style home. Sitting at her desk there, if she ignores the summer heat, she can almost imagine herself in Jane Austen's Regency England.
In between teaching high school French and making jaunts to visit her three children (a Seabee in Gulfport, MS, a clothing buyer in Houston and a mechanical engineer in Austin, TX) she pursues her first love—writing historical fiction.
No comments posted.