Diane Alberts | Breaking the Stereotypes

December 16, 2014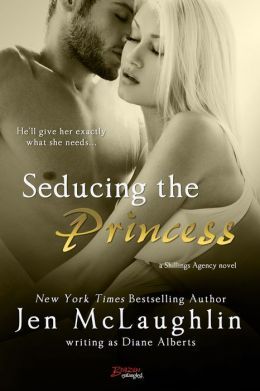 Seducing the Princess
Diane Alberts
AVAILABLE
Shillings Agency #3

December 2014
On Sale: December 15, 2014
Featuring: Isabelle VanGuard; Gordon Waybrook
ISBN: 1505529786
EAN: 9781633751620
Kindle: B00Q20YEEK
Hardcover / e-Book
Add to Wish List

Also by Diane Alberts:
An Accidental Date with a Billionaire, April 2019
An Accidental Date with a Billionaire, December 2018
Catching the Player, October 2017
Romancing the Bachelor, May 2017

Hello! I'm Diane Alberts, but I also write as Jen McLaughlin! I am here today because I just released a new book in my Shillings Agency series with Entangled Brazen! It's called SEDUCING THE PRINCESS, and it's the third book in the series! The first two are TEMPORARILY YOURS and STEALING HIS HEART.
In SEDUCING THE PRINCESS, I play with the royal trope…but instead of the usual prince sweeping a normal girl off her feet, I did the opposite. This time, it's the princess who woos a commoner…in this case, American bodyguard Gordon Waybrook.
One thing I like to do in the Shillings Agency books is break stereotypes. I don't do damsels in distress or weak women. I like to write women who can, and DO, stand on their own. If there's one thing you can count on with my Shillings Agency books, it's this:
The hero will talk dirty, the heroine will be independent, and there will be a battle of wills.
I was curious to know things that you like to see most in a book, or, on the other hand, things you DON'T like to see in books. Tell me below in the comments!
Also, make sure to enter below for a chance to win an eBook copy of either TEMPORARILY YOURS (book 1) or STEALING HIS HEART (book 2).
Comments
11 comments posted.
Re: Diane Alberts | Breaking the Stereotypes

It was a pleasure to learn about you and your books... thanks for sharing!
(Colleen Conklin 12:15pm December 16, 2014)
I like humor, and unlike you apparently, am not particularly fond of dirty talking heroes. Definitely have to have independent heroines though.
(Carol Gowett 5:37pm December 16, 2014)
I like happy endings. As for don't like, perhaps death of a good character.
(Susan Jang 11:37pm December 16, 2014)
This sounds so good! Can't wait to read! I looove a bad-boy
with a "secretly" good heart. Dirty talking sexy hero's are
fantastic :D
(Michelle Brown 3:10pm December 17, 2014)
Sounds interesting. Must give it a try.
(Kantu Malhotra 6:42pm December 17, 2014)
I like happy endings, humor, & strong heroines.
(Kv H 6:52pm December 17, 2014)
Merry Christmas & Seasons Greetings to one and all. I enjoy reading about women and men with backbones. I don't like reading books where you don't know who in the world the author is talking about and when they use "He" or "She" too much. Who is "He?" Is he the main character or the butler that you just talked about a few sentences ago?
(Holly Loch 3:57am December 18, 2014)
I like strong characters and happily ever afters. I also like
it when a book is part of a series and the reader gets to
catch up with couples from previous books and see how they are
doing.
(Jen Barnard 8:18am December 18, 2014)
I like strong heroes who are not afraid to say I love you or I'm sorry, a good love story with a happy ending.
(Linda Harrison 8:45am December 18, 2014)
Sounds like you have all the right ingredients for a fantastic
story!
(Denise Austin 11:03am December 18, 2014)
Merry Christmas Diane,I would love to win either of your two books! Thank
You,for the chance to win!
(Elizabeth Calligan 2:41pm December 18, 2014)
Registered users may leave comments.
Log in or register now!