It's hard to believe but ten years ago, the first Argeneau vampire made his appearance. If you've missed any, they are all available in e-book format so you don't have to wait!
Quote from Lynsay about her feelings on making it to 10 years, how the series has evolved, and where she sees it going...
Feelings on the 10th Anniversary...
Honestly I'm shocked that the Argeneau series started a decade ago. So much so in fact that I had to be TOLD that it was ten years ago that the first Argeneau story, SINGLE WHITE VAMPIRE, came out. The series does not feel like it's been around for a decade, but it makes sense when I look at the sheer size of the family tree. Terri has a heck of a time keeping up with it and it's so big it's impossible to print now. LOL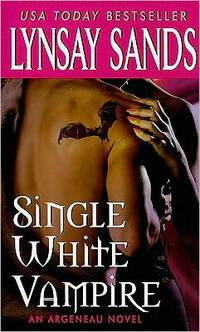 I guess my overriding feeling about this anniversary is gratitude.  I am thankful that my kids (Argeneau characters) are still being enjoyed 10 years later.  I love this family because bits and pieces of it are made up of parts of my own family so how could I not be happy that others are enjoying them as well?  ;-)
Thoughts on the Argeneaus evolution...
When I started writing this series I had no idea how big the Argeneau family would get and I couldn't tell you how big they'll become in the future. The characters introduce themselves into the stories as I write them so new additions are as much of a surprise to me as to my readers! I think that's the key to a long-lived series. I don't feature one particular character or couple in every book. Each book features a different couple with occasional cameos from previous characters, which is perfect because it doesn't limit me. New characters, new situations and new places allow the series to evolve naturally with each addition. And because I write for myself and I get bored easily, the story has to catch and keep my interest in order for me to write it from start to finish. I cannot write the same story twice.
Thoughts on the future of the Argeneaus...
I will be delving more into the Notte side of the family.  As you know Stephano Jacob Colson Notte's book, ONE LUCKY VAMPIRE, is coming out this month.  This story is different from any other Argeneaus because here we encounter an immortal that never wanted to be an immortal and resents the fact that he was turned. Stephano always enjoyed the fact that he was a 'real boy' and is having trouble embracing his newly fanged life.
The latest Argeneau story that I just finished working on has to do with another Notte, Marcus Notte, but it also has an immortal I've mentioned in a few books, the mysterious Basha. Interestingly enough I had to do a lot of research on fairs, carnies and gypsies for this novel and I learned a lot about a subculture that I haven't had the pleasure of knowing anything about before.
Other than that I have no idea what's next in the Argeneau series because my characters are always surprising me with where they go and what they do...but I'm excited to see what happens next!
Yes, Nicole Phillips has miraculously survived what appear to be three separate death threats from her ex-husband-to-be. But no, she does not need protection. At least that's what she keeps telling everyone. But when her new housekeeper arrives complete with a sexy build and a no-nonsense attitude, she can't help but feel a little safer. That is, until the passion between them heats up and she knows she's really in trouble.
Jake Carlson never wanted to be immortal, or a vampire, in the first place. Turned during an emergency by Vincent Argeneau, he's been living his new life away from the clan as a bodyguard for hire. That is, until Marguerite Argeneau reappears with a new job opportunity: undercover protection for a family friend...as a housekeeper. But when he discovers his beautiful new client is tougher than he first thought, Jake thinks he might be the one in need of protection. Just not the physical kind.
With two weeks until her divorce proceedings are final, Jake must do everything in his power to keep Nicole safe and happy... he just hopes he can keep ahold of his heart in the process!
Follow the blog tour for the 10th Anniversary of the Argeneaus
7 comments posted.
Since you've been around for a lot longer than the Twilight movies, I'm going to have to give your books a try. No offense, but I just can't get into that series, because they blew the main characters up into larger than life mega-stars, and that turned me off into even watching the movies, let alone reading the books regarding the movies!! In fact, it turned me off to the genre altogether!! I enjoyed reading your posting, and will give your books a try, and perhaps will find an author (you) that I will enjoy reading, and might even delve into this genre a little bit more. Congratulations on your latest book!! There's no doubt it will do well!!
(Peggy Roberson 7:50am September 24, 2013)
Congrats to the 10th Anniversary of the Argeneaus! I have to say that I just got into reading your books this year... have a bit of catching up to do!
(Colleen Conklin 1:01pm September 24, 2013)
Congratulations on the Argeneau's 10th anniversary. I really enjoy this series and look forward to many more.
(Janie McGaugh 8:49pm September 24, 2013)
Congratulations on the 10th Anniversary of the Argeneaus! I love this series and look forward to reading One Lucky Vampire.
(Bonnie Hometchko 10:45pm September 25, 2013)