Lynne Marshall | Warm Bodies - A Metaphor for our times?

July 8, 2013
My daughter encouraged me to see the recent zombie movie Warm Bodies, and because I trust her taste and feel she knows what I'd like, I rented it when it came out on DVD. I was happily surprised by how engaged I quickly became in the film. Let me start off by saying I am a huge fan of zombie movies and TV shows. The concept of a true apocalypse both scares and excites me, and I secretly want to learn how to use a cross-bow...just in case...
In the beginning of the movie we hear the inner dialogue of a zombie who can only remember his name begins with R. He has fleeting memories of his old life as he ambles through the airport with all the other zombies. They bump into each other and grunt, but that's about the extent of their communication. One of the things he likes to do while hanging around is remember how it used to be. He imagines what other zombies' lives must have been like before the great disease/apocalypse or whatever it was that got them to this point, took place: A janitor sweeping the floor with pride; a security guard checking people through the TSA lines for their own safety; people eating and drinking at the bars lining the terminal while waiting for their flights. Before our eyes, through his memories, we see families smiling, setting out on vacation walking toward their airline destinations at the airport.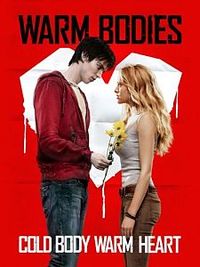 But hold on. Let's back up a minute there. Hmm, upon closer examination there is hardly a difference in the rambling zombies at the airport post apocalypse and the overly connected families of yesterday (today really). Sure they look cleaner, better groomed, and healthier, but just like the lumbering zombies they are completely unaware of each other. Everyone stares at their cell phones or mini computers. No one is interacting with anyone else. Eye contact seems to be a thing of the past. Sound familiar?
Warm Bodies ushers in a kinder gentler zombie, one who isn't yet completely lost to humanity like the Bonies—skeletons who wander the earth. These new zombies are at a crucial time and don't even realize it. If they continue on eating human beings they will eventually become like the lost Bonies, and those eerie forms, sort of like the devil, keep making sure the transitional zombies know what's in store for them. You will become us, in time, just you wait, the Bonies seem to say. Our zombie doesn't want to go there, but knows no other direction. So he does what every good little zombie does - he eats people.
R is the hero zombie who is committed to eating people, yet who still holds on to the past. As he eats human brains, he sees their memories. These memories keep him in touch with humanity as it used to be. He collects things, doesn't know why, but nevertheless, he does, and he makes a home for himself in an abandoned airplane. Why does a real zombie need a home? What he collects isn't just junk either—each object has significance. Old vinyl records bring back the joy of music, snow globes with tiny villages inside point to a time when things were sweet and simple. Perhaps the most amazing thing of all is he still notices a girl. He develops a zombie crush, if you will, but not on another zombie, it's for a human girl. They even do a cute Romeo and Juliet scenario in the movie to emphasize the point.
With each link to the past, lifeblood of the living, not the walking dead, is shunted to his heart. In other words, he comes back to life little by little as he interacts with the humans, until he actually begins to feel human again. But there is one more test that he must pass before he can make the final transition back to human being. He must be willing to risk his life for another. A Christ-like zombie, if you will.
The theme of the movie struck home for me on so many levels, I left the theater with my mind spinning and a smile on my face. We don't have to become the generation of zombies where no one looks at each other beyond the computer screen. We can choose to look up, to interact with other humans, to keep what sets us apart as a species in place. We are born to be with and help each other. We humans are supposed to be physically in touch not super connected. Texting and Facebook may be a form of communication, but it cannot compare to reaching out to someone in need. R, the zombie, remembered the good old days at the beginning of the movie. We have a chance to live the good old days right now. It starts with looking up, making eye contact, and saying hello to the person next to you. The big question is, are we still willing to do it?
Are you a zombie fan? If not, what is your paranormal character of choice?
One commenter will receive an Amazon gift card for the DVD Warm Bodies.
Lynne Marshall is a multi-published author who writes category romance for Harlequin Special Edition and Medical Romance lines. She loves good movies and books, and enjoys interacting with her fellow human beings.
You can visit Lynne at www.lynnemarshall.com or friend her on Facebook.
Her current releases are:
NYC Angels book #7 - MAKING THE SURGEON SMILE, June 2013 (Medical Romance)
THE MEDIC'S HOMECOMING - Harlequin Special Edition - July 2013.
Comments
91 comments posted.
Re: Lynne Marshall | Warm Bodies - A Metaphor for our times?

I'm 50/50 on Zombie stuff... I've gotten a bit sick of it, but am still drawn to a truly well-written story.
(Donna Holmberg 1:56am July 8, 2013)
I watched the movie of Warm Bodies first and I haven't read
the book yet! I loved the movie! I hope I'll be given the
chance to read the book! #FINGERCROSSED

Thanks for this giveaway! ♥
(Irna Javines 1:56am July 8, 2013)
*raises hand* I'm a zombie fan and I've heard how wonderful Warm Bodies is. I
saw World War Z over the weekend and liked it. It's pretty intense and I was on
the edge of my seat for some of it. And okay, I maybe jumped once. Congrats on
newest releases, Lynne!
(Robin Bielman 2:36am July 8, 2013)
Thanks for your post-- that movie sounds like an excellent
social commentary.

I have not been fond of zombies, werewolves, or mummies, and
I dislike vampires. Ghosts tend to be ineffectual. I don't
even fancy mediums. But I like a lot of extraterrestrials in
SF-- though I don't suppose that counts.
(Mary Ann Dimand 7:15am July 8, 2013)
I can't say that I've really gotten into the paranormal characters, because I haven't found anything out there that has really captured my interest as far as story lines go. The movie that you just described sounded really good, though, and not as far-fetched as a lot of the movies out there. It's something that I would be more interested in seeing. Vampires, on the other hand, since Robert Pattinson has been thrown into the limelight, have been overrated, in my opinion, and you can't look anywhere without seeing a story about them. Everyone has jumped on the bandwagon. I still remember the old Bela Lugosi films, where he was the master of his craft. I was a child then, but he scared me, especially when teamed up with Boris Karloff. I hope in the near future to be able to watch Warm Bodies, though, and will make a note of it, since you gave it a glowing review, and I loved the report you gave on it!! I'm also looking forward to reading your book!!
(Peggy Roberson 7:32am July 8, 2013)
I haven't watched a zombie movie since Night of the Living Dead (am I showing
my age? lol) So I suppose that makes me a non-zombie movie lover. I must say
though, the previews of Warm Bodies looked really good.
(C.E. Hart 7:52am July 8, 2013)
Donna - I agree that the writing is the most important thing. This story - Warm Bodies - wasn't perfect, but it really worked well for me. Thanks for commenting!
(Lynne Marshall 10:28am July 8, 2013)
Irna - I see I've confused you. I'm actually giving the movie DVD away - but if you win and would prefer the book, I will be glad to make that your prize?
(Lynne Marshall 10:31am July 8, 2013)
Robin - World War Z is next on my list. It does seem intense. Warm bodies is very sweet at times, and I can guarantee you won't be jumping out of your seat at any time.
(Lynne Marshall 10:32am July 8, 2013)
Mary Ann Dimand - extraterrestrials definitely count!
Thanks for reading the blog.
(Lynne Marshall 10:33am July 8, 2013)
I am ok with zombies but I am a big vampire fan...
(May Pau 10:34am July 8, 2013)
Petty R. What I liked about Warm Bodies was the fact it was different and had a nice zombie twist, if you will. They mixed things up a bit and it worked for me.
I think the classic Boris and Bella movies still hold up. People have always been infatuated with the paranormal.
(Lynne Marshall 10:36am July 8, 2013)
C.E. Hart - The Night of the Living Dead was really scary! Those types of movies used to be called B movies. Funny how much influence they've had right up until now.
I like twists on the zombie genre and Sean of the Living Dead was a good take off on the original. Funny zombie movie!
(Lynne Marshall 10:38am July 8, 2013)
I read the book Warm Bodies was based on. It was pretty good.
(Sandy Giden 10:55am July 8, 2013)
May Pau - I know there are a lot of vampire fans out there - I think because vampires are the sexiest of paranormal characters. I don't have a thing for zombies as heroes, but I definitely like the heroes who fight them off to save the heroine!
(Lynne Marshall 11:08am July 8, 2013)
Sandy - I am definitely going to read the book now. I prefer to do it the other way around when a book becomes a movie- like with Hunger Games etc. But I honestly didn't know this book existed until I saw the movie.
thanks for commenting.
(Lynne Marshall 11:09am July 8, 2013)
I am not a vampire fan, nor zombies, etc.
(Wilma Frana 11:13am July 8, 2013)
Hi Wilma - I understand. As I said, it's not the zombies I'm crazy about, but the heroes who save people from them.

Thanks for reading and commenting/entering the contest. You might enjoy the movie if you win!
(Lynne Marshall 11:31am July 8, 2013)
I like a lot of paranormal types - angels/demons, ghosts, undead - zombies to Dracula, man made monsters - Frankenstein. I don't know if I have a favorite, I think Mary Shelley's Frankenstein has amazing depth on human beings, human kind, compassion, et al.
(Carla Carlson 11:58am July 8, 2013)
Carla - I agree about Mary Shelley's Frankenstein, and that is what grabbed me about Warm Bodies - there was still a kernal of humanity left in this zombie.

It worked for me!
(Lynne Marshall 12:23pm July 8, 2013)
Yes, I am a Zombie Fan and my husband and I spent all
weekend long watching The Walking Dead Marathon! It was
fantastic and now we have to wait till October for Season 4.
Boo Hoo! We do not want to wait to see our great TV shows!
Yes, I like living a simple life too and am not really into
texting. I would rather say hello and smile at others and we
do that every weekend when we go out for breakfast at
Sirloin Stockade in Round Rock, TX outside of Austin, TX. I
am from small farming town in Kansas and I am used to
chatting with others and making them smile and live a happy
simple life. We need to get off the cellphones and truly
live a better life for sure. I would love to win the DVD
Warm Bodies for sure. Thank You very much. Cecilia CECE
(Cecilia Dunbar Hernandez 12:36pm July 8, 2013)
No, I don't like zombies, I prefer something that exhibits intelligence. A zombie is a static character; it can do nothing but shamble and rot. A living thinking character can grow and change. I do take your point about people not interacting with one another.
(Clare O'Beara 12:59pm July 8, 2013)
Thanks for the giveaway!!!
(Linda Brennan 1:25pm July 8, 2013)
Hi Lynne!

I love a good zombie flick. 28 Days Later had me hiding behind the sofa! I just noticed Warm Bodies is available on VOD. Assuming I can get the 4 yr. old to bed at a reasonable hour, I may get a chance to check it out.
(Samanthe Tucker 1:54pm July 8, 2013)
CeCe - I loved you comments. So true. Also, I can't wait for the walking dead season 4, too.

Keep on smiling and communicating in person with people!
(Lynne Marshall 1:54pm July 8, 2013)
Clare O'Beara - It's isn't the zombie that I like, it is the way people around them deal with the problem of zombies. Those are the ones who think, grow, and change.

Linda Brennan - you're welcome!
(Lynne Marshall 2:07pm July 8, 2013)
Hi Sam! Thanks for the movie recommendation. I will have to check out 28 Days Later.

Can't keep up with all the zombie flicks! :)
(Lynne Marshall 2:08pm July 8, 2013)
I am not too much of a zombie fan, I did want to see this movie though, just haven't gotten around to getting it yet. I prefer more the Harry Potter or Twilight stuff, the books were a lot better though!
(Lynne Pearson 2:22pm July 8, 2013)
I'm more into werewolves than zombies
(Beth Reimer 3:21pm July 8, 2013)
I like zombie movies but I have a real soft spot for werewolf stories. My biggest hesitation with zombies is that the story rarely turns out well, which is of course why I loved Warm Bodies. The final scene in the movie where the girl stops to help the former-zombie open his umbrella has stayed with me for the months since I watched the film. I love this post and agree with everything you said about the movie and the state of personal communications in society today. Again, awesome movie.
(Jamie Fortney 3:32pm July 8, 2013)
I'M VERY FOND OF PARANORMAL. I LOVE READING AND WATCHING ABOUT
VAMPIRES, WEREWOLVES, WERECATS, AND EVERYTHING ELSE THAT'S
PARANORMAL. MY FAVORITE ZOMBIE MOVIES ARE THE RESIDENT EVIL
MOVIES AND BOOKS THEY ARE AWESOME.....
(Shelly Caggiano 3:57pm July 8, 2013)
I do not like zombies. I do like friendly ghosts :-)
Thanks for the giveaway!
(Joanne Schultz 4:44pm July 8, 2013)
I enjoy zombies, but I am a bit of wimp. I can't watch anything too gory. I loved Zombieland also.
(Phyllis Lamken 5:30pm July 8, 2013)
Warm Bodies was a sweet movie! I think my favorite paranormal
characters are psychics, though... or maybe wizards/witches.
(Laura Sheehan 5:57pm July 8, 2013)
haven't seen or read the book or movie
(Jennifer Beck 6:13pm July 8, 2013)
Hello to the werewolf fans L.Lam and Beth Reimer!
(Lynne Marshall 6:17pm July 8, 2013)
Jamie - I'm so glad you agree with the blog, and that you enjoyed the "specialness" about this movie.
Thanks for commenting.
(Lynne Marshall 6:19pm July 8, 2013)
Hello and hats off to our solid paranormal fan commenter, Shelly Caggiano. (Love you Italian name)
The Resident Evil Moviss are scary!
(Lynne Marshall 6:21pm July 8, 2013)
Hey Joanne Shultz - not even friendly zombies? Just teasing.

I loved the Ghost and Mrs. Muir stories from way back, and reruns of a really old show called Topper. Those were friendly though mischievous ghosts.
(Lynne Marshall 6:24pm July 8, 2013)
Phyllis Lamken - I don't like too gory either, and I always look away when Zombies eat people. :)
Zombieland was a hoot! loved Woody Herralson's character
(Lynne Marshall 6:26pm July 8, 2013)
Hi Laura! I love movies with wizards, too. I always think of silly Whoopie Goldberg as the psychic in Ghost. Remember that movie? You were probably a baby since it was out in 1984 or thereabouts.
(Lynne Marshall 6:31pm July 8, 2013)
I enjoy paranormal movies, real-live taped encounters with ghosts and hauntings, zombies, werewolves, demons, etc. I want to watch the zombie movie, Warm Bodies. I saw previews for this movie and it looks great!
(Rich Cook 6:43pm July 8, 2013)
Have not seen that movie yet... not really a zombie fan... love werewolves though...
(Colleen Conklin 7:17pm July 8, 2013)
Hey Rich - you sound like a diehard paranormal fan. Warm Bodies has a nice twist on the topic of Zombies.

Thanks for commenting.
(Lynne Marshall 8:07pm July 8, 2013)
Colleen Conkline - you and several other commenters are into werewolves. I'm assuming that is before they change into wolves? :)

Have you ever seen An American Werewolf in London? It is a fun (if that word can apply) example of the werewolf genre.
(Lynne Marshall 8:09pm July 8, 2013)
I don't really like zombies, but during my daughter's bridal
shower dinner out, a zombie parade passed by. She knew a few
of the people with zombie makeup and ragged clothes on and it
was fun to talk to them.
(Alyson Widen 8:43pm July 8, 2013)
I actually just seen Warm Bodies 2wks ago. Its a really
awesome zombie movie! Not your typical apocalyptic zombie
flick. I've seen many zombie movies, by the way, so I can
vouch that Warm Bodies was actually different.

I am a fan of zombies BUT my paranormal character of choice
would be a shapeshifter. Doesn't matter what they shift
into.
(Lazydrag0n Puff 8:48pm July 8, 2013)
I LOVE zombies! Warm Bodies was amazing. I read the book and saw the movie; and while both are quite different, both are equally awesome!
(Chelsea Brooks 9:09pm July 8, 2013)
haven't tried any zombies yet -- always think of night of the living dead & go eek, do enjoy magical beings & shifters though :)
(d Kenney 9:30pm July 8, 2013)
I don't like zombies. Now, serial killers... THOSE I love to read about :-)
(Barbara Wright 11:23pm July 8, 2013)
Alison Whiden - what a fun memory for your daughter's bridal shower. Maybe not the memory you were going for, but nevertheless!

I have heard of zombie runs where 5K and 10K runners are chased by people in zombie makeup. That would get everyone making their best time, wouldn't it? :)
(Lynne Marshall 11:40pm July 8, 2013)
Xoun J. Peezy - I'm glad you agree about Warm Bodies. OK, any kind of shape shifter. I think the farthest out I've read in romance is a dragon. Somehow, the author pulled it off!
(Lynne Marshall 11:41pm July 8, 2013)
Chelsea Brooks - I like your thinking! Okay - good to know the book is very different from the movie. I must read it now.
thanks for chiming in.
(Lynne Marshall 11:42pm July 8, 2013)
d Kenney - magical beings are lots of fun.

I think if you want an easy entryway into the zombie genre - Warm Bodies is the way to go. Thanks for being open to trying zombies.
(Lynne Marshall 11:43pm July 8, 2013)
Barbara Wright - you have an interesting attitude. Zombies are off limits, but serial killers you love. I'm assuming that's because the hero or heroine in those stories always takes out that dastardly serial killer, right?
(Lynne Marshall 11:45pm July 8, 2013)
You are so right - it's not the zombies I love, but the good
guys who do battle with them.
(Mary Preston 8:03am July 9, 2013)
I like zombies, but I mostly prefer vampires.
(Roxana Perez 9:27am July 9, 2013)
I'm not usually a fan of zombies, but this movie looked kind
of good.
(Margay Roberge 10:18am July 9, 2013)
In the past, I loved them all, zombies, vampires, werewolves...but people have gone a little nuts with them in moves and books and everyday speech. I'd say the vampire is still my favorite - but only when the mythology isn't screwed up. :)
(Kelli Jo Calvert 11:22am July 9, 2013)
Right on, Mary Preston! Gotta love those guys and gals. And suspend disbelief on falling in love when you smell really, really horrid! LOL
(Lynne Marshall 11:53am July 9, 2013)
Roxanna Perez - you are in good company - it seems most readers prefer vampires. I think it's because they are so darn sexy. :)
(Lynne Marshall 11:54am July 9, 2013)
Margay - good to see you! This movie is really fun. As you may have guessed, I highly recommend it.
(Lynne Marshall 11:55am July 9, 2013)
Hi Kelli Jo - I think writers are being forced to change the mythology in order to get another vampire book published. Many publishers say they don't any more vampire books unless they're different. However, the self-pubbed folks seem to be doing really well with their vampire stories, so there are a lot of books and authors to discover out there. You won't ever be lacking for vampire stories, I don't think. :)
(Lynne Marshall 11:57am July 9, 2013)
I'm a serious zombie fan, I never miss The Walking Dead.
(Theresa Norris 3:28pm July 9, 2013)
Theresa Norris - Me too!
(Lynne Marshall 3:39pm July 9, 2013)
Not a fan of zombies but loved Warm Bodies
(Sara Reyes 4:31pm July 9, 2013)
I really enjoy most paranormal charcters, zombies included.
Sometimes, I get annoyed at the cliches that follow these
characters, so I love it when an author gives them an unusual
twist. I loved the movie Warm bodies.
(Sara Doyle 4:49pm July 9, 2013)
I was not a zombie fan but have seen the movie Warm Bodies but they now look more attractive
(Shirley Younger 5:03pm July 9, 2013)
Sounds like a book to get warm and cozy with...and leave the lights on!
(cHARLETTE bOND 5:17pm July 9, 2013)
I would love to watch your dvd of Warm Bodies. Thank you.
(Yvonne Simpkins 5:33pm July 9, 2013)
I think my paranormal character of choice is werewolves. I also like anything with ghosts. I'm not a huge zombie fan and really haven't read any books with them in. I do want to see this movie, Warm Bodies which may be a bit milder than most zombie movies with a good story with a twist.
(Linda Luinstra 5:40pm July 9, 2013)
I dislike zombies because I think they are dead end characters. No pun intended. There's just not a whole lot you can do with a rotting dead guy that would actually appeal to a warm, red blooded living person. So...while I read a lot of paranormal stories, I've never really gotten into zombies. So...we'll see what happens with the warm bodies.
(Marcia Berbeza 6:24pm July 9, 2013)
My paranormal character I love is the vampire. I have to honestly admit, I have never read any zombie books. I might have to give them a go and see what they are like :)
(Aimee Robison 6:24pm July 9, 2013)
Not really a fan of zombies or paranormal, but do live in a family that would enjoy the DVD as I would the gift card.
(Sheila True 7:18pm July 9, 2013)
I love zombie movies. There's usually a thread of humor throughout to go along with the horror aspect. My favorite is the Walking Dead. Can't wait for next season!
(Michele Hayes 7:35pm July 9, 2013)
I like paranormal books. Shape changers are among my favorites. I prefer
not to watch many scary movies. It comes from going to movies with mom.
She has a tendency to grab when she is startled/scared. We learned to
have dad sit next to mom at the movies.
(Laura Gullickson 7:47pm July 9, 2013)
love the giveaway
(Denise Smith 7:52pm July 9, 2013)
Sara Reyes - I agree Warm Bodies was a delightful twist on the zombie genre.
(Lynne Marshall 8:00pm July 9, 2013)
Sara Doyle - I completely agree!
(Lynne Marshall 8:27pm July 9, 2013)
Shirley Younger - the definitely cleaned up the zombie "look" in warm bodies. I think they were going for somewhere in between the harsh zombie and a kinder gentler zombie. :)
(Lynne Marshall 8:29pm July 9, 2013)
Charlette Bond - It will be a movie you can snuggle down with, and keep the covers nearby to cover your head during the brain eating segments. !
(Lynne Marshall 8:30pm July 9, 2013)
Yvonne Simpkins - I think you would enjoy watching this DVD.
(Lynne Marshall 8:30pm July 9, 2013)
Linda Luinistra - I'm glad you're open minded about zombies. Many readers love werewolves, but I've got to admit - I'm thinking hairy! LOL
(Lynne Marshall 8:32pm July 9, 2013)
Marcia Berbeza - please don't take this negatively, but the zombies are not the heroes in these stories. The guys who fight them are the ticket.
I would never find a zombie attractive, except in this movie with a twist - warm bodies.
I did like your pun!
(Lynne Marshall 8:34pm July 9, 2013)
Joanne Mcgillivray - You are in the majority with your fellow commenters. Vampires seem to be #1 and werewolves are mysteriously coming in as #2.
Zombies were never meant to be heroes, but the genre of dystopian world with alpha male heroes saving the day are the key.
(Lynne Marshall 8:37pm July 9, 2013)
Sheila True - if your family wants the DVD and you win, I will send the DVD. Or, since I made a confusing gift suggestion, I will send the gift card in the amount of what it would take to purchase the DVD and have the item shipped to your home.
Does that make sense?
(Lynne Marshall 8:39pm July 9, 2013)
Michele Hayes, I am so with you on eagerly awaiting the next season of Walking Dead! Bring it on. ?)
(Lynne Marshall 8:41pm July 9, 2013)
Laura Gullickson - too funny about your "mom". I tend to gasp in scary movies. LOL.
I know that shapeshifters are a big deal in romance novels these days.
(Lynne Marshall 8:46pm July 9, 2013)
Denise Smith - I'm so glad!
(Lynne Marshall 8:47pm July 9, 2013)
I'm quite picky in choosing zombie movies. I love Resident Evil movies and World War Z.
(Kai Wong 11:46pm July 9, 2013)
Hi Kai Wong - I hope to see World War Z soon.
(Lynne Marshall 12:25pm July 10, 2013)
Registered users may leave comments.
Log in or register now!