Anne Canadeo | Where DO Your Ideas Originate?

February 25, 2013
Silence Of The Llamas
Anne Canadeo
AVAILABLE
Black Sheep Knitting #5

February 2013
On Sale: January 22, 2013
Featuring: Ellie Krueger; Ben Krueger
304 pages
ISBN: 1451644795
EAN: 9781451644791
Kindle: B007EDOS0E
Paperback / e-Book
$15.00
Add to Wish List

Also by Anne Canadeo:
A Murder in Mohair, December 2015
The Postman Always Purls Twice, May 2015
A Dark and Stormy Knit, January 2014
Silence Of The Llamas, February 2013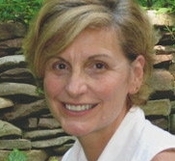 "How do you get your ideas?" That's the question I hear most often and I should have a clear, succinct answer worked out by now. My typical response however is usually a dumb stare. Followed by some incoherent rambling -- about my brain being like a lint brush, rolling through life...or even a garbage truck lurching down the road as all manner of stuff gets tossed in.
Or I might confess my incurable weakness for eavesdropping, then try to explain how entire plots can emerge from a single conversation that reveals a person's character and experience -- who they are and what they want.
But when asked about THE SILENCE OF THE LLAMAS, I am greatly relieved. I can pull out an actual newspaper article that snagged my attention one morning back in 2010: "Living the Alpaca Lifestyle." Who could resist reading that?
The title intrigued me, not to mention the photos of fluffy, bed-head alpaca and wide-eyed llamas. Yes, I had found an excuse to procrastinate – to drink another cup of coffee and delay the long trek to my office upstairs. But research is work, too...sort of?
The article featured average folks who'd abandoned their corporate jobs for country life and a fresh start, raising alpaca and llamas for fun and profit. The reporter described the business of collecting and spinning fiber into handmade yarns, and the charm and personality of camelids. Llamas were reportedly quite social, and could even be trained to do tricks and guard sheep. Their high achieving nature put my lazy chocolate Lab and Golden Retriever to shame.
The happy fiber farmers interviewed -- particularly one couple from the city -- seemed ideal candidates for characters in a Black Sheep mystery. But at the time, I was busy with other projects. The article was snipped and shoved into a folder. And into the garbage truck of my subconscious as well, rolling around with lots of other miscellaneous stuff.
Including some random research at a fiber festival on Long Island's North Fork -- where I spotted the perfect murder weapon, a wooden hand-spindle with a dagger point tip.  And information gleaned during a visit to a real fiber farm and mill that produces hand-made yarns, North Lights Fibers on Abrams Farm, Block Island, RI. More random, juicy tidbits tossed in the truck.
Months later, sitting at my desk and casting about for a concept, I remembered the article... and may have even been able to find it. The city couple --  reinventing themselves in mid-life -- emerged as Ellie and Ben Krueger and their story began to take shape.
The Kruegers have recently moved from Boston to Laughing Llama Farm, on the outskirts of Plum Harbor, MA. They're trying to acclimate to country life with the help of their friends, the Black Sheep knitting group. But for some mysterious reason, their farm is plagued by vandalism, which started the day they moved in.
A situation which gets a lot worse before it gets better...as such situations will do in a mystery.
I won't tell you more. Surfice to say that dagger-sharp spindle comes into play.
As for the second question asked most often, "Are llamas really silent?" I'll save that answer for some future post. 
Comments
22 comments posted.
Re: Anne Canadeo | Where DO Your Ideas Originate?

I love your weakness for eavesdropping, and look forward to your future post to answer the question whether llamas are really silent. My guess is no.
(Shirley Younger 5:43pm February 25, 2013)
I often am in a restaurant alone--I find it a great place to eavesdrop and try to learn more about my fellow man.
(Sue Farrell 5:47pm February 25, 2013)
I get many of my ideas from the novels I read. My other ideas come from my day to day activities be it sitting in my favorite coffee shop or browsing in my awesome thrift shop. Can you imagine the memories that are hidden in each plate, each garment, each painting?
(Susan Coster 5:55pm February 25, 2013)
I have used llama roving for yarn art and would like to read more about them.
(Connie Schultz 6:06pm February 25, 2013)
As much as I hate to admit, I love eavesdropping. I think
everyone does it but not everyone will admit it, lol.
(Vicki Hancock 6:07pm February 25, 2013)
I remember a few years ago travelling from WI. to MN. along I-90 and surprised to see many llamas on a llama farm near LaCrosse, WI. I had no clue as to why someone would want to raise llamas in the cold winter climate and so many. They are beautiful to look at with their big eyes and different colors. Eavesdropping can lead to having interesting conversations with complete strangers, along with getting good ideas or finding someplace new to shop or eat. So I think it's a good thing, and most people do listen to anything they can't help overhearing.
(Linda Luinstra 6:49pm February 25, 2013)
I am certainly going to read this one!
Blessings,
Marjorie
(Marjorie Carmony 7:00pm February 25, 2013)
I made the mistake of identifying an alpaca as a llama at a 4-H fair in upstate NY. Boy did the owner let me know about all the differences! Love reading this series and happy to see you're a fellow Long Islander like me :)
(Mary Vehlies 7:21pm February 25, 2013)
daydreaming - I get just little flashes of ideas or answers to questions or concerns while daydreaming. I've never kept a list of each day's odd little bits, but I bet I'd finally get a handle on the crazy dreams I have every night!
enjoy your books - I hunt them down on our library network!
(Beth Fuller 7:39pm February 25, 2013)
sounds like a good read! Putting it on my list. thanks for the draw:)
(Barbara Studer 7:57pm February 25, 2013)
have a place that has a lot a llamas. in the summer i will ride by early AM on my bicycle and they look at me like i am interrupting their peaceful morning:)
(Lisa Fitzgibbons 8:02pm February 25, 2013)
I would love to win as this book holds an interest to me..also love the cover..nice job done
(Kimberly Hoefs 8:40pm February 25, 2013)
would love to win the book, looks interesting.
(Diane Lapierre 9:30pm February 25, 2013)
I love that book title: The Silence of the Llamas instead of
Lambs. Catchy Title for sure. I would love to win this great
contest. Are Llamas really silent? NO, I do not believe they
are because I was raised on farm in Kansas with animals as
my best friends growing up and they speak their own language
and No Animals are Not Dumb like some people think. They are
beautiful and belong to God and we have No right to kill any
beautiful animals. Thanks so much and God Bless Everyone!
Cecilia CECE
(Cecilia Dunbar Hernandez 11:56pm February 25, 2013)
Down the street from my grandmother a family bought land and created an alpaca farm. I love going to visit her and on the way seeing these amazing creatures going about their day
(Carla Carlson 11:58pm February 25, 2013)
So great to hear an author put it out there on the line... you're HUMAN - just like those of us in the rest of the world! In crowds, or places where people sit and wait, it is inevitable that people will "listen in" to random conversations, and I too find them great fodder for writing materials.
(Donna Holmberg 1:22am February 26, 2013)
Research is absolutely necessary for an author. It adds so many details even when you think you know a subject inside out - there is always someone doing it differently!
Hope your book does well, I enjoy practical craft mysteries and love animals.
(Clare O'Beara 7:19am February 26, 2013)
I had the pleasure of seeing an alpaca in person. I thought that it was the neatest animal, and although I was a bit afraid of it, due to the fact that it was taller than I was, I still got to within 4 or 5 inches of it. I was also able to pet it, and that was one thing that this particular alpaca didn't appreciate. :-) The reason I was able to get so close was because I happen to be a knitter and crocheter, and someone brought one to our knitting group, so that we could see the alpaca in person, and get more familiar with the fiber we use in knitting!! Anyway, if I could, I would love to raise some myself, but there is a lot involved in the shearing of the animal, and then you either have to send the wool out for spinning it into yarn, or learning how to do it yourself, which is no easy process!! Thank you for such a great article!! I can't wait to read your book!!
(Peggy Roberson 3:48pm February 26, 2013)
I understand that llamas are used as pack animals. They are rented out to hikers to carry the supplies for a hike.
(Carol Woodruff 6:41pm February 26, 2013)
Llamas are quiet animals. I have never heard what kind of sound that they make. You perk my curiosity. Time to google for llamas and sounds.
(Kai Wong 9:53pm February 26, 2013)
That must have been a fun article to read. The book look
fabulous.
(Mary Preston 5:11am February 27, 2013)
I agree that a phrase or a certain word can trigger a whole slew of others to follow, so a journal comes in mighty handy. There are a few Llama farms in Ohio and they sure are a gently animal prized for their coats that can be spun into yarn.
(Alyson Widen 9:52pm February 28, 2013)
Registered users may leave comments.
Log in or register now!