Ah, February – the month of love! Lovers of cozy mysteries are in luck this month with a choice lot of wonderful books to choose from. Here are a few that I thought sounded intriguing, mysterious, suspenseful ...all the great things that make a fantastic cozy mystery!

Mass-Market Paperbacks: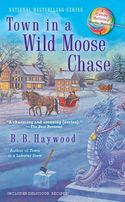 TOWN IN A WILD MOOSE CHASE: (A Candy Holliday Murder Mystery #3)
By B. B. Haywood
Berkley (Prime Crime) $7.99

Cape Willington's annual Winter Moose Fest is in full swing when the sightings of a mysterious white moose—and rumors of a dead body found in the woods—send Candy scrambling to separate fact from fiction before she finds herself in the bullseye of a ruthless killer.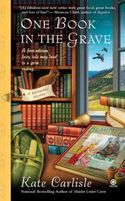 ONE BOOK IN THE GRAVE (A Bibliophile Mystery #5
by Kate Carlisle
Obsidian, $7.99

There may be grave consequences for bookbinder Brooklyn Wainwright as she attempts to solve two murders tied to one book.

Brooklyn's chance to restore a rare first edition of Beauty and the Beast seems a fairytale come true—until she realizes the book last belonged to an old friend of hers. Ten years ago, Max Adams, a renowned, brawny papermaker, fell in love with a stunning beauty, Emily, and gave her the copy of Beauty and the Beast as a symbol of their love. Soon afterward, he died in a car crash, and Brooklyn has always suspected his possessive ex-girlfriend and her jealous beau.

Now she decides to find out who sold the book and return it to its rightful owner—Emily. She believes a rare book dealer can assist her, but when she arrives at his shop, she finds him murdered. Is it possible the same couple who may have killed Daniel is now after his edition of Beauty and the Beast? With the help of her handsome boyfriend, Derek Stone, Brooklyn must unravel the murder plot—before she ends up in a plot herself.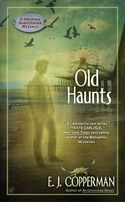 OLD HAUNTS: (A Haunted Guesthouse Mystery #3)
By E. J. Copperman
Berkley (Prime Crime); $7.99

The ghosts haunting Alison Kerby's Jersey Shore guesthouse are sad. Maxie wants to know who murdered her ex-husband, and Paul pines for his still-living almost- fiancee. The only one who isn't missing her ex is Alison—because The Swine just arrived on her doorstep.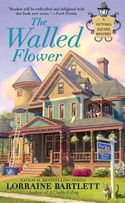 THE WALLED FLOWER (A Victoria Square Mystery #2)
By Lorraine Bartlett
Berkley (Prime Crime); $7.99

Murder Is Right Up Her Alley.

If Katie Bonner's late husband hadn't invested all their savings in the craft fair Artisans Alley—which Katie is now responsible for keeping in the black—the Webster mansion could have been hers to remodel. For years she dreamed of renovating the old place on Victoria Square into a bed and breakfast. Now that dream belongs to another young couple.

But their dream becomes a nightmare when a skeleton is discovered, sealed in one of the walls of the mansion. The bones belong to Heather Winston, who went missing twenty-two years ago. Her aunt is Rose Nash, a jewelry vendor at Artisans Alley, who is determined to find her niece's murderer, and asks for Katie's help to do it. The case may be cold, but the killer is very much alive—and ready to go to any lengths to keep past secrets buried.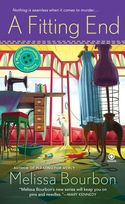 A FITTING END: (A Magical Dressmaking Mystery #2)
By Melissa Bourbon
Obsidian; $7.99

Former Manhattan fashion designer Harlow Jane Cassidy has a gift for creating beautiful dresses. But when Harlow becomes the prime suspect in a murder investigation, she'll need more than her sewing skills to unravel the mystery.

Business is booming at Harlow's custom dressmaking boutique, Buttons & Bows, even with the presence of her great-grandmother's ghost hanging around the shop. But thanks to the fast approaching Margaret Moffette Lea Pageant and Ball, Harlow has her work cut out for her when Mrs. Zinnia James hires her to make her granddaughter's pageant gown. With the debutant ball getting the whole town of Bliss, Texas into a tizzy, Harlow knows her dress has to be perfect. But when a local golf pro is found stabbed to death with dressmaking shears, the new deputy thinks Harlow and Mrs. James conspired to commit the crime. Now Harlow has to finish the dress on time and clear her name before the next outfit she designs is a prison jumpsuit...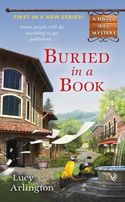 BURIED IN A BOOK (A Novel Idea Mystery – Debut Series)
By Lucy Arlington
Berkley (Prime Crime); $7.99

After receiving her first pink slip at the age of forty-five, former newspaper journalist Lila Wilkins is desperate for work, even if it means taking a pay cut. After combing through the classifieds, Lila accepts an internship at A Novel Idea, a thriving literary agency in the utopian town of Inspiration Valley, North Carolina.

Lila can't imagine anything better than being paid to read, but with a crew of quirky co-workers and a sky-high stack of query letters, she doesn't exactly have time to discover the next great bestseller—especially when a penniless aspiring author drops dead in the agency's waiting room.

No one else seems too concerned about the man's demise, but when Lila uncovers a series of threatening letters, she's determined to uncover what—or who—killed the man's dreams of literary stardom.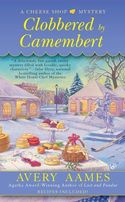 CLOBBERED BY CAMEMBERT (A Cheese Shop Mystery #3)
By Avery Aames
Berkley (Prime Crime); $7.99

A soft cheese and a hard mystery.

Charlotte Bessette—proprietor of Fromagerie Bessette, affectionately known in Providence, Ohio, as the Cheese Shop—is busy setting up her tent for the town's Winter Wonderland faire, where she'll offer fine wines and scrumptious cheeses. In the midst of the preparations, Charlotte meets an old friend of her mother, Kaitlyn Clydesdale, who has come back to Providence with plans to start a new honeybee farm.

When Kaitlyn is found dead in the cottage of Charlotte's assistant Rebecca, suspicion falls on Rebecca's boyfriend, a honeybee farmer himself. Charlotte knows this beekeeper wouldn't hurt a fly, so she decides to find the real killer. While the town buzzes with gossip, can Charlotte catch the culprit without getting stung herself?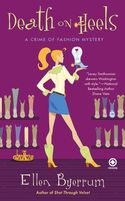 DEATH ON HEELS (A Crime of Fashion Mystery #8)
By Ellen Byerrum
Obsidian; $7.99

Never! D.C. style scribe Lacey Smithsonian always swore she would never go back—back to Sagebrush, Colorado, that scruffy hard-luck Western boomtown where she'd earned her reporter's spurs. But then three young women are murdered, their bodies left barefoot on lonely country roads, and the accused is her old boyfriend, Sagebrush rancher Cole Tucker. Lacey cowgirls up and heads out West (in her best cowboy boots) to prove Tucker's innocence. And perhaps to resolve the last of her old feelings for the man she had loved and left. Naturally, Lacey's plan doesn't sit well with her current beau, private investigator Vic Donovan, who has his own history (and game plan) in Sagebrush.

Tucker takes one look at Lacey and kicks over everyone's game plan: He abducts her in a daring courthouse escape into the badlands of northern Colorado. On the run from the law with her old flame, in stolen vehicles and on horseback, with Vic and the posse in pursuit, Lacey's world turns upside down. Who can she trust? Tucker or Vic? The law or her own feelings and her reporter's instincts? Caught between two men, with a vicious killer on her trail, Death on Heels is a whole new—and potentially fatal—frontier for this fashion reporter.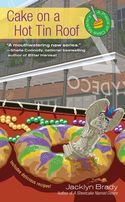 CAKE ON A HOT TIN ROOF (A Piece of Cake Mystery #2)
By Jacklyn Brady
Berkley (Prime Crime); $7.99

Pastry chef Rita Lucero's Mardi Gras party turns funereal when one of her guests is found dead after a public fight with her uncle—leaving Rita no choice but to find the real killer and clear her uncle's name...

Trade Paperbacks: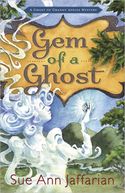 GEM OF A GHOST: A Ghost of Granny Apples Mystery
By Sue Ann Jaffarian
Midnight Ink; $14.95

(I absolutely adore Sue Ann's books, and her Ghost of Granny Apples mysteries are one of my favorite!)

When overbearing, ultra-rich Joanna Reid demands that Emma Whitecastle get rid of the ghost of her late husband Max, a former action film star who was killed in a car accident, Emma intends to refuse. But when Joanna reveals that she thinks Max killed himself, Emma decides to help find out why the film star's spirit has returned. Joanna may know more than she lets on, including why Lainey, her daughter with Max, has attempted suicide multiple times. Emma and Granny Apples have their "nosing about" work cut out for them in this multi- faceted, ghost-filled mystery.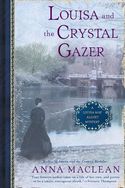 LOUISA AND THE CRYSTAL GAZER (A Louisa May Alcott Mystery #3)
By Anna Maclean
Obsidian Trade; $14.00
(Originally published May 2006 in mass market paperback.)

A young Louisa May Alcott accompanies her friend Sylvia to visit Boston's most famous spiritual medium, Mrs. Agatha D. Percy, to contact Sylvia's long-dead father. Louisa isn't one to believe such foolishness—until one of the seer's predictions comes true. Louisa and Sylvia visit the seer again, but Mrs. Percy's days of divination have been cut brutally short by a killer. Now, Louisa must solve the mystery of the crystal gazer's untimely death by uncovering the shocking truth about her life.

Hardbacks: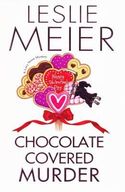 CHOCOLATE COVERED MURDER: A Lucy Stone Mystery
By Leslie Meier
Kensington Books; $24.00

Between a cutthroat dessert contest and her daughter's new job at the fanciest chocolate shop Tinker's Cove has ever seen, Lucy Stone is on a steady diet of tempting treats! But with a killer on the loose, and Valentine's Day around the corner, there may be nothing sweeter than revenge.

It's frigid in snow-covered Tinker's Cove, and Lucy is fighting the winter blues--and her widening waistline. No one in their right mind would vacation in Maine this time of year, but to boost the economy, the town is launching a travel promotion for Valentine's Day.

As a reporter for the Pennysaver, Lucy is assigned a puff piece on upscale Chanticleer's Chocolates, and its deliciously handsome owner, Trey Meacham. But when a local fisherman drowns suspiciously, Lucy's certain her investigative skills could be put to better use.

Everyone is shocked when Fern's Famous Fudge loses its status as "Best Candy on the Coast" to Chanticleer's pricey newfangled confections. And Lucy soon discovers there's another tantalizing tart behind the counter. Sultry store manager Tamzin Graves is only too eager to serve her male clientele--who find her as mouthwatering as her beef-jerky-spiked truffles. Leaving a throng of jealous women in her wake, it's almost no surprise when Tamzin is the next to turn up dead, her body covered in chocolate. Could a bitter ex-wife be behind the crimes? Or a candy shop competitor? There's no sugar-coating the truth, and as Lucy closes in on the culprit, she may find herself locked in the clutches of a half-baked killer.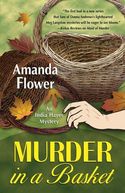 MURDER IN A BASKET: An India Hayes Mystery
By Amanda Flower
Five Star; $25.95
(Watch for my review of this book here on Fresh Fiction, coming soon!)

College librarian and struggling artist India Hayes isn't sure how her older sister Carmen talked her into managing a face-painting booth at the Stripling, Ohio, Founders' Day Festival or how Carmen convinced her to wear the pink gingham pioneer dress, including mobcap and granny boots, but that's where she finds herself in a chilly October just before Halloween.

India's annoyance turns to suspicion as she discovers the body of Zen-like basket weaver, Tess Ross, on the festival grounds. Tess leaves behind an angry blacksmith husband, a confused adopted son, greedy siblings, a dysfunctional artists' co-op, and a chocolate-colored labradoodle with a two-million-dollar trust in his name.

Much to India's dismay, she learns Tess is the sister of her stuffy college provost, Samuel Lepcheck, and the mother of a library student worker, Derek, who has an irrepressible crush on India that she's doing her best to ignore. Derek begs India to investigate his mother's murder.

Despite the urgings of handsome Police Detective Rick Mains to stay out of the investigation, India agrees to Derek's request and finds herself playing sleuth as well as foster-owner to Zacchaeus, the two-million-dollar labradoodle.

With her own eccentric family commenting from the sidelines and her Irish- centric landlady, Ina Carroll, as volunteer sidekick, India must discover the truth before she has a permanent canine houseguest or she ends up the next victim in the basket weaver's murder.

Hope you have a wonderful Valentine's Day, and a great February! Cozy Reading,

Ya'll!
2 comments posted.
I LOVE cozy mysteries and am on the lookout for a few new authors that I have not tried. Thanks to this GREAT site, I now have a list of interesting possibilities to take to the store with me. First-timer on this site, and will be back. This is very convenient for me since I live a long drive to the nearest bookstore. That cuts down on my ability to stay abreast of what is out there. THANKS.
(DonnaCarol Loftis 4:41pm February 13, 2012)
Haven't read any of the above authors, as only a very few bookstores in Ireland stock cozies - Murder Ink and other specialists. And if I don't know who to search for on Amazon I will not see them. Now I know what to look for, this is very helpful.
(Clare O'Beara 6:12am June 15, 2012)