Melinda Leigh | It's a Romance. It's a Mystery. It's a Thriller. It's... Romantic Suspense!

November 29, 2011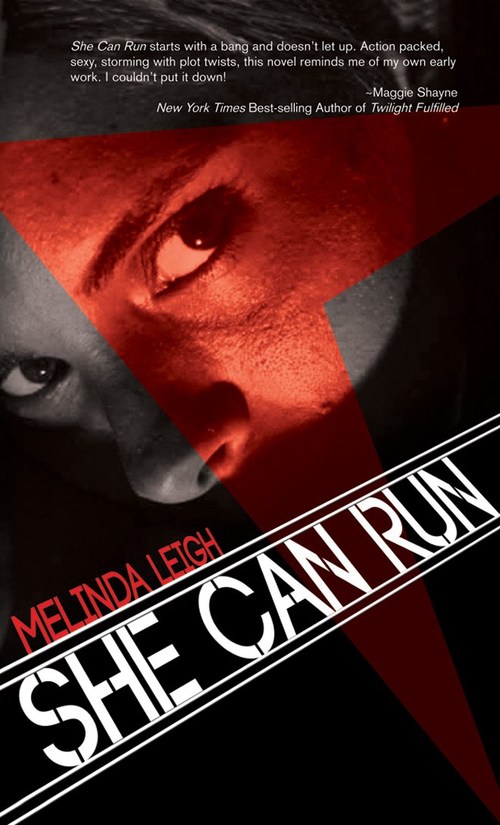 AVAILABLE
When a woman on the run takes refuge at a secluded mansion, she finds herself under the watchful eye of a former cop whose curiosity about her shadowy past is matched only by their undeniable passion.
She Can #1

November 2011
On Sale: November 28, 2011
Featuring: Jack O'Malley; Elizabeth Baker
ISBN: 1612181511
EAN: 9781612181516
Kindle: B0053TIB6I
Paperback / e-Book
$7.99
Add to Wish List

Also by Melinda Leigh:
Secrets Never Die, March 2019
A Bone to Pick, November 2018
What I've Done, September 2018
Bones Don't Lie, March 2018

I'm an eclectic reader.  My ebook library is filled with books from almost every fiction genre.  I love romances, mysteries, thrillers, science fiction novels, and even horror.  I've even been known to borrow books from my kids.  But my favorite books often mash two or more genres together.  Genre blends allow for more creativity and originality.  These books often take me places I hadn't ever imagined. 
Writing romantic suspense lets me indulge my love of action-packed suspense and combine it with the emotional rollercoaster ride of a romance. Running two plot lines and successfully interweaving them throughout the book is an additional challenge that occasionally makes me pound my head in fear that I won't get it right. Other times my brain is racing faster than my fingers can possibly type.  
For me, writing a romantic suspense is as exciting as reading one. 
How do you feel about mixing genres?  Do you like some romance with a twist of mystery?  A Sci fi shaken with a thriller?  Or are you a purist who likes their genre straight up?
If you enjoy the blend of romance and suspense, with thriller and mystery thrown in to boot, here's a peak at my newly released debut novel.
Ten months ago, Elizabeth Baker uncovered a dangerous secret about her politician husband—a secret that nearly got her killed. Now she and her children are running for their lives. When Beth is hired as the caretaker of a remote Pennsylvania estate, she dares to hope she has found a corner of the world where Congressman Richard Baker can't find them. But when her new boss dies suddenly and his nephew inherits the estate, Beth is faced with outwitting a former homicide detective who is very smart, very suspicious—and very attractive.
Forced into retirement by an injury and grieving the loss of his uncle, Jack O'Malley is unprepared to share his new home with a strange woman and her two kids. He is even less prepared for the instantaneous attraction he feels whenever Beth enters the room. She is beautiful, intelligent, kind...and obviously terrified of someone or something. As Jack's investigation uncovers the shocking details of Beth's past, the rural community is shaken by the murder of a local woman Driven by instinct and desire, Jack is determined to keep Beth and her children safe, even if doing so means putting his heart—and his life —on the line.
About Melinda
More than a decade ago, Melinda Leigh left a career in banking to raise her children and never looked back. She started writing when her youngest child entered first grade as a way to preserve her sanity. Melinda holds a 2nd degree belt in Kenpo Karate, studies Brazilian Jiu-Jitsu, and teaches women's self-defense. She lives in a messy house in the suburbs with her husband, two teenagers, a couple of dogs and one neurotic cat with an inexplicable fear of ceiling fans. With such a pleasant life, she has no explanation for the sometimes dark and disturbing nature of her imagination.
Find out more about Melinda or read an excerpt of SHE CAN RUN at MelindaLeighAuthor.com. Connect with her on Facebook and Twitter.
Tell us the type of romance you like to read and two commenters will win SHE CAN RUN
Comments
57 comments posted.
Re: Melinda Leigh | It's a Romance. It's a Mystery. It's a Thriller. It's... Romantic Suspense!

This sounds like a great book! I love mystery and romance and I love the name Jack O'Malley for a character. He just sounds cool!
(Renee Pajda 8:00am November 29, 2011)
The summary of this book has me totally hooked - I love it already! I am somewhat eclectic, as well in my reading tastes - history, biographies, romances - I used to consider myself a purist when it came to the genres, but now I do enjoy "mixing it up" and getting a bit of everything - LOL. I wish that I had the kind of talent to write these stories - but I definitely love reading them!
(Felicia Ciaudelli 8:35am November 29, 2011)
I enjoy all kinds of romance novels. Mystery always adds a bit more to it where it is hard to put the book down but any "Romance" will do for me!! Thanks for sharing.
(Dawn Staniszeski 9:55am November 29, 2011)
Renee, mystery and romance are a great combo. Thanks for stopping by today and sharing in all my excitement!

Felicia, it's great to find another eclectic reader. Genre mash ups make books feel fresh. Thanks for reading.

Dawn, romance makes all books better. A relationship adds so much emotion to a story. Thanks for joining me today.
(Melinda Leigh 10:38am November 29, 2011)
The type of romance that I like, and can seldom find is the old-fashioned type. I don't care for and pardon me ladies, the vampire novels that have taken over the bookshelves, although I haven't picked any up off the shelf. That genre hasn't moved me. I just prefer the old style of writing with no cursing, no derogatory terms - just letting the mind figure it out on its' own. Leilah Meacham is an excellent author when it comes to this genre. I loved the book Roses. Due to circumstances beyond my control, I had to get away from reading books for a while, and am sort of starting over again, so I'm not familiar with all of the authors out there. I am slowly learning which ones to appreciate, and which ones to stay away from. Janet Evanovich is also a good author for a love story of sorts with a good laugh, and a quick read if you want your spirits lifted. I would like to read your book very much. Your bio parallels mine in several ways, so I know I'd enjoy it, including the story line.
(Peggy Roberson 12:19pm November 29, 2011)
Peggy,
I love the Stephanie Plum books, too. I'll be honest, there is a little swearing in my book, but NO vampires. Promise!

Thanks for sharing today.
(Melinda Leigh 12:32pm November 29, 2011)
I occassionally like mixing genres, but some seem too odd, like the zombies and pride and prejudice. I'm sure it has a reason for its success, but that just seems odd to me.
(Pam Howell 12:47pm November 29, 2011)
SHE CAN RUN, sounds like a great book, hope to win it.
(Debbie Ellis 1:03pm November 29, 2011)
I like romantic suspense. It's the first romance genre I read.
(G S Moch 1:29pm November 29, 2011)
WOW, this sounds like a fantastic book. Please enter me in
this great contest. Thanks so much. Cecilia
(Cecilia Dunbar Hernandez 1:30pm November 29, 2011)
Pam, sometimes mash-ups work. Sometimes they don't. That's the beauty of books. There's something out there for everyone. Thanks for visiting today.

Debbie, thanks for stopping by.

GS Moch, SHE CAN RUN should be perfect for you.

Cecilia, thanks for reading!
(Melinda Leigh 1:47pm November 29, 2011)
I love various types of romance books. I love Inspirational, Historical, Contemporary and have even read some mystery. I love to read and review all types.
(Jane Squires 2:14pm November 29, 2011)
SOUNDS LIKE A DELICIOUS MELANGE..I'M IN IT TO WIN IT!
(Silvana Moscato 2:24pm November 29, 2011)
I read mysteries and romances---and the combo, romantic thrillers. So I think I would really like this book with a touch of politics thrown in.
(Sue Farrell 3:04pm November 29, 2011)
Jane, romance adds to the fun in all of those genres!

Silvana, hope you enjoy the mix.

Sue, mystery and romance is a great combination in a thriller. So much to keep the pages turning.
(Melinda Leigh 3:06pm November 29, 2011)
Nothing better than a mix of romance and mystery!
Blessings,
Marjorie
(Marjorie Carmony 3:10pm November 29, 2011)
I like romantic suspense best!
(Cheryl McEwen 3:39pm November 29, 2011)
Marjorie, I couldn't agree more!

Cheryl, I love romantic suspense best, too.

thank you both for joining me today.
(Melinda Leigh 3:48pm November 29, 2011)
I definitely prefer a mixture of genres, especially a mix of romance and mystery. Oh, and add some suspense, also. SHE CAN RUN sounds like my type of fiction. I love your description.
(Anna Speed 4:23pm November 29, 2011)
I love the range of genres in romance... something for any mood I am in... Loving the sound of your book... have to add it to my list!
(Colleen Conklin 4:37pm November 29, 2011)
I love to read paranormal romances and contemporary romances. But I really read all kinds of books. There is not much of a limit for me. She Can Run looks really good.
(Kim Stogner 4:48pm November 29, 2011)
I'll read just about anything, except (for some unknown reason) hard-core Westerns. By "hard-core," I don't mean because of any sexual content, but more the "old style" westerns like Louis L'Amore, and other writers of his ilk. I have no idea why I'm not fond of them, but I'm not.

Well done romantic suspense is always a good find, and after reading the excerpt, this book has been added to my TBB list!

Unfortunately, that list is soooo long, there probably is NO way I'll ever get it cleared out!!

Later,

Lynn
(Lynn Rettig 5:00pm November 29, 2011)
Anna, Romance and mystery together is irresistible. I'm so glad SHE CAN RUN looks good to you! Thanks for connecting with me today.

Colleen, I love the many different flavors of romance fiction, too. I'm glad you stopped by.

Kim, I read paranormal as well and have a paranormal novella, co-written with Rayna Vause, coming out with Carina Press in January. You can see the blurb on my website. Thanks for joining me today.
(Melinda Leigh 5:00pm November 29, 2011)
Lynn, I haven't read too many westerns, but I do love western movies. Good luck with your TBB list!
(Melinda Leigh 5:03pm November 29, 2011)
I like mysteries, suspense, thrillers with some romance to them. Your book sounds good and thanks for the contest.
(Rich Cook 5:25pm November 29, 2011)
I love reading Historical Romance. The different rules for courtship are fascinating. The etiquette intrigues.
(Mary Preston 5:42pm November 29, 2011)
Your books sounds fabulous. I love historicals, contemporary and romantic suspense which is what I read most of the time, but I do switch around a lot.
(Gail Hurt 6:44pm November 29, 2011)
romance mystery or thriller. I love a few surprises along the way.
(MaryEllen Hanneman 6:46pm November 29, 2011)
Love to read your type of books with a mix as long as romance is thrown in, that captivates me as a reader with any unexpected twists for the intrigue!
(Linda Luinstra 6:54pm November 29, 2011)
Rich, I love the same mix of genres.

Mary, historical romances can be fascinating and have their own unique kind of intrigue.

Gail, you really like variety in your romance. That's wonderful and keeps each book fresh.

MaryEllen, I love surprising twists as well. The keep me engrossed in the book as I guess what's going to happen next.

Thank you all for sharing in the thrill of my debut week.
(Melinda Leigh 6:56pm November 29, 2011)
I like to read suspensful romances---those that keep me guessing
(Shirley Younger 6:57pm November 29, 2011)
I like to read mystery romances. I like a plot with a few twists and surprises.
(Tammy Yenalavitch 7:36pm November 29, 2011)
Romance with a little mystery gets me to turn the pages faster because I want to see how it turns out. Mixing genres is something that's happening more now and that's fine to have a book straddle more than one fence.
(Alyson Widen 7:48pm November 29, 2011)
I just love a good romance that contains some mystery.
(Mary Smith 8:19pm November 29, 2011)
Oh, I definitely like the mixed genres. I too liked a variety and most genres. What better than to have a bit of everything in one book!!
(Jeanne Sheats 8:44pm November 29, 2011)
Shirley, suspense is what it's all about.

Tammy, Alyson & Mary, I grew up on Agatha Christie! I adore mystery

Jeanne, I love genre mash ups, too. A new combination feels so fresh.
(Melinda Leigh 8:51pm November 29, 2011)
I read all different kinds of romances. I like to find new types and new authors so I am constantly expanding my reading. Right now I am reading a lot of contemporary and paranormal.
(Jennifer Beyer 10:06pm November 29, 2011)
I love almost all types. My favorites include suspense and historical.
(Lisa Kendall 10:21pm November 29, 2011)
I like different genres also... My favs are probably paranormal and Highlander romances... but I love mysteries, thrillers, and more... also.
(Linda Townsend 10:22pm November 29, 2011)
I gravitate more to paranormal romance, it's even better if the fantastical aspect doesn't involve the usual like vampires and shifters.
(Jannielu de Paz 10:32pm November 29, 2011)
This sounds like it's going to be awesome!
I can't wait to read it!
(Brandi Gillilan 11:24pm November 29, 2011)
Wow can't wait to read the latest romantic thriller by Melinda Leigh...please enter me in the contest......babyruthmac16@yahoo.com
(Lnda McFarland 1:09am November 30, 2011)
I love romance, add a dash of mystery or suspense and I am in Heaven. Thanks for the opportunity to enter giveaway.
(Brenda Hill 1:42am November 30, 2011)
I love a mystery...and romantic suspense is one of my favorite kinds. This book sounds very intriguing!
(Penny Mettert 3:37am November 30, 2011)
My favorite types of romances are historicals, romantic suspense and contemporaries.
(Maureen Emmons 6:13am November 30, 2011)
I just love a good love story!
(Mary Smith 6:33am November 30, 2011)
To all those who commented after I called it a night here on the East Coast, I'm so glad you all could join me in celebrating the release of my debut book, She Can Run. It has been a truly exciting week! She Can Run is on the kindle bestselling romantic suspense top 100 list!

Thanks for reading!
(Melinda Leigh 7:19am November 30, 2011)
Hi, Melinda! I think it would be hard for me to choose the ONE type of
romance novels I like best. I'm hooked on historical, contemporary, chicklit
and mysteries. I had to laugh at your description of your daily life. Your cat
sounds like a hoot. They are amazing in that they have neuroses that no one
would ever believe. Congratulations on your successes and I wish you the
best!
(Connie Fischer 11:34am November 30, 2011)
Yes, Connie, my cat is nuts. The dogs are always giving him this, "what is wrong with you?" look. I'm so glad you like romance in all its forms. Switching it up keeps reading fresh. Thanks for connecting.
(Melinda Leigh 11:57am November 30, 2011)
This book is going on my TBR list! I like when the author's mix romance and suspense together. Like you I read just about anything but the only thing I don't read is paranormal.
(Judy Anderson 3:17pm November 30, 2011)
Thanks, Judy. I hope you enjoy it!
(Melinda Leigh 4:03pm November 30, 2011)
Melinda,
Congratulations on the release of your debut novel - looking forward to reading it.
I enjoy reading different genres. As there are so many books that mix genres, it's always a challenge to figure out where the bookstore placed it.
(Mary Chin 9:14pm November 30, 2011)
Mary Chin, you are so right! What's a romance in one store might be housed with mystery in another. It can be frustrating.

Thanks for stopping by.
(Melinda Leigh 10:16pm November 30, 2011)
I usually don't like mixing genre's. This book sounds like a
great mix of suspense and romance though! Can't wait to try
it out.
(Judith Mor 10:32pm December 1, 2011)
Thanks, Judith. I'm glad you could stop by and check it out.
(Melinda Leigh 2:02pm December 2, 2011)
I stories the mix genres! It makes things exciting...shakes things up! Who wants predictable and boring...not me!
(Barbara Battaglia 12:50pm December 5, 2011)
I agree, Barbara. Thanks for reading!
(Melinda Leigh 8:23am December 5, 2011)
Registered users may leave comments.
Log in or register now!