Sharon's Cozy Corner – October
Ahhhh….feel that? It's the cool breezes of Autumn! After the blistering summer we experienced all across the country, it's a pure joy to be able to once again get outside and enjoy the gifts that Mother Nature bestows upon us during the fall season!
Hardbacks: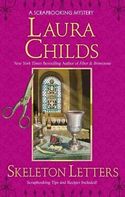 SKELTON LETTERS: A Scrapbooking Mystery #9 Laura Childs Berkley Prime Crime; $25.95
Is nothing sacred? The last thing Carmela Bertrand and her friend Ava expected to bear witness to in St. Tristan's Church was a crime. But now a beloved member of their scrapbooking circle lies lifeless next to a smashed statue of St. Sebastien—and a mysterious hooded figure has absconded with an antique crucifix.
As Carmela and Ava are drawn deeper into New Orleans' French Quarter in search of the missing crucifix, they may need the help of more than a few patron saints. Because this is one killer they don't want to cross...
(Laura Childs is one of my go-to authors when I'm looking for a great book to read! Whether it is her Scrapbooking mysteries, her Cackleberry mysteries or her Tea Shop Mysteries, readers can be guaranteed that they will find a wonderful story to enjoy!)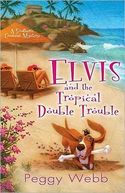 ELVIS AND THE TROPICAL DOUBLE TROUBLE: Southern Cousins Mystery #4 By Peggy Webb Kensington Books; $23.00
It's two times the turmoil for mayhem magnet Callie, her curvaceous cousin Lovie, and Elvis, the King reincarnated as nothin' but a hound dog. This time they're finding a lot more than relics on an archeological dig that could truly be their ruin.
Forced to choose between one man who wants to marry her and another who already did, Callie Valentine Jones can't think of a better way to check out of her personal Heartbreak Hotel then to get way, way out of town. So when Lovie invites the whole Valentine clan to visit her brainy new beau's worksite near Cozumel, Callie packs up her crooning basset hound and heads straight for the airport.
But the moment they arrive at the dig, Elvis sniffs out T-R-O-U-B-L-E, in the form of a skeleton too fresh to be part of the research and too dead to spell anything but homicide. Suspicious minds blame ghosts and gods, but Callie knows the guilty party is all too human—and for once, she's determined not to get involved.
That determination goes right out the window when Lovie and Elvis go missing. It's now or never, if Callie wants to save her cousin and her canine from someone who's got murder always on his mind. And when her sexy ex arrives to save the day, she'll have to keep her head together, because her love won't wait—but neither will a killer with something deadly to hide. (If you are looking for a mystery to tickle your funny bone, Peggy Webb's Southern Cousins series is the one for you!)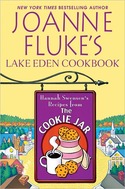 JOANNE FLUKE'S LAKE EDEN COOKBOOK: Hannah Swensen's Recipes From The Cookie Jar By Joanne Fluke Kensington Books; $18.95
It's a picture postcard December in Minnesota. Pristine white snow is glistening in the winter sunlight, and Main Street is brimming with festive holiday decorations. Best of all, it's the day Hannah's mother, Delores Swensen, is holding her annual Holiday Cookie Exchange at the Community Centre - catered by none other than The Cookie Jar!
The whole Swensen clan, their friends, and members of "The Lake Eden Gossip Hotline", of which Delores is a founding member, have gathered for the delicious event. And as they share their favourite juicy tales of Lake Eden and its residents over coffee and dessert, they also share their favourite scrumptious cookie recipes - plus a mouth-watering menu of luncheon recipes...plus all the recipes from Chocolate Chip Cookie Murder to Carrot Cake Murder.
Whether this is your first taste of Lake Eden, or you're back for another helping, you can now bring the irresistible flavours of The Cookie Jar into your very own kitchen.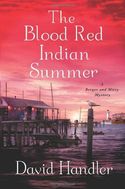 BLOOD RED INDIAN SUMMER: A Berger and Mitry Mystery #8 By David Handler Minotaur Books; $24.99
This newest mystery featuring Mitch Berger and Connecticut State Trooper Des Mitry presents Des with her first genuine racially charged case in the historic New England village of Dorset, the gem of Connecticut's Gold Coast.
Tyrone "Da Beast" Grantham, the famously volatile NFL superstar linebacker, has just been suspended for "conduct detrimental to the integrity of and public confidence in the league." When Tyrone and his entourage decide to spend his season in exile in bucolic Dorset---much to the dismay of his early-to-bed, ultra-white neighbors---Des is put on the spot. And when Tyrone's eighteen-year- old sister-in-law, Kinitra, washes up on Mitch's beach one morning, bloodied and barely alive, Des is on the case. Especially when it turns out that Kinitra is eight weeks pregnant. Good thing there's nothing else serious going on in our heroes' lives right now. Like, say, Mitch's parents arriving from Florida at long last to meet the new woman of color in their nice Jewish boy's life.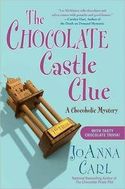 THE CHOCOLATE CASTLE CLUE: A Chocoholic Mystery #11 By JoAnna Carl Berkley Prime Crime; $22.95 Lee McKinney Woodyard discovers a dusty trophy inside TenHuis Chocolade that belongs to her aunt Nettie and her old high school singing group, the Pier-O- Ettes. It's a trophy that brings back terrible memories of an unsolved murder years ago.
Before Lee takes aim at the past, someone is murdered in the here and now. Lee needs to keep her eyes on the prize, hoping the trophy is a clue to finding the killer—before she's a target herself.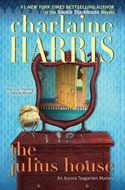 THE JULIUS HOUSE: An Aurora Teagarden Mystery #4 By Charlaine Harris Berkley Prime Crime; $22.95 (Reprint)
Wealthy businessman Martin Bartell gives Aurora exactly what she wants for their wedding: Julius House. But both the house and Martin come with murky pasts. And when Roe is attacked by an ax-wielding maniac, she realizes that the secrets inside her four walls—and her brand-new marriage—could be deadly.
Trade Paperback: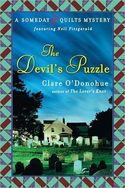 THE DEVIL'S PUZZLE: A Someday Quilts Mystery #4 By Clare O'Donohue Penguin Books; $14.00
Nell and the crafty Someday Quilters undertake their first cold case in the latest addition to this bewitching series.
After their quilting retreat upstate, the Someday Quilts ladies return to Archers Rest to prepare for the town's big anniversary celebration. But their plans are unexpectedly derailed by the discovery of a human skeleton in Nell's grandmother's backyard-making Eleanor the prime suspect in a murder. But a skeleton isn't the only thing that's long been buried. When a wave of vandalism raises fears that the town's bygone history of witchcraft has been reawakened, secrets are unearthed that could change life in Archers Rest forever.
In addition to a thrilling mystery and the warm camaraderie of the ladies, The Devil's Puzzle is full of the quilting lore and techniques that Clare O'Donohue's readers adore.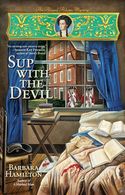 SUP WITH THE DEVIL: An Abigail Adams Mystery #3 By Barbara Hamilton Berkley Prime Crime; $14.00
After an attempt on the life of her young nephew Horace, Abigail Adams, wife of attorney John Adams, travels to Harvard to investigate. A mysterious woman hired Horace to translate some Arabic, then left him at the mercy of her henchmen. He survived—with a tale of pirate treasure...
Meanwhile one of Horace's fellow students—loyal to the King—is murdered. The Sons of Liberty are desperate to find the rumored gold, but Abigail wants the truth. For the Devil's treasure comes with a curse that could bring down anyone, regardless of where their allegiance lies.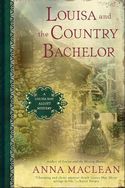 LOUISA AND THE COUNTRY BACHELOR: A Louisa May Alcott Mystery #2 By Anna Maclean Berkley Prime Crime; $14.00
Louisa convinces her family to visit cousins in rural New Hampshire, only to confront tragedy. A local bachelor is found dead in a ravine, the apparent victim of an accidental fall while hiking. But Louisa suspects foul play and sets out to uncover the vicious murderer hiding among her family's new friends.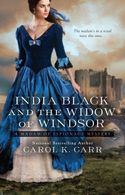 INDIA BLACK AND THE WIDOW OF WINSOR: A Madame of Espionage Mystery #2 By Carol K. Carr Berkley Prime Crime; $14.00
When Queen Victoria attends a séance, the spirit of her departed husband, Prince Albert, insists she spend Christmas at their Scottish home in Balmoral. Prime Minister Disraeli suspects the Scottish nationalists plan to assassinate the Queen—and sends the ever resourceful India and the handsome British spy, French, to the Scottish highlands. French will take the high road, looking for a traitor among the guests—and India will take the low road, disguised as a servant in case an assassin is hiding among the household staff. India is certain that someone at Balmoral is determined to make this Her Majesty's last Christmas.
Mass Market Paperbacks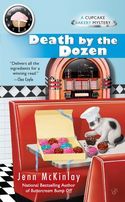 DEATH BY THE DOZEN: A Cupcake Bakery Mystery #3 By Jenn McKinlay Berkley Prime Crime; $6.99
Melanie and Angie are determined to win the Challenge to the Chef to promote their Fairy Tale Cupcakes bakery. Mel's mentor from culinary school, Vic Mazzotta, may be one of the judges, but Mel and Angie will have to win fair and square. But, when Vic's dead body is found inside a freezer truck, Mel and Angie will need to use their best judgment to find the cold-blooded killer or they may lose more than the contest—they may lose their lives.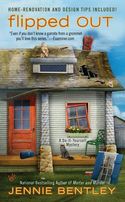 FLIPPED OUT: A Do-It-Yourself Mystery #5 By Jennie Bentley Berkley Prime Crime; $7.99
Inheriting her aunt's old Maine cottage has led Avery Baker down a new career path—home renovation. Finding a property's hidden potential has rewards and challenges—not to mention certain unanticipated dangers. Like murder.
Avery and her hunky handyman boyfriend Derek Ellis are renovating another house in Waterfield, Maine. But it's not just any house. It belongs to local news anchor Tony "the Tiger" Micelli—and it's a quaint cottage with limitless possibilities. Even more exciting is that the makeover is going to be filmed as part of a home renovation TV show.
Unfortunately the road to cable TV fame is a bumpy one: this DIY spins into a DOA when Tony's corpse is found at the cottage, flat on his back and not from natural causes. Turns out there were a few people who wanted Tony dead, and that the murderer might have his sights set on a few more Waterfield residents. That means it's up to Avery to nail the killer. Before someone yells "Cut!" and it's all over.
HOW TO PARTY WITH A KILLER VAMPIRE: A Party Planning Mystery #4 By Penny Warner Obsidian; $7.99
Mixing fun and fundraising seems like the perfect job for Presley Parker, which is why she started her event-planning business to raise money for charities. But when a film soiree goes awry, it could mean THE END for her business.
Presley Parker's event planning business is really rolling. Her newest gig is a film wrap party for big-time producer Lucas Cruz. He's celebrating his latest release—a vampire parody—by throwing a lavish party in a graveyard. It's a pretty gloomy venue for Presley, but she's hoping to make it so much fun that partygoers won't even notice there are more dead than living guests.
And the number of dead grows when an entertainment reporter crashes the party, trying to dig up dirt on an actor, and literally digs his own grave. Presley's reputation is seriously on the line if she doesn't unearth the killer soon. But with a growing list of shady characters and crew members, someone has to match the role of murderer, or it's going to be Presley who won't make the cut.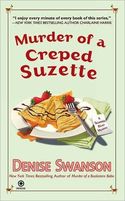 MURDER OF A CREPED SUZETTE: A Scumble River Mystery #14 By Denise Swanson Obsidian; $7.99
When megamillionaire and imitation cowboy Rex Taylor proposes building a country music theater in Scumble River, everyone's ready to do the boot- scootin' boogie except school psychologist Skye Denison. She's been asked by Suzette Neal, Rex's assistant and a rising country star, to investigate her mother's suspicious death twenty-seven years earlier. No sooner does Skye agree to help than she finds Suzette literally flattened — and very dead. This has fast become a case of two questionable deaths, and suspicion seems to be hovering over Suzette's inner circle: Rex's jealous wife, a mysterious man in a black pickup truck, and the sizzling-hot singer Flint James, who also happens to have been Suzette's bitter rival for country-western fame. With a honky-tonk full of suspects and a tangled web of motives that stretches back two decades, Skye has two options: Rise to the occasion or end up as flat as a crêpe.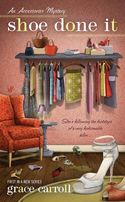 SHOE DONE IT: An Accessories Mystery (DEBUT SERIES) By Grace Carroll Berkley Prime Crime; $6.99
Rita Jewel has a dream job selling fabulous clothes and accessories to the socialites of San Francisco at Dolce's Boutique. But when a pair of heels becomes a clue in a murder, Rita finds herself engaged in a high-end crime of fashion.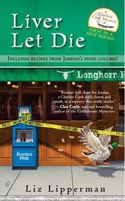 LIVER LET DIE: A Clueless Cook Mystery (DEBUT SERIES) By Liz Lipperman Berkley Prime Crime; $7.99
Jordan McAllister can't cook her way out of a macaroni & cheese box, but filling in for the culinary reporter at The Ranchero Globe is better than writing personal ads. Her first assignment to review the new steakhouse in town is a disaster that ends with her waiter murdered outside her door—with her name and number in his pocket. Now Jordan is the prime suspect, as well as the main course on the murder menu.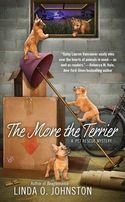 THE MORE THE TERRIER: A Pet Rescue Mystery #2 By Linda O. Johnston Berkley Prime Crime; $7.99
When shelter manager Lauren Vancouver finds out that her old mentor, Mamie Spelling, is an animal hoarder, no one is more shocked, and she jumps in to help re-home the cramped critters. But Mamie's troubles don't end there. She's accused of murder when the CEO of a pet shelter network is found dead. And Lauren's dogged determination to clear her former friend of murder may put a killer on her tail.
There's a little treat for everyone here! Happy Fall, Ya'll, and as always, Happy Reading
1 comment posted.