I know most people adore summertime, but after nearly 100 straight days of over 100 degree temperatures here in Texas, I, for one, am glad to see the return of nice, cool, fall days!

And lucky for book lovers, Fall seems to be the time for the release of shelf after shelf of wonderful new books to enjoy. Cozy Mystery fans, in particular, are sure to be ecstatic over the selections that are available this month!

Here are a few you might like to check out! And as always, Happy Reading, Ya'll!

- Sharon

HARDBACKS: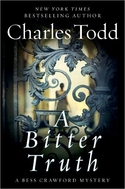 A BITTER TRUTH: A Bess Crawford Mystery #3
By Charles Todd
William Morrow; $24.99

Trying to help a woman in distress, World War I nurse and accidental sleuth Bess Crawford learns that no good deed goes unpunished.

When battlefield nurse Bess Crawford returns from France for a well-earned Christmas leave, she finds a bruised and shivering woman huddled in the doorway of her London residence. The woman has nowhere to turn, and propelled by a firm sense of duty, Bess takes her in.

Once inside Bess's flat, the woman reveals that a quarrel with her husband erupted into violence, yet she wants to return home—if Bess will go with her to Sussex. Realizing that the woman is suffering from a concussion, Bess gives up a few precious days of leave to travel with her. But she soon discovers that this is a good deed with unforeseeable consequences.

What Bess finds at Vixen Hill is a house of mourning. The woman's family has gathered for a memorial service for the elder son, who died of war wounds. Her husband, home on compassionate leave, is tense, tormented by jealousy and his own guilty conscience.

Then, when a troubled houseguest is found dead, Bess herself becomes a prime suspect in the case. This murder will lead her to a dangerous quest in war-torn France, an unexpected ally, and a startling revelation that puts her in jeopardy before a vicious killer can be exposed.

(Set during WWI, this series is fascinating, and one of my favorites.)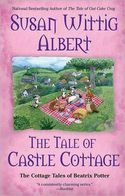 THE TALE OF CASTLE COTTAGE: The Cottage Tales of Beatrix Potter #8
By Susan Wittig Albert
Berkley Prime Crime; $24.95

It's the heart of summer in 1913, and Beatrix is eager to marry her fiancĂ©, solicitor William Heelis. But there are a few obstacles blocking the happy couple's path to the altar, like the troubled remodeling of Castle Cottage - Will and Beatrix's future home — going so slowly, Beatrix's frustration increases even more when her carpenter, Mr. Adcock, is fired for an alleged theft. Will is tasked with investigating thefts at construction sites, but his inquiries are halted when Mr. Adcock is found dead.

Aside from the construction complications, Beatrix and Will still have to overcome the fact that the Potters have yet to give their blessing for the marriage.

(This is the last book in Albert's charming "The Cottage Tales of Beatrix Potter" series, and I am sad to see its conclusion. They are a delightful way to introduce young readers to the cozy mystery genre.)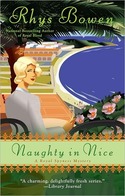 NAUGHTY IN NICE: A Royal Spyness Mystery
By Rhys Bowen
Berkley Prime Crime: $24.95

The national bestselling author of Royal Blood whisks her heroine away to the French Riviera for fun—and danger.

Lady Georgiana Rannoch has once again been called into service by Her Majesty the Queen. This time she's sent to Nice on a secret assignment that's nothing to sneeze at—recover the Queen's stolen snuff box.

As much of an honor as it is to be trusted by Her Majesty, an even greater honor awaits Georgie in ice—as Coco Chanel herself asks Georgie to model her latest fashion. But when a necklace belonging to the Queen is stolen on the catwalk, Georgie has to find two priceless items—and solve a murder. How's a girl to find any time to go to the casino?

Trade Paperbacks:


A RATHER REMARKABLE HOMECOMING
By C.A. Belmond
New American Library; $15.00

Join the fun and frolic with American heiress Penny Nichols and her English hero Jeremy Laidley, as the adventurous couple sets off for more elegant travel and delightful sleuthing together!

Penny and Jeremy are just returning from their honeymoon, only to be greeted by eccentric friends of Prince Charles bearing a rather royal request: to rescue a historical village on the coast of Cornwall, England. A property developer is bulldozing his way across the countryside to build a monstrous new development, and he's heading straight for Grandmother Beryl's old homestead where the newlyweds first met long ago as kids. Can Penny and Jeremy solve an ancient puzzle in time to save Grandma's house-and the entire village-from total destruction?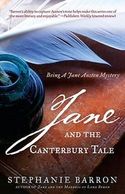 JANE AND THE CANTERBURY TALE: Being A Jane Austen Mystery #11
By Stephanie Barron
Bantam Books; $15.00

Three years after news of her scandalous husband's death, Adelaide Fiske is at the altar again, her groom a soldier on the Marquis of Wellington's staff. The prospects seem bright for one of the most notorious women in Kent—until Jane Austen discovers a corpse on the ancient Pilgrim's Way that runs through her brother Edward's estate.

As First Magistrate for Canterbury, Edward is forced to investigate, with Jane as his reluctant assistant. But she rises to the challenge and leaves no stone unturned, discovering mysteries deeper than she could have anticipated. It seems that Adelaide's previous husband has returned for the new couple's nuptials—only this time, genuinely, profoundly dead. But when a second corpse appears beside the ancient Pilgrim's Way, Jane has no choice but to confront a murderer, lest the next corpse be her own.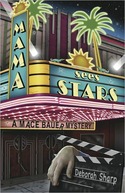 MAMA SEES STARS: A Mace Bauer Mystery
By Deborah Sharp
Midnight Ink Books; $14.95

My stars and garters—Hollywood has descended on little ol' Himmarshee, Florida. As animal wrangler for a cowboy film, Mace is on the set when she discovers the arrogant executive producer shot dead, his body on display in the horse corral. With everyone from spoiled starlets to conniving crew members cursing the man's name, who in blue blazes didn't want to kill Norman Sydney? As Mama's head swells to diva proportions, thanks to her miniscule movie role, Mace shines an unwelcome spotlight on the big-city film folk to reveal a killer.

(Deborah Sharp's "Mama" series is one of the funniest cozy mystery series I've had the pleasure to review! If you haven't met Mama, you need to!!!)

Paperbacks: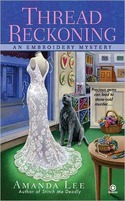 THREAD RECKONING: An Embroidery Mystery #3
By Amanda Lee
Obsidian; $7.99

Cupid's arrow is making its way to Tallulah Falls, Oregon, bringing lots of business to Marcy Singer's embroidery specialty shop—like the bride who wants her mother's dress embellished with jewels. But someone wants to squash all the romance—and in this case they'll go as far as murder.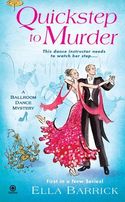 QUICKSTEP TO MURDER: A Ballroom Dancing Mystery (DEBUT SERIES)
By Ella Barrick
Obsidian; $6.99

What if your dance partner, business partner, and fiancé was stepping out with another woman? That's exactly what happens to Stacy Graysin, who shares ownership of a ballroom dance studio with the man who broke her heart, Rafe Acosta.

But when Stacy discovers Rafe's dead body in the studio one dark night, the police suspect her of killing him. To clear her name and save her studio, Stacey teams up with Rafe's estranged cousin from Argentina, Tav, to find the real killer. And if Stacy doesn't watch her step, the killer may make this dance her last.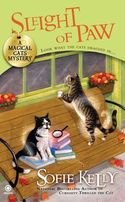 SLEIGHT OF PAW: A Magical Cats Mystery #2
By Sofie Kelly
Obsidian; $7.99

Small-town librarian Kathleen Paulson never wanted to be the crazy cat lady. But after Owen and Hercules followed her home, she realized her mind wasn't playing tricks on her—her cats have magical abilities.

When the body of elderly do-gooder Agatha Shepherd is found near Kath's favorite local cafĂ©, she knows Owen's talent for turning invisible and Hercules's ability to walk through walls will give the felines access to clues Kath couldn't get without arousing suspicion. Someone is hiding some dark secrets—and it will take a bit of furtive investigating to catch the cold- hearted killer.


MIND OVER MURDER: A Raven's Nest Bookstore Mystery (DEBUT SERIES)
By Allison Kingsley
Berkley Prime Crime; $7.99

Cousins and best friends, Clara and Stephanie Quinn run The Raven's Nest Bookstore, where people go to find their most coveted reads. But they have no idea it's the psychically-gifted Clara who's reading them.

The bookstore has made an enemy of the town crier, Ana Jordon, who claims that the store's occult collection is "poisoning" the town's youth. Meanwhile, the store's number-one employee, Molly, has made no secret of her anger over Ana's antics. So when Ana is found dead, killed by the bust of Edgar Allen Poe sculpted by Molly, the evidence is stacked against her. And Clara must rely on her gift to make sense of this senseless murder.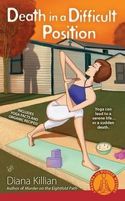 DEATH IN A DIFFICULT POSITION: A Mantra For Murder Mystery #4
By Diana Killian
Berkley Prime Crime; $7.99

At Sacred Balance yoga studio, owner A.J. Alexander tries to help her clients feel heavenly. But a seriously inflexible preacher claims she's sending them straight to hell...until he ends up dead, and A.J. has to stretch her sleuthing skills to the limit.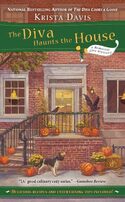 THE DIVA HAUNTS THE HOUSE: A DOMESTIC DIVA MYSTERY#5
By Krista Davis
Berkley Prime Crime; $7.99

Domestic diva Sophie Winston is getting into the Halloween spirit—her decorations for a community haunted house are so good, it's scary. Not to be outdone, rival domestic diva Natasha is throwing a spooktacular Halloween party at her house. But when Sophie arrives, she discovers one of Natasha's guests dead in a Halloween display, and a pale, fanged partygoer fleeing the scene.

Could the killer be a real vampire—the same one rumored to have lived in Sophie's haunted house back when it was a boardinghouse? Good thing a domestic diva never runs out of garlic.

(Just in time for Halloween!)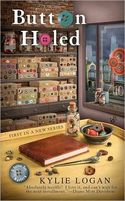 BUTTON HOLED: A Button Box Mystery (DEBUT SERIES)
By Kylie Logan
Berkley Prime Crime; $7.99

Working out of her button shop in a Chicago brownstone, Josie Giancola has become one of the country's leading experts on buttons. Her reputation draws a Hollywood starlet to the Button Box to shop for one-of-a-kind buttons to adorn her made-to-order wedding gown.

But after the Button Box is ransacked and the actress murdered, Josie's cozy world is thrown into chaos—and a killer is out to keep Josie's lips buttoned up...permanently.
1 comment posted.
When the body of elderly do-gooder Agatha Shepherd is found near Kath's favorite local café, she knows Owen's talent for turning invisible and Hercules's ability to walk through walls will give the felines access to clues Kath couldn't get without arousing suspicion.-The Balancing Act Lifetime
(Liezel Jandayan 9:24am April 20, 2012)