It's officially Summer! And according to several polls I've read recently, there is nothing that goes better to the beach than sunscreen and your favorite book to read. If your favorite books include cozy mysteries, you are in luck this month, because there are a slew of great ones to choose from. Not going to the beach – no problem! Have a stay-cation with a pile of good books – just as much fun and you don't need sunscreen under the air conditioner!

So relax, grab a glass of something cool to drink and get cozy with a great read!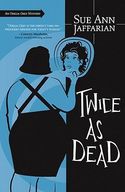 TWICE AS DEAD: An Odelia Grey Novel #6
By Sue Ann Jaffarian
Midnight Ink; $14.95

Paralegal extraordinaire and corpse magnet Odelia Grey is at it again—stumbling across a dead body at a wedding reception while "Achy Breaky Heart" plays in the background. Bodies are turning up so fast that Odelia enlists the help of her family and friends—Greg, Seth, Zee, Detective Frye, her half brother Clark, even her pompous boss Michael Steele. But solving a mystery is twice as hard when the victims have more secrets than the killer.

Sue Ann Jaffarian's "Odelia Grey" mysteries are always a lot of fun to read – the action is lively and the character is sassy!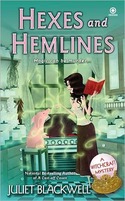 HEXES AND HEMLINES: A Witchcraft Mystery #3
By Juliet Blackwell
Obsidian; $7.99

Lily gets called away from her vintage clothing store to give police a witch's take on how the leader of a rationalist society could be murdered, surrounded by superstitions he discredited. Evidence points to dark witchcraft. Lily's determined to use magic of her own to find the murderer, before everyone's luck runs out.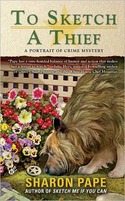 TO SKETCH A THIEF: A Portrait of Crime Mystery #2
By Sharon Pape
Berkley Prime Crime; $7.99

After a stray dog named Hobo leads former police sketch artist-turned- paranormal private eye Rory McCain back to his owner's corpse, she finds herself involved in another homicide case—not to mention the new owner of a lovable pooch, which makes Rory's ghostly partner, Zeke, more than a little spooked.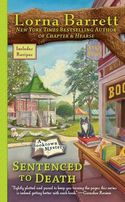 SENTENCED TO DEATH: A Booktown Mystery #5
By Lorna Barrett
Berkley Prime Crime; $7.99

It's Founder's Day in Stoneham and the whole village has turned out to celebrate in the square, including Tricia's friend and festivities organizer Deborah Black. As everyone watches Deborah give the opening speech, a small aircraft crashes into the village gazebo, killing both Deborah and the pilot. While the Sheriff's Department is convinced that it was an accident, Tricia has a feeling that there's more to the story. And when she reads between the lines of the case, what she finds is worse than the most sinister whodunit.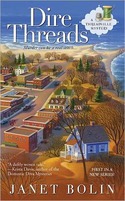 DIRE THREADS: A Threadville Mystery (Debut Series)
By Janet Bolin
Berkley Prime Crime; $7.99

Threadville has everything — a fabric store, yarn shop, notions store, quilting boutique, and Willow Vanderling's brand new shop, In Stitches, a hit with tourists eager to learn embroidering in the latest way, with software and machines.

But when the village's bullying zoning commissioner picks a fight with Willow and turns up dead in Willow's yard, the close-knit community starts unraveling at the seams. Willow must stitch together clues and find the real murderer, or the next thing she embroiders may be an orange prison jumpsuit.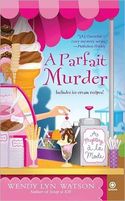 A PARFAIT MURDER: A Mystery a la Mode #3
By Wendy Lynn Watson
Obsidian; $6.99

When Tally's cousin Bree spots her deadbeat ex-husband strolling the Lantana County Fair with a fat wallet and a vixen on his arm, she immediately files for back child support. But when his lawyer is found dead, things get a little sticky. Did Bree serve up a dish of cold, sweet revenge? Or is she another hapless victim of a parfait crime?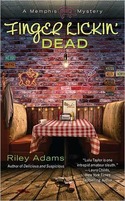 FINGER LICKIN' DEAD: A Memphis BBQ Mystery #2
By Riley Adams
Berkley Prime Crime; $6.99

When an anonymous food critic blasts several local restaurants—including Aunt Pat's—Lulu Taylor and her customers are biting mad, especially when they learn that Eppie Currian is the pen name of their friend Evelyn's cheating boyfriend. When "Eppie" gets his own fatal review, the list of suspects is longer than the list of specials at the best BBQ place in Memphis.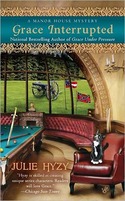 GRACE INTERRUPTED: A Manor House Mystery #2
By Julie Hyzy
Berkley Prime Crime; $7.99

Civil war re-enactors have set up camp on the grounds of Marshfield Manor. The group is very believable, especially when the unrest spills out of the barracks and inside the sumptuous mansion. Grace manages to settle a minor squabble, but loses the war when actor Zachary Kincade is found stabbed to death.

Jack Embers, the groundskeeper, falls under suspicion when he's linked to the death of Zachary's brother years ago. But there were others out for Zachary, actors who can be very convincing when the coveted role of "General" is on the line. Grace feels responsible for finding the murderer...and for the sweet tuxedo kitten found on her doorstep, Bootsie. Can she come to the rescue of her friends without putting herself in danger's way?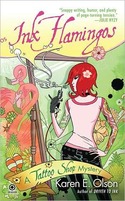 INK FLAMINGOS: A Tattoo Shop Mystery #4
By Karen E. Olson
Obsidian; $7.99

Dee Carmichael, lead singer of the hot pop sensation, The Flamingos, has been one of Brett's most dedicated customers — or was. Allergic to red dye, Dee has been discovered dead in her hotel room with a pink flamingo tattoo and surrounded by ink pots and needles — and a tall redhead was seen leaving the crime scene.

Now Brett has been branded as the prime suspect. This can't be good for business. . . .

Meanwhile, a blog has been showcasing Dee's deadly tattoo. Things get worse when pictures of Brett start appearing on the blog. Turns out someone isn't merely following her, but impersonating her all over town. Brett must act fast to find out who's out to get her before the killer puts the dye in dying once again.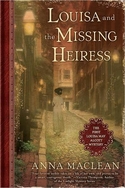 LOUISA AND THE MISSING HEIRESS: A Louisa May Alcott Mystery
By Anna Maclean
NAL Books; $14.95 (Reprint)

Long before she will achieve fame as the author of "Little Women," Louisa May Alcott is writing stories of a more dark and mysterious nature. But nothing prepares her for the role of amateur detective she assumes when the body of her dear friend, wealthy newlywed Dorothy Wortham, is found floating in Boston's harbor.

It's well known that Dorothy's family didn't approve of her husband, a confirmed fortune hunter, but Louisa suspects that some deeper secret lies behind her friend's tragic murder.
No comments posted.