To continue we are exploring the wonderful world of Harlequin Presents, the authors and stories.  All in honor of Harlequin's Writing Contest.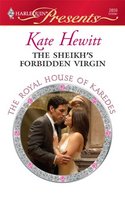 THE SHEIKH'S FORBIDDEN VIRGIN by KATE HEWITT
On her twenty-first birthday, Kalila is pledged to marry the King of Calista. But first she must be delivered to her husband-to-be. Scarred, sexy sheikh Prince Aarif, the king's brother, is sent to escort her. However, willful virgin Kalila tries to escape and Aarif has to catch her. In the desert heat his scorching desire for her ignites—a desire that is forbidden!—and Aarif claims Kalila's virginity, even though she can never be his!

When she walks up the aisle on the day of her wedding, Kalila's heart is in her mouth: who will be waiting at the altar to become her husband?
KATE HEWITT
When her oldest daughter was one year old, she sold her first short story to a British magazine, The People's Friend. Since then she has written many stories and serials as well as novels. She loves writing stories that celebrate the healing and redemptive power of love and there's no better way of doing it than through the romance genre!
Besides writing, she enjoys reading, traveling and learning to knit—it's an ongoing process and she's made a lot of scarves.
After living in England for six years, she now resides in Connecticut with her husband, an Anglican minister, her three young children and the possibility of one day getting a dog.
HOT BOSS, WICKED NIGHTS by ANNE OLIVER
Acting impulsively, Kate Fielding indulged in one night of steamy sex with a stranger—but her actions came back to haunt her when she discovered that her passionate lover was none other than her new boss, Damon Gillespie!

Mortified, Kate has to fly to Bali with Damon to a luxurious holiday resort for business. Kate wants to prove she can be utterly professional, but ten sultry nights with her bad-boy boss are going to test her resolution to the limit….
ANNE OLIVER
Anne began writing in 1998 and is a member of the Romance Writers of America, the Romance Writers of Australia and the Romance Writers of New Zealand. She started entering writing contests in 1999 and was a finalist in several contests in the USA, Australia and New Zealand before being accepted by Harlequin Mills and Boon for their Modern Extra series in December 2005.
Her other interests include animal welfare and conservation, quilting, astronomy, all things Scottish—and eating anything she doesn't have to cook. She's traveled to Papua/New Guinea, the west coast of America, Hong Kong, Malaysia, the UK and Holland.
Sharing her characters' journeys with readers all over the world is a privilege and a dream come true.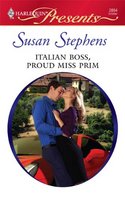 ITALIAN BOSS, PROUD MISS PRIM by SUSAN STEPHENS
Katie Bannister is prim, perky and petite. Worlds apart from her boss, the dangerous, daring and devilishly handsome Rigo Ruggiero.

When she steps into his jet-set world, Katie's sensible brown shoes suddenly seem very out of place. And as Rigo's assistant there's no desk to hide behind….
When she accompanies the magnificent Italian to his newly inherited Tuscan palazzo, Katie witnesses the wolf entering his lair. Finally Rigo has come home—and he's ready to undo Miss Prim's buttons!
SUSAN STEPHENS
The best day of Susan's reading life was discovering a book of Grimm's Fairy Tales holding up the leg of her favourite chair. The worst was being told it was time to put fairy tales aside.  Discovering Harlequin Presents filled that gap. Writing books set in fabulous places where an outstanding man shares the lead role with a fascinating and determined woman is Susan's passion. Susan is a staunch believer in romance, having met her husband on Monday, became engaged on Friday and married within three months. Three wonderful children later, they are still in love. (Susan does not advise her children return home with a similar story, as she may not take the news with the same fortitude as her own mother.)
Check out (iheartpresents.com) to catch a special guest blogger, Susan Stephens.
If you love Harlequin Presents and would love to try your hand at writing one.  Now is the time.  Harlequin is holding another writing contest.  You can visit their site (http://www.iheartpresents.com) for more details.  The deadline is November 2, 2009, good luck to all of you entering the contest.
Happy Reading,
Tonya
No comments posted.