Mark Arsenault | IT'S ALL ABOUT THE MOTIVATION

October 19, 2009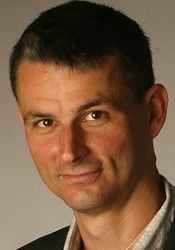 Storytelling is all about motivation. How do I motivate the reader to finish the book? A fast start helps. In my new novel, Loot the Moon, the reader joins a carjacking in progress on Page 1. A little danger grabs the attention, but to provide lasting motivation, the characters and their relationships must quickly shine.
Finding the motivation to write is similar. Nothing jumpstarts my motivation like the danger of a deadline, but to tackle a large project I need more.
When I wrote my first novel a few years ago, I really didn't know what I was doing. So when I sold the manuscript, the deal was contingent on some substantial revisions that I had to complete in about three months.
I was assigned a wonderful editor, Ellen Larson. Ellen put her critique of the book in a spreadsheet, which would include text from the original manuscript, her comments on why (but never how) the text needed to be improved, and a blank box for me to check off when I had made the revision.
Every day, another five pages of her critique would appear in my inbox. I'd print out the sheets and tape them in columns to the walls of my office. And the next day, five more pages of criticism. All of it constructive, for sure, but still…
After a couple of weeks, I was literally surrounded, floor to ceiling and including the door, with criticism. I had papered the entire room with the withering wallpaper of disapproval. Had the book been any longer, I would have had to expand into the hall. It was discouraging to sit there typing away, surrounded by my mistakes, trying to hold onto hope that I could finish the revisions on time.
But then a funny thing happened: I began to check off some of those blank boxes, and as soon as I could see progress-physically see it as I moved around the room checking off my giant to-do list-I knew I could finish. Nothing was more satisfying than completing another row, or another whole wall, and that kept me motivated.
So here's a quick one-day contest that could not be simpler: We all need motivation-to write, to study, to go the gym. Where do you find it? Respond for a chance to win a personalized, signed copy of my brand new novel, Loot the Moon
Comments
19 comments posted.
Re: Mark Arsenault | IT'S ALL ABOUT THE MOTIVATION

I write daily for business and a travel website. Some days I feel stuck and don't want to sit at the computer. It's all a matter of finding balance between work and pleasure. My reward for a good day of writing is time at the beach. Since I live in Hawaii I can do that year round. That's good motivation for me to get the job done.
(Rob Kvidt 3:09am October 19, 2009)
I set goals and with large goals I set small milestones. It helps if I enjoy what I am doing to reach a goal but usually I can find satisfaction in just knowing that I am moving forward.
(G. Bisbjerg 1:10pm October 19, 2009)
Because I am a "stay at home Mom" it would be so easy to put off tasks until tomorrow. However the task keeps staring me in the face, and then I feel guilty. I find if I just get "IT" done, then I can reward myself with a treat, something that I enjoy...usually reading a good book:).
(Robin McKay 1:26pm October 19, 2009)
I'm a get-er-done type of person. If I will go ahead a do what needs to be done then I get to spend the evenings reading and doing the things I want to do.
(Gail Hurt 1:47pm October 19, 2009)
My motivation is 2-3 hours free time in the afternoon. I take care of my granddaughter and 5 pugs during the day. In the morning I move through the goals I set for myself, then while the baby's napping, I have free time to enjoy whatever I want.
(Theresa Buckholtz 1:51pm October 19, 2009)
I live with my son and his family. They continually tell me to just relax and let them take care of everything. Yes, that is really nice, but after a day or two, it leads to extreme bordom. THAT is what motivates me...bordom.
(Patsy Hagen 2:12pm October 19, 2009)
Motivation for me is entwined with the satisfaction of a job well done. I want to get the job done right - and right away! Only after the job is completed satisfactorily can I relax and reward myself.
(Susan Driskill 3:36pm October 19, 2009)
I have to tell myself I will get some sort of reward as motivation.
(Vikki Parman 4:32pm October 19, 2009)
I give myself little rewards to keep myself motivated. It doesn't have to be big but something I really like. For instance, I need to get something finished quickly, a deadline or somethng, I treat myself to my favorite ice cream, candy bar or book; depending on my deadline. It's all worth it in the end.
(Lisa Glidewell 4:45pm October 19, 2009)
I need lists. Without lists and the ability to cross things out I would not get anything done - at home or at work
(Anne Jones 4:49pm October 19, 2009)
I reward myself for a job well done with a new book to relax with
(Teresa Ward 6:17pm October 19, 2009)
It's the peace of mind knowing that my job is done that is my motivation. I'm a slow starter, but once I get my head into a project, I won't stop until I'm done and satisfied with the outcome.
(Mitzi Hinkey 8:18pm October 19, 2009)
Exercise is my secret to getting motivated. It alway gets my energy up and than I am superwomen....motivated to do all that I need to do and some of those things that I have put off because I was just not motivated to do.
(Barbara Ryan 8:50pm October 19, 2009)
Job satisfaction & mentally crossing off tasks motivates me. I hate having things hanging over me still waiting to be done. I find that oppressive.
(Mary Preston 11:51pm October 19, 2009)
Motivation - I have to keep to a schedule, that way I get the things done when I need to. Mess with the schedule and I have trouble getting things done.
(Brenda Rupp 12:20pm October 20, 2009)
Motivation - winning stuff always gets me going.
(Carl Jessome 8:48am October 20, 2009)
I find motivation within myself. I lived a life that I'd rather not look back o and wonder, "what if?" That is motivation enough to do what I must, and throw in extra for good measure.

Thanks for the contest, and great post!
(Freda Mans-Labianca 12:43pm October 20, 2009)
I find my motivation from my family. I have a job that requires a lot and sometimes just looking at their picture reminds me each day why I do what I do. They motivate me to keep doing what I do! That is where I find my motivation!
(Jeanette Huston 2:39pm October 27, 2009)
I have started more than one book?? that was while I was working full time. Now that I have retired I thought I would at least finish one of them..LOL.. I seem to have less free time to write now and my mind seems to be on permanent vacation. I am spending to much time gardening..LOL..I read when I worked to unwind now I read just for the pleasure of reading. I am discovering so many new writers at Fresh Fiction. Will add you to my list and making New Years resolution to finish one of the stories I have started.
(Brenda Hill 10:20pm November 8, 2009)
Registered users may leave comments.
Log in or register now!