As we begin to ease on into summer, I can't think of a better way to spend a warm, sunny day than curled up with a cool glass of something delicious to drink and a great book. There is a wonderful selection of cozy mysteries available this month that would be just perfect for spending a day on a porch swing enjoying!

Here are a few that caught my eye!

Hardbacks: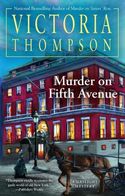 MURDER ON FIFTH AVENUE : A Gaslight Mystery #14
By Victoria Thompson
Berkley Prime Crime; $24.94

Midwife Sarah Brandt braves the dangers of the tenements in nineteenth–century New York to help the impoverished and, with Detective Sergeant Frank Malloy, bring the guilty that prey on them to justice. Now, the latest novel in the EdgarŽ–nominated series finds Sarah and Malloy investigating the murder of a Knickerbocker club member who was made to pay his dues.

Sarah Brandt's family is one of the oldest in New York City , and her father, Felix Decker, takes his position in society very seriously. He still refuses to resign himself to his daughter being involved with an Irish Catholic police detective. But when a member of his private club — the very exclusive Knickerbocker — is murdered, Decker forms an uneasy alliance with Detective Sergeant Frank Malloy to solve the crime as discreetly as possible.

Malloy soon discovers that despite his social standing, the deceased — Algernon Abernathy — was no gentleman. In fact, he's left behind his own unofficial club of sorts, populated by everyone who despised him. As he and Sarah sort through the suspects, it becomes clear to her that her father is evaluating more than the detective's investigative abilities, and that, on a personal level, there is much more at stake for Malloy than discovering who revoked Abernathy's membership — permanently.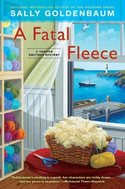 A FATAL FLEECE: A Seaside Knitters Mystery #6
By Sally Goldenbaum
Obsidian; $24.94

It's summer in Sea Harbor , Massachusetts , and while tourists flock to the beautiful cottages by the sea, trouble brews for the Seaside Knitters. While one gets tangled up with a precocious relative, another stands accused of casting a local resident off on a permanent vacation.

As Izzy Chambers and the Seaside Knitters prepare Izzy's yarn studio for the tourist season, fellow knitter Birdie Favazza has her hands full with a skeleton emerging from the family closet.

But it's Cass Halloran, the lobsterwoman, whose life is most in shambles as summer begins. Not only is her business suffering financial hardships, but Finnegan, an old friend and fellow fisherman, is being pressured by the town to sell his seaside property—an unkempt and eyesore area near Canary Cove. And it's Cass who stumbles over the body of the old fisherman, covered with leaves and sea grass, and wearing the yellow fleece vest she once made him. When, in a surprising turn of events, Cass unwittingly becomes a suspect in his murder, the knitters rally to protect their dear friend.

Soon the Seaside Knitters will discover that casting their net for a killer is tricky business indeed. They'll have to keep their wits about them as they piece together the clues, working to catch a killer before one of their own winds up knitting behind bars.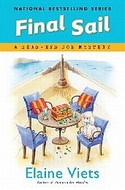 FINAL SAIL: A Dead–End Job Mystery #11
By Elaine Viets
Obsidian; $24.94

Husband and wife PI team Helen Hawthorne and Phil Sagemont each have their hands full, but only Helen has to carry drink trays—in her latest dead–end job/undercover assignment as a stewardess on a private yacht.

To catch a jewel smuggler on a luxury yacht, Helen needs to pose as the ship's new stewardess—but between serving drinks to the snobs, scrubbing floors, and cleaning up after seasick passengers, she's starting to miss dry land almost as much as she misses Phil.

While Helen's cruising to the Bahamas , Phil's got his own job—trying to catch a sexy gold digger who may have killed her elderly new husband for his fortune. Good thing he's a self–proclaimed master of disguise, playing it cool as everything from an air–conditioning repairman to a Rastafarian.

Helen's a help to Phil in his case, but when she's on her own on the high seas, Helen needs to watch her step as she searches out the smuggler—or she may end up going from undercover to overboard.

Mass Paperbacks: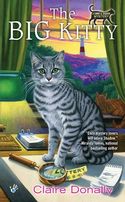 THE BIG KITTY: A Sunny and Shadow Mystery
By Claire Donally
Berkley Prime Crime; $7.99

Sunny Coolidge left her New York City newspaper job to go back to Maine and take care of her ailing father. But there's not much excitement—or interesting work—in Kittery Harbor . So when Ada Spruance, the town's elderly cat lady, asks for help finding her supposedly–winning lottery ticket, Sunny agrees. But when she arrives at Ada 's, with a stray tomcat named Shadow tagging along, they discover the poor woman dead at the bottom of her stairs. Was it an accident—or did Ada 's death have to do with that missing lottery ticket, which turns out to be worth six million dollars?

Town Constable Will Price suspects the worst. And Sunny's reporter instincts soon drive her to do some investigating of her own. Even Shadow seems to have a nose for detective work. Following the trail of the purrloined ticket, Sunny and Shadow try to shed some light on a killer's dark motives—before their own numbers are up...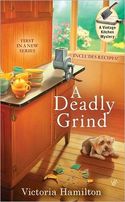 A DEADLY GRIND: A Vintage Kitchen Mystery #1
By Victoria Hamilton
Berkley Prime Crime; $7.99

A Hoosier to die for?

When vintage cookware and cookbook collector Jaymie Leighton spies an original 1920s Hoosier brand kitchen cabinet at an estate auction, it's love at first sight. Despite the protests of her sister that the 19th–century yellow–brick house they share in Michigan is already too cluttered with Jaymie's "junk," she successfully outbids the other buyers and triumphantly takes home her Hoosier.

But that night on the summer porch where they've left the Hoosier to be cleaned up, a man is murdered, struck on the head with the steel meat grinder that is part of the cabinet. Who is this stranger—and what was he doing on their porch? Does his death have anything to do with the Hoosier?

As the police struggle to determine the man's identity, Jaymie can't help doing a little digging on her own, accompanied by her three–legged Yorkie Poo, Hopalong. But in her bid to uncover the truth about the hidden secrets of the Hoosier, Jaymie may be the one who ends up going, going...gone.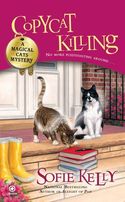 COPYCAT KILLING: A Magical Cats Mystery #3
By Sophie Kelly
Obsidian: $7.99

Everyone thinks their cats are special—but Owen and Hercules have powers that go far beyond an adorable look or an irresistible purr. Along with their owner, librarian Kathleen Paulson, they have an uncanny instinct for solving crimes.

It's been raining cats and dogs in Mayville Heights . The small town's been deluged, and now the local artists' co–op is on the verge of flooding. Kathleen has been up all night helping her friends move their creations to the safety of the upstairs studio.

The artwork survives, but when controversial mask maker Jaeger Merrill is found drowned in the co–op basement, Kathleen questions whether the death was accidental. After she discovers the artist was using an assumed name, she realizes she can't actually assume anything about him. With the help of handsome detective Marcus Gordon—and her cats' extraordinary powers of detection—it's up to Kathleen to unmask a killer.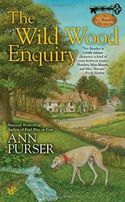 THE WILD WOOD ENQUIRY: An Ivy Beasley Mystery #3
By Ann Purser
Berkley Prime Crime; $7.99

In a brand–new mystery from the author of The Measby Murder Enquiry, the cantankerous golden years gumshoe Ivy Beasley keeps her mental faculties sharp with a strict regimen of crime detection.

Apart from the unwelcome noise made by the morning cleaning crew, life has been quiet at Springfields Home for the Elderly. Too quiet, in fact. Ivy and her team of sleuths, Enquire Within, have resorted to finding lost cats, and Gus is even threatening to return to his memoirs. But no sooner does he attempt to put a winning phrase together than he receives a call from his ex–wife, Katherine, who is in desperate needs of a place to hide.

Though Gus has a difficult time getting a straight answer from Kath—just as it was in their many years of marriage—something is most certainly afoot, and soon Enquire Within is back in business. This time they have their hands full, not only with missing pets, but missing jewels, and evidence of foul play uncomfortably close to their too quiet home.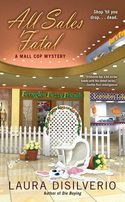 ALL SALES FATAL: A Mall Cop Mystery #2
By Laura DiSilverio
Berkley Prime Crime; $7.99

For mall cop E.J. Ferris, catching customers who "forgot to pay" is quite a change of pace from her former life in the military. But when a real crisis heats up her climate–controlled domain, her old instincts come back quicker than last year's skinny jeans.

On good days, Fernglen Galleria is a tranquil haven of capitalist splendor—but today is not one of those days. Arriving for her morning shift, E.J. spots a sleeping homeless person outside the east entrance. But the teenage boy turns out to be neither homeless nor asleep. He is, however, dead.

With half the security cameras sabotaged, no one can be sure what happened. E.J. is determined to help solve the case—whether Homicide Detective Helland likes it or not. Uncovering a deadly conspiracy right in her own mall, E.J is about to catch a killer, or get put on lay–away for good.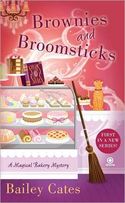 BROWNIES AND BROOMSTICKS: A Magical Bakery Mystery #1
By Bailey Cates
Obsidian: $7.99

Katie Lightfoot's tired of loafing around as the assistant manager of an Ohio bakery. So when her aunt Lucy and uncle Ben open a bakery in Savannah 's quaint downtown district and ask Katie to join them, she enthusiastically agrees.

While working at the Honeybee Bakery—named after Lucy's cat—Katie notices that her aunt is adding mysterious herbs to her recipes. Turns out these herbal enhancements aren't just tasty—Aunt Lucy is a witch and her recipes are actually spells!

When a curmudgeonly customer is murdered outside the Honeybee Bakery, Uncle Ben becomes the prime suspect. With the help of handsome journalist Steve Dawes, charming firefighter Declan McCarthy, and a few spells, Katie and Aunt Lucy stir up some toil and trouble to clear Ben's name and find the real killer.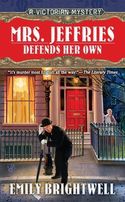 MRS. JEFFRIES DEFENDS HER OWN: A Victorian Mystery #30
By Emily Brightwell
Berkley Prime Crime; $7.99

She keeps house for Inspector Witherspoon...and keeps him on his toes. Everyone's awed by his Scotland Yard successes—but they don't know about his secret weapon. No matter how messy the murder or how dirty the deed, Mrs. Jeffries' polished detection skills are up to the task...proving that behind every great man there's a woman—and that a crimesolver's work is never done.

When the general office manager of Sutcliffe Manufacturing is murdered, no one is really surprised. Ronald Dearman was anything but a dear man. The tyrannical bully had more than enough enemies to go around. But who hated him enough to walk into his office and put a bullet between his eyes?

For once, Inspector Gerald Witherspoon doesn't get the case, it's given to another inspector. Then someone from Mrs. Jeffries' past—someone she'd hoped to never see again—shows up and begs for her help. Now Mrs. Jeffries must step into the fray and stop a terrible miscarriage of justice...

Enjoy this great group of books that are certain to make your cozy reading time a little bit happier! (And don't forget, these make great Mother's Day presents too!)

A Personal Note: I'll be taking a small hiatus for the summer, but will be back this fall with more cozy mysteries to suggest for your fall and winter reading lists! Have a great summer, everyone, and as always, Cozy Reading !


2 comments posted.
Thanks, Sharon, for including FINAL SAIL in your Cozy Corner. I'm in good company.
(Elaine Viets 12:22pm May 20, 2012)
I like the Gaslight mysteries as there is a lot of historical research and social comment. The kitchen collector one sounds interesting. Ever noticed how many mysteries revolve around bookshops?
(Clare O'Beara 6:23am June 15, 2012)