As we brace for what will surely be a pivotal election year for both sides of the aisle, what goes on behind closed doors in Washington is just as crucial. Our elected officials are entrusted with our good faith to act in accordance with our best interests whether it advances their political career or not. Sounds good on paper, but these days it seems it is becoming more of a challenge to achieve.
This month's Jen's Jewels Phillip Margolin addresses this very topic in his latest political thriller CAPITOL MURDER. Set in historic Washington, D.C. with fan favorite characters private investigator Dana Cutler and lawyer Brad Miller, Margolin delivers a gripping insider's view of the behind–the–scenes workings of the most powerful country in the world. With exciting plot twists and unforgettable characters, Margolin's fans will surely be entertained.
As part of this interview, Harper Collins Publishers has generously donated five copies for you, my favorite readers, to try to win. So, don't forget to look for the trivia question at the end of the column. And as always, thanks for making Jen's Jewels a part of your spring reading list!
Jen: As the author of fifteen New York Times bestselling books, you know firsthand what it takes to become a successful writer. So that my readers may catch a glimpse into the life of the man behind the words, please share with us your educational and professional background.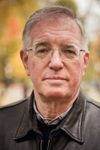 Phillip: I graduated from the American University in Washington, D.C. in 1965 with a B.A. in Government. After two years in the Peace Corps in Liberia, West Africa I went to law school at New York University. During my last two years at NYU I worked my way through school at night by teaching junior high school in the South Bronx. After law school, I clerked for the Chief Judge of the Oregon Court of Appeals. From 1972 to 1996 I was a criminal defense attorney. In addition to a variety of other cases I handled 30 homicides including several death penalty cases and I was the first Oregon attorney to use the Battered Woman's Syndrome to defend a battered wife accused of killing an abusive spouse. As an appellate attorney I argued at the U.S. Supreme Court, the Oregon Supreme Court and other appellate courts. I wrote part time while practicing law from 1978 – 1981, 1993 – 1996. In 1996 I retired from my law practice to write full–time.
Jen: Please describe for us your "Aha!" moment when you decided to take the plunge and pursue a career as a writer.
Phillip: There was no "Aha!" moment. I stumbled into a writing career. In my last semester in law school I had some free time so I decided to write a novel because I couldn't figure out how anyone could possibly do it. The book wasn't very good, but I enjoyed the writing process and wrote another awful novel. In my 30's I submitted a mystery story to Mike Shayne Mystery Magazine and was shocked when it was published. That gave me the self–confidence to try to tackle a more serious novel, but I had not taken any writing courses and had never met anyone who had written a book or anyone in publishing so I didn't know what I was doing. My big break came when Marty Bauer, a friend from law school who I had not seen in many years, came to Oregon on vacation. It turned out that Marty was one of the three lawyers for one of the largest literary agencies in the world. I had five chapters written and I asked Marty if he would show them to someone at the agency who could tell me if the novel was worth completing. Without asking my permission Marty sold the novel and that's how I became a published writer.
Jen: As a successful attorney in your own right, how did your stellar law career help prepare you for the rigors of the publishing business? And, what has been the most challenging part of the process thus far?
Phillip: The best thing about having legal training is that it teaches you to be objective and unemotional about your work. It's a big help when you are editing your own book or when you are receiving criticism about it from an editor. The most challenging part of the process so far is that I had no training whatsoever in how to write novels. When I was starting out, I had no idea how to develop characters and they were frequently stick figures in early drafts. I am still learning on the job.
Jen: As I mentioned, all fifteen of your books have hit the New York Times bestseller list. Congratulations! That is quite a feat. As you begin each subsequent novel, how do you cope with the pressure of trying to meet and/or exceed your readers' expectations to write another blockbuster hit?
Phillip: I don't have any pressure on me because I write for fun even though I am getting paid for it. Writing a novel for me is like doing a crossword puzzle or solving a chess problem. I have a group of characters and an idea for a plot and the fun is getting them to fit together and make them a book that will entertain people. I never try to write a blockbuster. I try to think up an original idea and see what I can do with it.
Jen: Your latest release CAPITOL MURDER is the third installment of your popular political fiction series. For those readers not familiar with the two previous titles, EXECUTIVE PRIVILEGE and SUPREME JUSTICE, please share with us the premise of the series.
Phillip: I have a continuing cast of characters in the three novels in my Washington trilogy. In EXECUTIVE PRIVILEGE, Brad Miller is a young lawyer who starts out as the lowliest associate in a large Portland, Oregon law firm. While working on a pro bono case for Clarence Little, a convicted serial killer who is on death row, Brad begins to suspect that his client may be innocent for one of the murders for which he has been given a death sentence and that the President of the United States might be involved in the murder. On the other side of the continent in Washington, D.C. private investigator Dana Cutler stumbles across evidence that leads her to the same conclusion. Together with FBI agent Keith Evans, the trio solves a baffling series of serial murders that may have been committed by people at the highest levels of our government. In SUPREME JUSTICE Brad is working as a clerk at the United States Supreme Court and he, Dana and Keith help to unravel a plot by a former director of the CIA to fix a case in the United States Supreme Court. In the final book in the series, CAPITOL MURDER, Brad is working as a legislative assistant to a United States Senator from Oregon and he, Keith and Dana help to stop terrorists from blowing up FedEx Field where the Washington Redskins play. Meanwhile in Oregon, convicted serial killer Clarence Little escapes from death row and Brad begins to receive threatening letters that indicate Little may be after him.
Jen: The theme of CAPITOL MURDER is relevant to present–day scenarios taking place in Washington. How much research was needed in order for the plot to ring true with your readers? And, what was the most fascinating tidbit you uncovered along the way?
Phillip: I had a great time doing the research for CAPITOL MURDER. One of Oregon's United States Senators Ron Wyden let me hang out in his office in Washington, D.C. for several days. I got a terrific tour of the Senate and the Capitol from his press secretary. I also got an opportunity to tour the Department of Justice and there were a lot of interesting things that I learned while doing my research. The most interesting things I did was take the Capitol dome tour and peek into the Senate Select Committee on Intelligence.
Jen: As the plot unfolds, Senator Jack Carson's political career is in jeopardy. How do his misguided extracurricular activities, if you will, affect his ability to perform his duties as a United States Senator? And, how will the choices he has made put the safety of the American people, who he has sworn to protect, at risk?
Phillip: Senator Jack Carson – who is nothing like real life Senator Ron Wyden – gets involved in a sex scandal with a woman who is working with terrorists who are seeking to blow up a football stadium and he is blackmailed into compromising the safety of the American people by feeding information to the terrorists to avoid his political career being destroyed.
Jen: The plot thickens when a group of terrorists devise a plan to blow up an NFL stadium. How does ex–military man Steve Reynolds' involvement contribute to the future of the senator's career?
Phillip: Steve Reynolds is the person who is organizing the attack on FedEx field. If the Senator's involvement is discovered, his career will be destroyed and he will go to prison.
Jen: When serial killer Clarence Little escapes death row, recurring character Brad Miller is put on high alert in fear for his safety and that of his newlywed wife's. In what ways does this recent development cause Brad to become more cognizant of what may be going on in the Senator's office?
Phillip: Little has just pulled off a brilliant escape from death row and Brad fears that Little is after him. A key character is murdered in Senator Carson's house and the MO is identical to Clarence Little's MO and the murder victim has been blackmailing the Senator into helping the terrorist plot.
Jen: Let's take a side step now and talk about your debut young adult release, VANISHING ACTS. Why did you choose to venture into this genre?
Phillip: I hadn't planned on writing a novel for 8 to 12 year olds until one of the editors at Harper Children's asked my adult editor at HarperCollins if I would like to write a novel for young adults. I mentioned this to my daughter Ami Margolin Rome and she suggested we write the book together. It was terrific fun writing with my daughter and I really enjoyed working in a different genre. The hardest part for me was figuring out the difference between the voice in an adult novel and a middle grade novel.
Jen: And tacking onto my last question, what sets VANISHING ACTS apart from a typical Young Adult mystery/thriller novel on the market today?
Phillip: VANISHING ACTS is a courtroom thriller/mystery for young readers. Madison Kincaid is a seventh grade soccer star whose best friend fails to show up on the first day of middle school. Her dad, Hamilton Kincaid, is a top criminal defense attorney who has a case involving a missing body. While solving the mystery of what happened to her missing friend, Madison helps her dad solve his case. What makes VANISHING ACTS different are the courtroom scenes and the discussion of criminal law. There are also no Vampires or Wizards in the book. It's a throw back to the old Hardy Boy/ Nancy Drew mysteries.
Jen: In terms of reader involvement, please take us on a brief tour of your website highlighting points of interest.
Phillip: I really enjoy my website www.phillipmargolin.com because it is interactive. There is a message board on which readers can post questions. I check the board almost every day and try to answer the questions as quickly as possible. There are times when I am out of town and not able to do this, but most of the year I can respond very quickly. I really like answering questions about writing because I never had any training and I like to help people trying to break into publishing. The website also has a section that gives a synopsis of each of my books so that readers who are unfamiliar with my work or have not read them can see if the plot sounds interesting. I also post my picks of good reads and movies.
Jen: Do you participate in social media?
Phillip: I am a dinosaur and do not even carry a cell phone, so the answer is no.
Jen: And, do you participate in Author Phone Chats? If so, how would my readers go about scheduling one?
Phillip: If someone wanted to do an author phone chat they could contact me on the website. There is a section for reader messages. I have received requests to appear at writer conferences and book groups. I am always excited when someone is interested in my work and wants me to speak about writing.
Jen: Are you currently at work on your next project? If so, what may you share with us?
Phillip: Yes, I have completed the THE OTTOMON SEPULCHER. This is a Dana Cutler stand–alone. I am also very excited by the fact that HarperCollins has purchased a historical novel that I began writing in the 1980s. This has been a side project and a labor of love. It may be the best book I've written.
Jen: Thank you so much for taking time out of your busy schedule to stop by and chat with me. Congratulations on all of your successes! I thoroughly enjoyed CAPITOL MURDERS and highly recommend it to all my readers.
I hope you have enjoyed my interview with Phillip. Please stop by your favorite library branch or local book seller and pick up (or download!) a copy today. Better yet, how would you like to win one instead?
Okay, be one of the first five readers correctly answer to the following trivia question and you could win.
What is the name of Phillip's upcoming Dana Cutler stand–alone novel?
Jen
11 comments posted.
I enjoyed this discussion with Philip Margolin. The answer to the trivia question is: THE OTTOMON SEPULCHER. I'd love to win a copy of Mr. Margolin's newest book. Thanks.
(Nancy Reynolds 10:21am May 4, 2012)
My most favorite Phillip Margolin book was Heartstone. I was guessing what happened and "who done it" until the very end of the book! My kids had the book signed at the Tucson Festival of Books. The kids said he was surprised that I had found a hardback. Gone But Not Forgotten was also excellent as was After Dark.
(Sandy Fielder 12:11pm May 8, 2012)
Hi Mr. Margolin, I just read your interview and I am so excited to begin reading your books. They all sound amazing! Most of my favorite books and/or TV shows have something to do with either criminal law or cold cases. I would love to win your book "Capitol Murder". The trivia answer is... your upcpmong stand alone Dana Cutler novel called "The Ottomon Sepulcher". Thank you, Mr. Margolin, for having this contest for your fans! Good Luck Everyone.
(Cheri Minott 12:10pm May 13, 2012)
The Ottomon Sephulcher. Is that standard American spelling? It's very strange. I've ony read a Baldacci novel set in Washington DC, I am not much into the location. But if the book is well written I'll read it.
(Clare O'Beara 6:43am June 15, 2012)