A brand new year, and all indicators point to 2012 being a stellar year for cozy mysteries! Many of the most popular authors have new books lined up, and readers will be in book-heaven in the months to come!

Kicking off the year in a grand fashion, here are a few of the new cozies that have been released this month. So cozy up with a good book, a warm cup of your favorite beverage and enjoy the wintery month of January!

Three brand new series make their debut this month -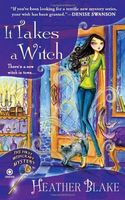 IT TAKES A WITCH: A Wishcraft Mystery #1
By Heather Blake
Obsidian Books; $7.99

Darcy Merriweather has just discovered she hails from a long line of Wishcrafters—witches with the power to cast spells by making a wish. She's come to Enchanted Village to learn her trade but finds herself in the middle of a murder investigation. (This promises to be a fun series!)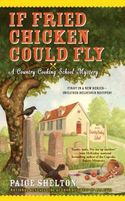 IF FRIED CHICKENS COULD FLY: A County Cooking School Mystery #1
By Paige Shelton
Berkley Prime Crime; $7.99

At Gram's Country Cooking School, Betts and Gram are helping students prepare the perfect dishes for the Southern Missouri Show-Down, the cook-off that draws the first of the summer visitors. Everything is going smoothly until they discover the body of local theater owner Everett Morningside in the school's supply closet, and Everett's widow points an accusatory finger at Gram. Now, Betts has to dig deep into Broken Rope's history to find the modern-day killer—before the last piece of chicken is served...(I adore Paige's Farm Fresh Murder Mystery series, so I'm positive that this new series is going to be just as fun!)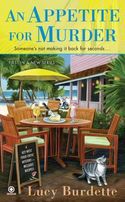 AN APPETITE FOR MURDER: A Key West Food Critic Mystery — Debut series
By Lucy Burdette
Obsidian Books; $7.99

Hayley Snow's life always revolved around food. But when she applies to be a food critic for a Key West style magazine, she discovers that her new boss would be Kristen Faulkner—the woman Hayley caught in bed with her boyfriend! Hayley thinks things are as bad as they can get—until the police pull her in as a suspect in Kristen's murder. Kristen was killed by a poisoned key lime pie. Now Hayley must find out who used meringue to murder before she takes all the blame. (Foodies and mystery lovers will be sure to enjoy this new series!)


GHOUL INTERRUPTED: A Ghost Hunter Mystery #6
By Victoria Laurie
Obsidian Books: $7.99

M.J. Holliday and her crew interrupt the frantic schedule of their reality TV show, Ghoul Getters, and hotfoot it to New Mexico, where a dreadful demon is waging tribal warfare. Same Whitefeather—M.J.'s spirit guide—urgently needs her help to stop this evil spirit from wiping out the descendants of his tribe. It doesn't take a psychic to predict that M.J.'s going to have a devil of a time making New Mexico a demon-free zone.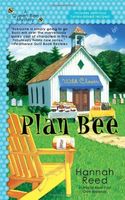 PLAN BEE: A Queen Bee Mystery #3
By Hannah Reed
Berkley Prime Crime; $7.99

Moraine's annual Harmony Festival is anything but harmonious for Story Fischer. She's lost this year's Honey Queen crown to the town's biggest shoplifter, her domineering mother wants Story's beehive banned from The Wild Clover festival booth, and a visiting twelve-year-old genius is wreaking havoc with his explosive science experiments...

Then Story stumbles upon a dead body in the cemetery, only to have it disappear—and then reappear during the festival parade. When her mother begins dating the prime suspect and the young scientist goes missing, Story is determined to get to the bottom of this murder. It's up to her to make a beeline for the truth before everything in Moraine blows sky high.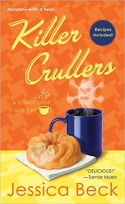 KILLER CRULLERS: A Donut Shop Mystery
By Jessica Beck
Minatour Books; $7.99

WELCOME BACK TO DONUT HEARTS—where the coffee is hot, the donuts are fresh, and the crullers are to die for…

As owner of April Springs's one and only donut shop, Suzanne Hart is privy to the deliciously personal, downright eccentric tastes of her customers. One man is crazy for crullers—heavy on the icing. But when he doesn't pick up his order, a tall dark stranger buys the whole box - which he tosses, one drippy cruller at a time, at her friend Gabby's storefront next door.

The man claims that stolen family valuables ended up in Gabby's thrift shop. His wild, weird behavior has Suzanne wanting to call the cops. But when he turns up dead—outside of Donut Hearts, no less—the cops come calling for her and Gabby. Can Suzanne prove that their role in the cruller-vandal killing is a cruel, albeit sugar- coated, twist of fate?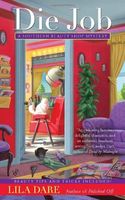 DIE JOB: A Southern Beauty Shop Mystery #3
By Lila Dare
Berkley Prime Crime; $7.99

After an attempted murder at a supposedly haunted plantation, the ladies of Violetta's beauty salon unravel secrets that link a high school student, a centuries-old crime, and the roots to a very dark mystery.(You just can't beat a lively Southern mystery!)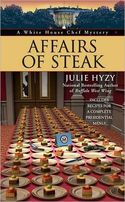 AFFAIRS OF STEAK: A White House Chef Mystery #5
By Julie Hyzy
Berkley Prime Crime; $7.99

White House executive chef Olivia Paras just wants to create first class cuisine for the First Family. Unfortunately, dangerous politics keep spoiling her recipes... Assigned to work with her arch nemesis, Peter Everett Sargeant, the White House Sensitivity Director, Ollie must find a venue for an event to honor the Secretary of State. Instead they find one of the First Lady's assistants and the Chief of Staff, both murdered — and Ollie and Peter may have witnessed the killer making his getaway.

News reports suggest that the assistant and Chief of Staff were having an affair, but no one on the staff believes the rumor. Now, with their jobs—and their lives—in jeopardy, Ollie and Peter must depend on each other to learn who killed their colleagues and why—before they become the next victims of a merciless assassin with a secret agenda...

HARDBACKS: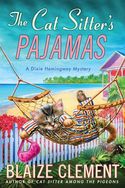 THE CAT SITTER'S PAJAMAS: A Dixie Hemingway Mystery
By Blaize Clement
Minatour Books; $24.99

Author Blaize Clement has thrilled readers everywhere with the first six books in her pet-sitting mystery series. Now Blaize's beloved heroine Dixie Hemingway is back for another adventure, and she has her hands full when the worlds of celebrity hijinks, counterfeit fashion, and naughty cats collide.

Dixie Hemingway, no relation to you- know-who, accepts a job taking care of famous linebacker Cupcake Trillin's cats, Elvis and Lucy, while he's away. But what seems like an easy job turns scary when Dixie finds a celebrity fashion model in Cupcake's house. The woman refuses to leave AND she also claims to be Cupcake's wife. But Dixie has met Cupcake's wife, and this woman certainly isn't her.

Soon, Dixie is spun into the world of counterfeit high fashion. When a valuable list of fake merchandise sellers goes missing, the criminals go after Dixie. Once again, what started as a simple cat-sitting job has turned into a mess that only Dixie can solve.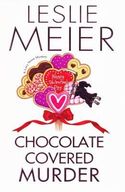 CHOCOLATE COVERED MURDER: A Lucy Stone Mystery
By Leslie Meier
Kensington Books; $24.00

As a reporter for the Pennysaver, Lucy is assigned a puff piece on upscale Chanticleer's Chocolates. But when a local fisherman drowns suspiciously, Lucy's certain her investigative skills could be put to better use. Everyone is shocked when Fern's Famous Fudge loses its status as 'Best Candy on the Coast' to Chanticleer's pricey newfangled confections. And Lucy soon discovers sultry store manager Tamzin Graves is only too eager to serve her male clientele. Leaving a throng of jealous women in her wake, it's almost no surprise when Tamzin is the next to turn up dead, covered in chocolate. Could a bitter ex-wife be behind the crimes? As Lucy closes in on the culprit, she may find herself locked in the clutches of a half-baked killer.

February also promises to be a month chalked full of great mysteries, so be sure to head back and see what goodies are in store for the month of love!

Happy Cozy reading, ya'll!
1 comment posted.
Thanks for bringing these lovely books to my attention. I have read some titles by some of the authors but none of the reviewed books.
(Clare O'Beara 6:09am June 15, 2012)