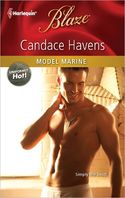 It honestly feels like I've been waiting years to tell you about my new release MODEL MARINE. In actuality it's only been one year, but I'm so excited about this book. My Marine, Captain William Hughes, is pretty much my idea of the perfect guy. He's honest, forthright and believes in doing the right thing. The fun if the story comes in the way of fashion designer Hannah Harrington. She's surrounded by chaos, which throws a kink in his well-ordered world. This is one of my favorite love stories I've ever written.
Love is most definitely in the air. I have tons of new books to tell you about this month.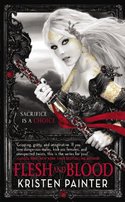 Kristen Painter's FLESH AND BLOOD is the second book in her new House of Comarre series. "Book two meant ramping up everything," Painter says. "By everything I mean the tension between the hero and heroine, the danger they were in, the conflicts between some of the minor characters, the threat of the villain — basically, I turned it up to eleven and added more cowbell.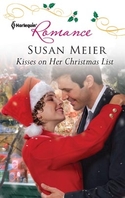 Susan Meier's newest is KISSES ON HER CHRISTMAS LIST. "The inspiration for the book wasn't a person or an event, but a department store," says Meiers. "Glosser Brothers in Johnstown always smelled like candy and roasted peanuts. In the holiday season it was dressed up in tinsel and garland, with mechanical Santas and elves in the windows and oversize Christmas ornaments hanging from the ceiling. We lost the store over a decade ago, but I still miss it every December. So I decided to write a story with the store as the background, to give readers a peek at one of my most fond memories.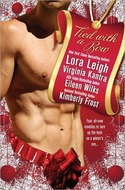 Virginia Kantra has a lovely Christmas tale to share with readers. "Somehow nothing takes the edge off too much time at the mall like curling up with a Christmas story," she says. "Some of the first romances I read were the Signet Regency Christmas collections. So when my editor asked if I would consider doing a Christmas story, my answer was a resounding "yes!!!" I'd planned on expanding the world of my Children of the Sea to include more about the fallen Children of Air. Christmas and angels? What could be more perfect? But my love of those Regency romances, with their house parties and kissing boughs and Christmas bells, snuck into my contemporary paranormal world. The result is Upon a Midnight Clear, one of the sweetest stories I think I've written.
I hope readers will agree! The story is a part of the TIED WITH A BOW Anthology with Lora Leigh, Eileen Wilks and Kimberly Frost.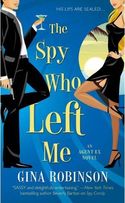 Gina Robinson has a new series of books beginning with THE SPY WHO LEFT ME. "Emmett's the head of National Clandestine Services," says Robinson, "the spying arm of the CIA. He masterminds of all the missions in my books, and he's a matchmaker whose sole goal is national security. Well, he won't admit to more. But I think he's a romantic at heart and likes to see his spies happy. If I could actually meet him, I'm afraid I'd be a little nervous. I mean, the man can be devastatingly good looking when he wants to be, and charming. Or cold and lethal. He's licensed to kill and the quintessential liar, after all. And sadly, I think he'd outwit me in conversation. But think of the stories he could tell me, assuming he didn't have to kill me afterward. I'd never have to plot another one of my spy books again, just record his stories."
No comments posted.