Wow, where did the year go? It's already November, Christmas commercials are already playing on television, and I'm still nibbling on Halloween candy!
The good thing about November is that it signals the beginning of cooler (ok, cold for some of you!) weather, and that signals perfect COZY MYSTERY reading time! There are some great books out this month — so let's get right to it!
Hardbacks:
MRS. JEFFRIES AND THE MISTLETOE MIX-UP: A Victorian Mystery #29
By Emily Brightwell
Berkley, $23.95

Ring in the season with another Mrs. Jeffries tale of holiday homicide. Under a bundle of mistletoe, art collector Daniel McCourt lies with his throat slit, a bloody sword next to his body. Inspector Witherspoon is determined to solve the case—preferably before the eggnog is ladled out on Christmas Eve—but of course he will require assistance from the always sharp-witted housekeeper, Mrs. Jeffries, who has a few of her own theories on why McCourt had to die by the sword.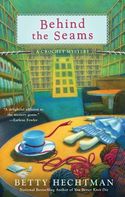 BEHIND THE SEAMS: A Crochet Mystery #6
By Betty Hechtman
Berkley; $24.95

Tarzana Hookers learn that the entertainment biz can be deadly. The crochet group's informal leader, actress CeeCee Collins, has a movie out, and thanks to the Oscar buzz, she's scheduled to appear on the famous Barbara Olive Overton Show. Molly and the girls tag along, but when CeeCee's niece Nell— a production assistant on the show—is accused of poisoning one of the producers, Molly and the Hookers must set aside their crochet projects to clear Nell's name. And if they don't soon, someone else will be the next Hollywood headline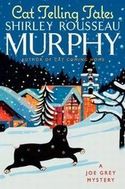 CAT TELLING TALES: A Joe Grey Mystery #17
By Shirley Rousseau Murphy
William Morrow; $19.99

Even the bright seaside village of Molena Point has been hit hard by the economic downturn, bringing a rash of foreclosures in which many residents are abandoning their family pets. While feline P. I. Joe Grey's human friends join together to care for the starving cats, a fire leaves a twelve-year-old boy homeless. The body of his alcoholic guardian is discovered in the smoldering ruins, causing Joe to wonder if escape was really impossible for the elderly woman or if something more sinister occurred. Meanwhile, Debbie Kraft descends uninvited on the Damens' home with her two children, claiming that her ex- husband has left her with no money and nowhere else to go. But when Joe learns that the victim of the fire was Debbie's estranged mother and that Debbie is not broke at all but carrying plenty of cash, his fur is on end with suspicion.

As Debbie's abandoned tomcat follows her all the way down the coast from Oregon with his own clues to add to the mix, Joe learns that Debbie's Realtor ex- husband may be involved in a number of intricate real estate scams. Furthermore, his sales partner may be missing, and while Joe and his pals prowl through the dead woman's house, they discover that her reclusive neighbor has disappeared as well.

But it's not until Debbie's tomcat arrives that Joe and his feline detective pals find the biggest clue of all: a grave that the cops have missed. And as the pieces of the puzzle begin to come together, tortoiseshell Kit sees her own dreams coming true in the handsome new cat with whom she might share her life's adventures.


Trade-Paperback: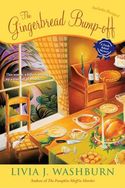 THE GINGERBREAD BUMP-OFF: A Fresh-Baked Mystery #6
By Livia J. Washburn
Obsidian; $14.00

A Christmas killer has been icing Phylis Newsom's friends in the sixth Fresh- Baked mystery. Not only will Phyllis Newsom's house be featured in the annual Christmas Jingle Bell Tour of Homes, she also has a Christmas Eve bridal shower and a New Year's Eve wedding to bake goodies for. But like her tasty treats, she rises to the occasion. Before the tour gets under way, Phyllis makes a gruesome discovery on her porch: someone has tried to kill her friend. As Santa's naughty list gets longer, Phyllis tries to catch a half-baked killer.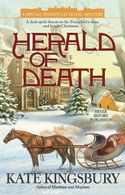 HERALD OF DEATH: A Special Pennyfoot Hotel Mystery #9
By Kate Kingsbury
Berkley; $15.00

A dark spirit threatens the Pennyfoot's shiny and bright Christmas... The Christmas Angel is a welcome sight during the winter season—but not this year. A killer is afoot in Badger's End, cutting a lock of hair from his victims and sticking a gold angel on their foreheads. Cecily Sinclair Baxter already promised her husband that she'd take a hiatus from sleuthing. But three killings have created a blizzard of bad publicity—and guests are canceling their hotel reservations. She will have to find the angel of death before he strikes again, leaving murder under the tree.....


Paperback: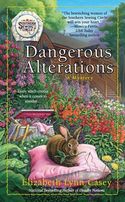 DANGEROUS ALTERATIONS: A Southern Sewing Circle #5
By Elizabeth Lynn Casey
Berkley Prime Crime, $7.99

When Tori Sinclair's philandering ex turns up dead, the police chief believes it was murder—and that Tori may have been involved. Now, only the girls from the sewing circle will be able to help keep her life from coming apart at the seams...

(Elizabeth Lynn Casey's Southern Sewing Mysteries are always a great joy to read, and I'm so excited for the fifth story in this ongoing tell of sassy Southerness to be out! Try them – you'll LOVE them!!)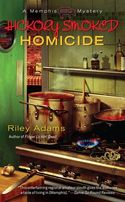 HICKORY SMOKED HOMICIDE: A Memphis BBQ Mystery #3
By Riley Adams
Berkley Prime Crime; $7.99

BBQ-joint owner Lulu Taylor knows pretty much everyone in Memphis who lives ribs. But one person she'd rather not know is Tristan Pembroke, a snooty pageant couch with a mean streak. When she finds Tristan's dead body stuffed in a closet at a party, the police are suspicious—especially since Lulu's developed a taste for being in the wrong place at the wrong time. Caught in a situation stickier than molasses, Lulu must clear her name, or risk getting fried...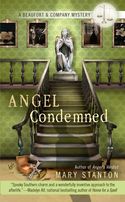 ANGEL CONDEMNED: A Beaufort & Company Mystery #5
By Mary Stanton
Berkley Prime Crime; $7.99

Representing her Aunt Cissy's fiancé, museum curator Prosper White, in a case of fraud, attorney and celestial advocate Brianna Winston-Beaufort hopes to settle the matter out of court. But when Prosper is murdered and Cissy's arrested for the crime, Bree will have to solve the mystery of the Cross of Justinian—an artifact of interest in both Prosper's lawsuit and Bree's celestial case—to clear her aunt's name.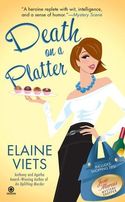 DEATH ON A PLATTER: A Josie Marcus, Mystery Shopper Mystery #7
By Elaine Viets
Obsidian; $7.99

Josie Marcus plans to savor sampling the local St. Louis cuisine for a City Eats food tour. But her appetite is ruined at Tillie's Off the Hill Italian Restaurant when another customer is poisoned. Was the victim the real target—or is someone trying to ruin Tillie's reputation? It's up to Josie to find a killer who has no reservations about preparing a dish to die for.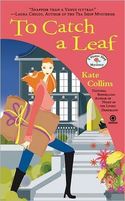 TO CATCH A LEAF: A Flower Shop Mystery #12
By Kate Collins
Obsidian; $7.99

Flower shop owner Abby Knight is aglow with happiness now that she's officially engaged to her longtime beau, Marco Salvare. Nothing can possibly dampen her joy—until wealthy dowager Virginia Newport is killed, and Abby's assistant Grace Bingham is the prime suspect. The plot thickens when they stumble upon mysterious stolen art and a missing cat, all part of an elaborate heist. Before Abby can throw her bouquet, she'll have to save her friend and throw a killer and a thief in jail.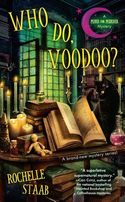 WHO DO, VOODOO? : A Mind For Murder Mystery (Debut Series)
By Rochelle Staab
Berkley Prime Crime; $7.99

WHO DO, VOODOO? the first novel in Rochelle's thrilling new Mind for Murder Mystery series features no-nonsense Liz Cooper, a Los Angeles psychologist forced to embrace the occult to clear her best friend of murder. When Liz Cooper's friend Robin Bloom finds an unusual tarot card tacked to her front door, Liz writes it off as a prank. Robin refuses to ignore the omen—her late husband drew the same card, the three of swords, in a reading the night before he was killed in a car accident. As more cards and darker threats appear, Liz realizes someone very dangerous is upping the ante.

Liz turns to her brother's ex-college roommate, occult expert Nick Garfield. As Nick leads her into the voodoo community to locate the origin of the deck, she can't ignore their attraction to each other. Then a woman is found murdered and Robin becomes the prime suspect. Determined to clear her friend, Liz joins forces with Nick to unravel otherworldly secrets and seek help from beyond—or risk being outwitted by a cunning killer.

Hope Everyone has a wonderful month, and Happy Thanksgiving to all! Cozy
Reading, Ya'll!

2 comments posted.
Oooh they all look so good. Now I have to find time to read during this very busy season
(Nancy L Gessner 10:13am November 24, 2011)