Linda Wisdom | The Hexy Witches with A Whole New Twist!

April 12, 2011
Demons Are A Girl's Best Friend
Linda Randall Wisdom, Linda Wisdom
AVAILABLE
He's so Hot. He's Literally Smokin'!
Jazz Tremaine #5

April 2011
On Sale: April 1, 2011
Featuring: Maggie; Declan
384 pages
ISBN: 1402254393
EAN: 9781402254390
Mass Market Paperback
$7.99
Add to Wish List

Also by Linda Randall Wisdom:
Demons Are A Girl's Best Friend, April 2011
Memories After Midnight, March 2006
After The Midnight Hour, May 2005
Single Kid Seeks Dad, March 2005

Also by Linda Wisdom:
Double Jeopardy, September 2014
Hotel Hex, October 2012
A Demon Does It Better, January 2012
Demons Are A Girl's Best Friend, April 2011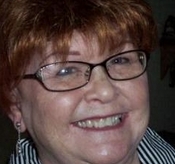 Thank you Fresh Fiction for having me here today to talk about the new direction of my books!
After my editor read DEMONS ARE A GIRL'S BEST FRIEND, then titled THE BEST HEX EVER, she said she wanted to roll with the demons since Declan is one super hot demon and not just because he's a half fire demon.
And since then my readers have asked 'What about the Hex series?'
The Hex series is there, just with that new twist with new style in covers and new titles.
There is no way I'd give up the witches or they'd allow me to.
Those who've read the previous books will recognize Maggie who popped up in the end of hEX IN hIGH hEELS. Now it's her turn to strut her witchy stuff complete with an elf best friend who emits lavender when she moves her wings, a diamond covered black widow spider tattoo that's determined to find the proper spell to protect her lovers, and a variety of creatures including over-caffeinated ferret messengers. And Declan, the demon who no red-blooded woman would ever kick out of her bed.
Maggie is the kickass witch who drives a Dodge Viper, can put a perp down with a flick of her wrist, and thinks a fun vacation is to go Chupacabra hunting in Mexico. What can I say? Everyone needs a hobby and with Maggie a team leader for the Hellion Guard, the protectors of all things supernatural, she's got the weapons and know how to keep most guys at a safe distance. But then, Declan isn't most guys. Nothing like a sexy demon who runs an underground club who can date you in your dreams to prove that.
Except the 700+ year young witch is also going through a bit of biological clock ticking when a good friend has a baby. Little does Maggie know that she should be careful what she might wish for since she ends up with a mouthy 15 yr old teenager who's the focus of an ancient Mayan cult looking to release a demon called The Destroyer into the world and teen Courtney is the scheduled teen to be sliced and diced. It's up to Maggie with Declan's help to make sure it doesn't happen. But does life ever run smoothly when a teenager is involved?
I had so much fun writing this book, throwing in the odd bits here and there and also bringing back a previous character, The Librarian, who even shows us a bit of a new side to his totally anal character. But I still wouldn't put any scrolls out of place in The Library. He's still a wizard with a lot of power.
So be assured the witches are still out there, just with a whole new look.
I hope you'll try DEMONS ARE A GIRL'S BEST FRIEND and then try the other books if you haven't read them.
And a question for you all. What, did you think you'd get off easy? :}
What do you like about witch books?
DEMONS ARE A GIRL'S BEST FRIEND BY LINDA WISDOM – IN STORES APRIL 2011
A Bewitching Woman on a Mission…
Feisty witch Maggie enjoys her work as a paranormal law enforcement officer—that is, until she's assigned to protect a teenager with major attitude and plenty of Mayan enemies. Maggie's never going to survive this assignment without the help of a half-fire demon who makes her smolder…
A Hotter-Than-Sin Hero with an Agenda…
Declan is a proprietor of an underground club and busy demon portal. No way he'll allow his demon race to be blamed for the malicious acts of some crazy evil Mayans. But he's already got his hands full when the sexy witch offers him a challenge he can't refuse…
ABOUT THE AUTHOR
Linda Wisdom has published more than 70 novels with 13 million copies sold worldwide. Her bestselling books have been nominated for RT Book Reviews awards and the RWA RITA Award. She recently won the RT Book Reviews Career Achievement Award for HEX IN HIGH HEELS. Linda lives with her husband in Murrieta, California, where she is working on her next book, A DEMON DOES IT BETTER, set to release in January 2012. For more information, please visit http://www.lindawisdom.com/. 
Comments
51 comments posted.
Re: Linda Wisdom | The Hexy Witches with A Whole New Twist!

I can't wait to read Maggie's story. I've loved all the books in this series
(Andrea Infinger 11:45am April 12, 2011)
This sounds like a fun book to read. Maggie sounds like a fun character.
(Jean Patton 12:02pm April 12, 2011)
I have never read a witch book, because I figured they'd be on the order of the vampire series. After reading your post, however, I think I'm going to be seriously hooked on reading your series!! You have a way of engaging a reader that isn't easily done, especially for this genre. Congratulations on your new book!! You are definately on my TBR list!!
(Peggy Roberson 12:11pm April 12, 2011)
Is Maggie a good witch or a bad witch? Just kidding, can't wait to read this book.
(Cheryl English 12:12pm April 12, 2011)
What a great book. Sounds like fun. I just love the cover.
(Beth Melito 12:16pm April 12, 2011)
Thanks Andrea!

Hi Jean, I had a lot of fun writing Maggie.

Thanks Peggy! I like to write what I like to read.

LOL Cheryl! Probably a little of both. But she'd be bad in a very good way.

Thanks Beth!
(Linda Wisdom 12:38pm April 12, 2011)
I haven't read a witch book--but I'm hoping they give women a little extra power and yet leave them femine. I'd like to read your book to find out.
(Sue Farrell 12:45pm April 12, 2011)
Hi Linda! I love the witch books! I've always loved all things witchy & your books really caught my eye. I'm looking forward to your newest one!
(Kay Martinez 1:00pm April 12, 2011)
Bless you! I love series!
marjorie
(Marjorie Carmony 1:15pm April 12, 2011)
witches are very good read. and iu like how there are more good witches with naughty senes of humor
(Tami Bates 1:52pm April 12, 2011)
I've never read a witch book before. But, I know that someone here at our local library will enjoy it!! Thanks for the opportunity!
(Renee Howell 1:53pm April 12, 2011)
This one sounds hot....literally! And it sounds like a fun read.
(Sandy Fielder 2:02pm April 12, 2011)
Sue, My witches love things girly. Just ask Jazz about her Prada bags and Stasi with her feminine lingerie. There's no reason why they can't.

Thanks Kay!

LOL Tami! Naughty sense of humor is always fun too.

Thanks Renee!

It's hot, Sandy, and fun.
(Linda Wisdom 2:06pm April 12, 2011)
I have not read any of this series yet but this one sounds great. I love a naughty sense of humor and paranormal books.
(June A, Manning 2:09pm April 12, 2011)
What do I like about witch books... the magic of course, whether they are just learning to use and control it or they are seasoned magic users... to see what they do with their powers and what the outcomes are... Love the new title!
(Colleen Conklin 2:17pm April 12, 2011)
The book sound like my kind of read with some hotness and humor. I think what I love best about witch books are the kick-butt heroines. They have so much potential and they tend to have personalities with unique quirks, that you cant help but love them for. Witches are like the ultimate girl power group, since there are many different types of witches.
(Cindy Gilles 2:33pm April 12, 2011)
This sounds really good! Can't wait to read it, another one to add to my growing TBR list!
(Beth Foster 2:49pm April 12, 2011)
I love different and I love magic especially the magic that is held in reserve or
hidden and also magic-learners mistakes. Can't wait to read this book. Sounds
like a winner!
(Sandra Spilecki 3:03pm April 12, 2011)
My favorite part of a witch book is the magic and the spells!!!

Great blog Linda!!! I hope this book is a huge hit for you!

Lisa :)
(Lisa Kessler 3:04pm April 12, 2011)
I love your books. The friendships and all the different guys they fall in love with. I also like hearing how the characters are getting along when you bring them into other stories.
(Lena Lee 3:52pm April 12, 2011)
After reading your comments, I have to find this book. Kindle here we come!
(Renee Brown 4:03pm April 12, 2011)
You know I love your witches more than anything. I think it's three
magical quality, the "anything can happen if you don't watch out" kind
of thing. And you do it so very, very well.
(Desiree Holt 5:17pm April 12, 2011)
Love witch books. It's the possibility of magic making anything & everything happen.
(Mary Preston 5:56pm April 12, 2011)
I love the idea of a witch community which tends to place the power with women unlike vampire books which are mostly about men..Have all the Hex books and can't wait to read this one
(Cheryl Ricin 6:05pm April 12, 2011)
Hi June, You'll have both in this book!

Thanks Colleen, Magick is always the best.

Witches rule, Cindy!

Hi Beth! I have a towering TBR pile too, although now it's loading my Nook.

Thanks Sandra!

Thanks Lisa!

Thanks Lena! I love bringing the other witches in.

LOL Renee! The first book, 50 Ways to Hex Your Lover was free for Kindle through yesterday, but you could check just in case.

Awwww, thanks Desiree! Smooches!

Very true, Mary.
(Linda Wisdom 6:07pm April 12, 2011)
Witch books are fun to read. I love the magic and humor in the stories. This one sounds great. I'm looking forward to reading it.
(Cheryl Lynne 6:08pm April 12, 2011)
I love all your books! The characters are all simply too fun! My fave is
Fluff and Puff. But now I can't wait to read about the ferrets! I have three
of those mischievous heathens. They are so much fun to watch and play
with, I can't wait to read about them! :)
(Amy McFarland 6:43pm April 12, 2011)
I like witch books because witches have the power to control events. Some days I wish I had those magical powers. And for some reason, I like stories that contain humor about snarky teenagers vs powerful adults. So your new book looks really interesting to me.
(r w 6:48pm April 12, 2011)
I've read all your books love fluff and puff. Can't wait ti read Demon's are a girls best friend. Ceeb
(Peggy Bragg 6:56pm April 12, 2011)
This sounds like a very interesting book to read.
I look forward to it.
(Betty Miles 6:58pm April 12, 2011)
I like witch books because there is never a dull scene. They're usually full of mystery and spells. Good luck and happy writing!
(Tracie Travis 7:04pm April 12, 2011)
I am having such fun reading this book! I think Declan is right up there with Nick as one of my favorite heroes! Definitely Hot-in more ways than one. :)
(Elaine Charton 7:14pm April 12, 2011)
What do I like about witch books? Assuming the witch is the heroine, she has power but usually has to use it against supernatural villains. She usually has to be clever about how she uses her magic because her power is limited compared to what she has to fight. This leads to a book with action but interspersed with solving the problem of how to win.
(Carol Drummond 7:34pm April 12, 2011)
I like the unpredictability in a witch book, the unknown possibilities.
(Lisa Kendall 7:49pm April 12, 2011)
The best thing about Witch books are the possiblities are endless - from the powers of The Wicked Witch to The Dicovery of Witches the adventure the books take you on is enthralling
(Carla Carlson 8:29pm April 12, 2011)
that sounds like such a fun read! always loved stories with witches!
(Diane Sallans 9:20pm April 12, 2011)
I believe in magic! I love witch books because of the magic. I love the cover of Demons Are A Girls Best Friend.
(Jennifer Beyer 9:22pm April 12, 2011)
The fact that anything can happen. Yep they can do just about anything with their limitations but it is always something you would never think up.
(Samantha Miks 9:43pm April 12, 2011)
Thanks Cheryl Lynne!

Amy, It will prove that ferrets and coffee don't mix!

Hi Robin. I figured Maggie needed that teenager whether she believed it or not!

Thanks Peggy! There's always flash fiction with Fluff and Puff on my blog and more to come.

Thanks Betty and Tracie!

Elaine! Thanks lil sis!

Carol, I see it as witches rule.

Unknown always works Lisa.

Carla, Very true.
(Linda Wisdom 9:59pm April 12, 2011)
Hi Diane, I love reading about them too and makes it easier for me to write them!

Thanks Jennifer! I totally love my cover.

Samantha, I like the idea of them doing what I wish I could do.
(Linda Wisdom 10:00pm April 12, 2011)
The cover looks great...

The only other witch books that I read are the Kelley Armstrong ones. I like the spells inside witch books... :)

Oh wait... I guess Harry Potter counts too... although it's more wizard than witches...
(May Pau 10:14pm April 12, 2011)
I like witch books because they are a fun read. Yours sound great.
(Sheila True 10:23pm April 12, 2011)
Love this cover! I think what I like best about witch books
is an endless possibility of stories. They're so far out of
the norm that it's easy to escape to a world where magic
rules!
(Laura Henderson 10:50pm April 12, 2011)
I love the magic.
(G. Bisbjerg 10:51pm April 12, 2011)
I can't wait to read!!!!
(Jennifer Beck 11:16pm April 12, 2011)
The best thing about witch books is that anything is possible. There are no common *rules* that pop culture or myth have already established. That means there are so many possibilites!
(Lynda Smith 11:21pm April 12, 2011)
I like that they have powers and abilities
(Robin Daily 12:11pm April 13, 2011)
I haven't read anything witchy fun in a long time and this one sounds like the I need to break that oversight.
(Christina Harrison 2:22am April 13, 2011)
Thanks all! My witches are also a sisterhood, they're there for each other no matter what happens. And I also give peeks into their pasts, which covers a lot of years! If only I could look that good at 700+ years!
(Linda Wisdom 12:25pm April 13, 2011)
I LOVE witch books. I love the history or mis-history of witches and witchcraft. I've had a fasination with witched since I was a young girl and first found out about/read about the Salem Witch Trials. I've even been to Salem (which is beautiful btw) and can't wait to return. Witches are the best!
(Amy Conley 8:25pm April 15, 2011)
I felt the same way when I visited Salem years ago, Amy. My husband was based in Boston and I would have loved living in the town. It struck a chord in me that never left.
(Linda Wisdom 9:35pm April 16, 2011)
Registered users may leave comments.
Log in or register now!