It is time to start the new year with some great paranormal reads. Who better than a vampire to start the new year with? Perhaps your resolution should be to read every book on the list?
ETERNAL PREY, Nin Bangs (Avon, 12/28/2010, $7.99, Gods of the Night)
A magnificent creature, Utah wants vengeance against the bloodsuckers who murdered his brother. Once the beast within him is unleashed, he won't rest until every vampire is destroyed. But he never expected to encounter a leader of his immortal enemies who was so beautiful, bewitching, and mortal. It is Lia's destiny and her duty to stop the renegade vampires who are intent on annihilating the human and non-human races alike. But she never dreamed that Utah, once a deadly foe, would now become her ally and protector, or that loving him would be more dangerous than anything she's ever faced before.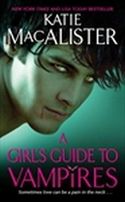 A GIRL'S GUIDE TO VAMPIRES, Katie MacAlister (Avon, 12/28/2011, $7.99, reissue)
In this reissue by Katie MacAlister, Joy Randall, a vampire hunter gives you some great lessons that every hunter should keep in mind when on the prowl. First- location, location, location. Vampires won't be caught dead (ha!) in places like discos, ten-minute lube shops, or Switzerland. Remember, if you wouldn't be there, neither would a bloodsucker. Second, trust your eyes. You know the handsome, annoyingly arrogant, self-assured man in the shadows with long hair and a cleft in his chin? He's your vampire. Third, no matter how tempting it might be, do not "accidentally" acquire a paper cut on your finger and suggest your vampire kiss it to make it better. Next, play it cool. Don't offer to accompany your prince of the night on the talk-show circuit, and whatever you do, don't offer him your heart! And leat, but certainly not least- remember: being a vampire is nothing to laugh about.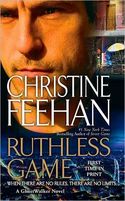 RUTHLESS GAME, Christine Feehan (Jove, 12/28/2010, $7.99, GhostWalker)
GhostWalker Kane Cannon's mission plunges him into a hot zone more personal than he anticipated: the hiding place of Rose Patterson—hunted fugitive, ex-lover, and a fellow GhostWalker desperate to save the life of her unborn child. Kane's child.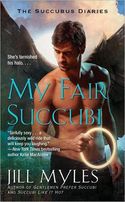 MY FAIR SUCCUBI, Jill Myles (Simon & Schuster, $7.99, 12/28/2010)
Living as a succubus has a bit of a learning curve, but with sexy fallen angel Noah to scratch her sensual Itch, Jackie Brighton is finally starting to feel ahead of the game. She almost doesn't miss her gorgeous vampire master Zane- or his sinful, teasing mouth. But Jackie's past mistakes catch up with her, spinning her life out of control once more. Noah and Jackie are arrested by the angelic Serim Council. When Jackie seizes the chance to escape, she falls right into Zane's waiting arms. As she's pulled into a game of cat and mouse between vampires and angels, she finds she must also choose between the two men in her life.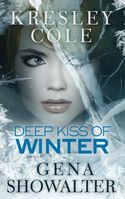 DEEP KISS OF WINTER, Kresley Cole & Gena Showalter (Simon & Schuster, $7.99, 12/28/2010 Reprint)
Author Kresley Cole delivers a breathtaking tale of a brutal vampire soldier about to know love for the first time, and a Valkyrie aching for his touch. Murdoch Wroth will stop at nothing to claim Daniela- the delicate Valkyrie who makes his heart beat for the first time in three hundred years. Yet the exquisite Danii is part ice fey, and her freezing skin can't be touched by anyone but her own kind without inflicting pain beyond measure. Can they conquer an agony of frustration and slake the overwhelming desire burning between them? Author Gena Showalter puts a daring spin on a tale of huntress and hunted, and concocts a sensual chemistry that is positively explosive. With only skin-to- skin contact, Aleaha Love can change her appearance, assume any identity. Now she's an AIR agent on a mission to capture a group of otherworldly warriors. Only she is held captive when dangerously seductive Breean, a golden-skinned, iron-willed commander, threatens her new life- and for the first time, Aleaha wants only to be herself.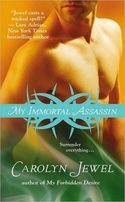 MY IMMORTAL ASSASSIN, Carolyn Jewel (Forever, $7.99, 1/3/2011)
Revenge is all Grayson spencer wants. Christophe dit Menart, a human with dark magical powers, destroyed the life she loved. She wants the pleasure of killing him, no matter the cost to her. But Durian, a dangerously sexy demon fiend, is charged with keeping Christophe alive. His duty is to enforce the laws against demons harming humans. But he has an offer for Grayson, one that will allow her to take revenge. But when he refuses to return her to Christophe, it threatens to inflame the tumultuous war between demons and the magekind.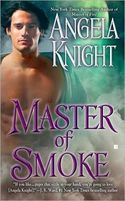 MASTER OF SMOKE, Angela Knight (Berkley Sensation, 1/4/201, $7.99)
After being attacked by a werewolf, Beth Roman is now able to shift into one. Luckily she saves a handsome shapeshifter from a similar attack. Beth does not know his true identity as Smoke, a Sidhe warrior. His attacker was Warlock, the magic- imbued leader of a cult of werewolf assassins trained to destroy all others. As a war ignites between all the immortals of the Mageverse, Beth and Smoke will need more than their love for each other to survive.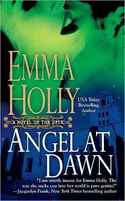 ANGEL AT DAWN, Emma Holly (Berkley Sensation, $7.99, 1/4/2011, Novel of the Upyr)
Five hundred years ago, Grace Gladwell had captured Christian Durand's heart and then abandoned him in his darkest hour. Seeing Grace again after all these years has sent Christian reeling- and even though she seems to remember nothing of the medieval soldier, he wants her more than ever. But is Grace merely a pawn of the vampire queen who has set her immortal sights on Christian?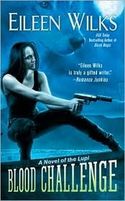 BLOOD CHALLENGE, Eileen Wilks (Berkely Sensation, $7.99, 1/4/2011, Novel of the Lupi)
Ex-cop Lily Yu and werewolf Rule Turner's engagement announcement is stirring up ugly passions in the Humans First camp. There's hate mail, followed by death threats. And when a lupus in Tennessee goes on a killing spree, Lily realizes that it's only the opening skirmish in an all-out war.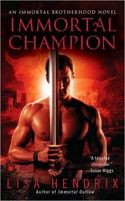 IMMORTAL CHAMPION, Lisa Hendrix (Berkley Senation, $7.99, 1/4/2011, An Immortal Brotherhood Novel)
Part of a cursed Viking crew, Gunnar the Red must toil through eternity as a half-man, half-beast. Only the magic of true love can release him. Though she is betrothed to another, could Lady Eleanor de Neville be his salvation?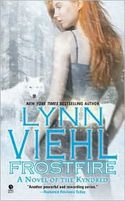 FROSTFIRE, Lynn Viehl (Signet, $7.00, 1/4/2011, Kyndred)
As one of the genetically enhanced Kyndred, Lilah's mind-reading powers make her vulnerable to a mysterious biotech company willing to murder to acquire her superhuman DNA. But her true fear may come from her own Kyndred brethren.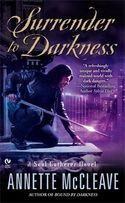 SURRENDER TO DARKNESS, Annette McCleave (Signet, $7.99, 1/4/2011, Soul Gatherer)
Sent to Japan to investigate a mystical weapon that can destroy demons, Soul Gatherer Jamie Murdoch must control his rage in a society that values tranquility and self- control. Kiyoko Ashida dedicated her life to fighting evil. Now she's dying, her remaining days linked to a mysterious artifact. But when the malicious ambitions of a fallen angel target the artifact, Jamie is torn between fulfilling his duty and saving the life of the woman he has grown to love.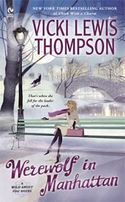 A WEREWOLF IN MANHATTAN, Vicki Lewis Thompson (Signet, $7.99, 1/4/2011, Wild About You)
Emma Gavin writes about werewolves, but that doesn't mean she believes in them- not until a pack of real-life New York weres decide to investigate the striking accuracy of her "fiction." When Aiden Wallace, son and heir of the pack leader, tries to sniff out Emma's potential informant, he discovers something even more dangerous- an undeniable attraction to her.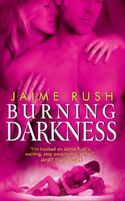 BURNING DARKNESS, Jaime Rush ( Avon,1/25/2011 $7.99)
A government- trained assassin, Fonda Raine has her sights locked on her latest target: Eric Aruda, one of the rogue Offspring- a pyrokenetic who can create fires with just a thought. But Fonda has awesome powers of her own- and her ability to astral project and be in two places at one time enables her to put herself exactly where she wants to be- in Eric's bed. Eric is stunned and pleased by the inexplicable appearance of the mysterious enchantress, unaware that Fonda plans to seduce him, throw him off his guard, and then eliminate him. But the game changes radically with the arrival of an assassin from hell with orders to destroy them both.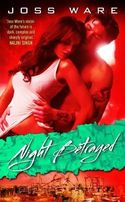 NIGHT BETRAYED, Joss Ware (Avon, 1/25/2011, $7.99)
The Change that devastated the earth did not destroy Theo Waxnicki. It made him something more than human- eternally young, eternally beautiful, but not immortal. When he dies on a mission against the Strangers, he is lost to the darkness, until a miracle lady brings him back. Born during the apocalyptic storms and earthquakes that left the world in ruins, Selena has dedicated her life to easing the pain of others. But Theo is the first in her care to survive. Responding to Selena's tender touch, Theo starts to live again, to feel and desire again. But joined in a world of terrors, the secrets they can never share make them targets. And love could be the ultimate betrayal.
Enjoy!
1 comment posted.