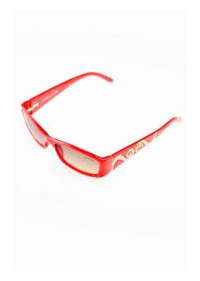 In SUNRISE POINT, the charming finale in Robyn Carr's 2012 Virgin River trilogy, Nora Crane is up before sunrise, walking miles to Tom Cavanaugh's apple orchard, grateful for the back–breaking job picking apples so she can support her young children. Home after serving in the Marines, Tom's doubtful Nora can measure up to his seasoned pickers, but as harvest season progresses at Cavanaugh Orchard, he comes to admire the plucky young mom. She might not be the kind of woman he'd marry, but darned if he can concentrate on much else as they work side–by–side in the orchard.
For her June contest grand prize, Robyn thought it would be fun to give away these snazzy coral red sunglasses so the winner will be able to enjoy the sunrises in her life with extra panache. The sunglasses are by Roberto Cavalli, who is not only the grandson of a master painter but designer of sunglasses for many celebrities. Also to the grand prizewinner—and two runners–up—Robyn will send a copy of the first two books in the 2012 trilogy, HIDDEN SUMMIT and REDWOOD BEND.

SUNRISE POINT
Order Today
Tom Cavanaugh's come home to Virgin River after serving in the Marines, ready to take over his family's apple orchard and settle down. He knows just what the perfect woman will be like: sweet, decent, maybe a little naive. The marrying kind.
Nothing like Nora Crane. So why can't he keep his eyes off the striking single mother?
Nora may not have a formal education, but she graduated with honors from the school of hard knocks. She's been through tough times and she'll do whatever it takes to support her family, including helping with harvest time at the Cavanaugh's orchard. She's always kept a single–minded focus on staying afloat . . . but suddenly her thoughts keep drifting back to rugged, opinionated Tom Cavanaugh.
Both Nora and Tom have their own ideas of what family means. The folks in Virgin River have them pegged as their newest couple. Tom and Nora just haven't figured it out yet . . .
For the latest about Virgin River and what's up next for Robyn, check out www.RobynCarr.com, Robyn's mobile phone app for iPhones and Androids and her Facebook page.
Contest ends: June 30, 2012