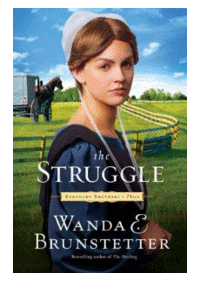 Award-winning and New York Times bestselling author Wanda E. Brunstetter, one of Amish fiction's earliest and most popular authors, fell in love with the Plain People long before she started writing about them. In Wanda's August release, THE STRUGGLE, Hannah Fisher and her family move from Pennsylvania to Kentucky. While Hannah has a hard time adjusting to the change, she continues to enjoy spending time with her daughter and cooking for her family.
Just in time for summer picnics, potlucks and reunions, Wanda is offering one grand prizewinner a copy of The Struggle and an Amish deep-dish pie basket. Used by the Amish to transport pies to weddings, barn raisings and family gatherings, this sturdy basket makes it easy to carry homemade creations to all your special occasions. Wooden lids ensure pies, desserts, casseroles and other dishes are protected during travel. The 12" x 13-1/4" x 6- 1/4"H basket is natural color with wooden handles and has a removable wooden divider. Two additional winners will each receive a copy of THE STRUGGLE.

THE STRUGGLE
Order Today
When Timothy Fisher, his wife, Hannah, and their daughter, Mindy, leave Lancaster, Pennsylvania, to begin a new life in Kentucky, Hannah finds it hard to adjust. Will Christian County ever feel like home? Nothing Timothy does seems to please Hannah. Has the move from Lancaster spelled the beginning of the end? When a tragedy occurs, an inconsolable Hannah blames her husband for their loss. Timothy can barely rise beneath the weight of guilt, his wife's hostility, and stress of his job. What dramatic second chance will God provide to heal their grief?
Learn more about Wanda's novels, Amish facts and see photos of her travels on www.WandaBrunstetter.com.
Contest ends: June 30, 2012