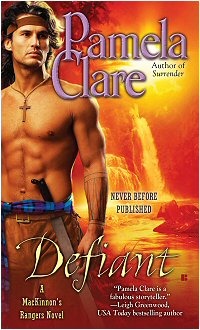 To celebrate the Fourth of July and the release of the third book in her MacKinnon's Rangers series, Pamela Clare is giving away a signed copy of her new book, DEFIANT. Set during the French & Indian War, which historians have called "the war that made America," it tells the story of Connor MacKinnon, the youngest MacKinnon brother, who finds love with the niece of his most hated enemy as the long war heads toward a British victory.

DEFIANT
Order Today
Major Connor MacKinnon despises his commander, Lord William Wentworth, beyond all other men. Ordered to rescue Wentworth's niece after the Shawnee take her captive, he expects Lady Sarah Woodville to be every bit as contemptible as her uncle. Instead, he finds a brave and beautiful lass in desperate peril. But the only way to free Sarah is for Connor to defeat the Shawnee warrior who kidnapped her—and claim her himself.
Torn by tragedy from her sheltered life in London, Lady Sarah is unprepared for the harshness of the frontier-or for the attraction she feels toward Connor. When they reach civilization, however, it is she who must protect him. For if her uncle knew all that Connor had done to save her, he would surely kill him.
But the flames of passion, once kindled, are difficult to deny. As desire transforms into love, Connor will have to defy an empire to keep Sarah at his side.
Enjoy the other books in the series, Surrender and Untamed, available in print and as ebooks.
Contest ends: June 30, 2012