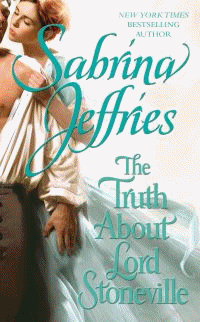 Sabrina Jeffries fans eagerly await October's 'Twas the Night After Christmas, her next great Regency romance and bridge book between her beloved Hellions of Halstead Hall series and her 2013 series, The Duke's Men. As a farewell to the loveable Sharpe siblings, otherwise known as the Hellions of Halstead Hall, Sabrina will give two lucky winners autographed copies of all five books in the New York Times bestselling series. That series includes The Truth About Lord Stoneville, A Hellion in Her Bed, How to Woo a Reluctant Lady, To Wed a Wild Lord and A Lady Never Surrenders.

A Lady Never Surrenders
Order Today
Lady Celia Sharpe hopes that if she can garner offers of marriage from several eligible gentlemen and show her grandmother she is capable of gaining a husband, she can convince Gran to rescind the marriage ultimatum for her. And if that plan doesn't work, at least she'll have a husband lined up. But Bow Street Runner Jackson Pinter seems determined to ruin her plans by disapproving of every suitor she asks him to investigate. It's only when she and Jackson work together to solve her parents' murders, plunging them both into danger, that she realizes why––because the only man he wants her to marry is himself.
Consistent Starred Reviews for The Hellions of Halstead Hall novels:
"Jeffries pulls out all the stops for her Hellions of Halstead Hall finale. With depth of character, emotional intensity and the resolution to the ongoing mystery rolled into a steamy love story, this one is not to be missed."
—RT Book Reviews Top Pick for A LADY NEVER SURRENDERS
"Marvelous characterization, lovely conversation, and drama perfectly leavened with humor makes this a grand romantic adventure."
—Publishers Weekly, starred review for TO WED A WILD LORD
"Jeffries has launched another sparkling series with winning potential. Lively repartee, fast action, luscious sensuality, and an abundance of humor make the first installment of the Hellions of Halstead Hall essential for libraries."
—Library Journal, starred review for THE TRUTH ABOUT LORD STONEVILLE
"A perfectly matched pair of protagonists who engage in a spirited battle of wits and wiles, and a lively plot blending equal measures of steamy passion and sharp wit come together brilliantly in the second addition to Jeffries' tempting new Hellions of Halstead Hall series."
—Booklist, starred review for A HELLION IN HER BED
"Quick pacing, witty dialogue, and charmingly original characters set Jeffries's books apart, and this one is sure to please old fans and make plenty of new ones as well."
—Publishers Weekly,starred review for HOW TO WOO A RELUCTANT LADY
To keep up with Sabrina, follow her on Pinterest, Twitter and visit her on www.SabrinaJeffries.com. Be sure to download her free app from your mobile phone app store for the very latest news.
Contest ends: June 30, 2012