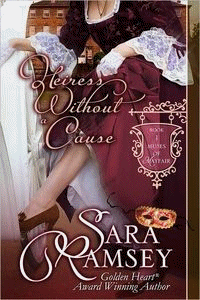 Enter to win the first two books in the Muses of Mayfair Series: HEIRESS WITHOUT A CAUSE and SCOTSMEN PREFER BLONDES. The winner can choose Nook/Kindle/Kobo/paperback, and Sara will happily ship internationally! If the winner has already purchased these books, Sara will send them the next book(s) in the series as they are released.
Party like it's 1812 with these fun Regency romances! Sara Ramsey's acclaimed Muses of Mayfair series features a group of women who are secretly pursuing their artistic passions and the sexy, seductive men who fall in love with them. Best of all, you can enjoy these books in the comfort of your own home - no need to sip dreadful ratafia or dance with your odious cousin.

HEIRESS WITHOUT A CAUSE
Muses of Mayfair #1
Order Today
One title to change his life...
A disgraced son with a dark reputation, William "Ferguson" Avenel is content to live in exile – until his father dies in the scandal of the Season. With rumors of insanity swirling around them, his sisters desperately need a chaperone. Ferguson thinks he's found the most proper woman in England – and he won't ruin her, even if he secretly desires the passionate woman trapped beneath a spinster's cap.
One chance to break the rules...
Lady Madeleine Vaillant can't face her blighted future without making one glorious memory for herself. In disguise, on a London stage, she finds all the adoration she never felt from the ton. But when she's nearly recognized, she will do anything to hide her identity – even setting up her actress persona as Ferguson's mistress. She'll take the pleasure he offers, but Madeleine won't lose her heart in the bargain.
One season to fall in love...
Every stolen kiss could lead to discovery, and Ferguson's old enemies are determined to ruin them both. But as their dangerous passion ignites their hearts and threatens their futures, how can an heiress who dreams of freedom deny the duke who demands her love?

SCOTSMEN PREFER BLONDES
Muses of Mayfair #2
Order Today
She never wanted marriage...
When a friend is forced to consider a marriage of convenience, Lady Amelia Staunton is determined to rescue her. But her plans trap her in an illicit seduction, and Amelia must marry him herself. Malcolm's all–consuming kisses and devilish humor might make up for her lost freedom, but she believes he will force her to abandon the Gothic romances she yearns to write. Since she can't escape him, she must distract him from her secret...
He isn't looking for love...
A powerful autocrat with a well–hidden rebellious streak, Malcolm MacCabe doesn't need another beautiful mistress – he needs an obedient wife. Obedience is not one of Amelia's virtues. But he's too enthralled by her wit and passion to let her go – even if it means risking the political reputation he is building to save his clan.
Their hearts can't survive the scandal...
Despite their intentions, every wicked embrace binds them together. But as their conflicting desires combust into insatiable hunger and unavoidable ruin, they must decide whether to pursue their personal destinies alone – or fight for the love that could destroy them both.y
Contest ends: June 11, 2012