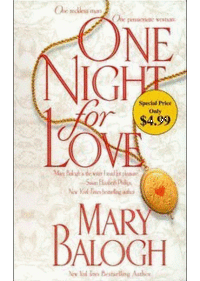 More than ten years ago Mary Balogh started a trilogy with ONE NIGHT FOR LOVE, about a wife assumed dead who arrives in the nick of time to stop her husband from marrying another woman. A few years passed before Mary was given the green light to write Book 2, A SUMMER TO REMEMBER, about the abandoned bride from Book 1. That book led off on a lengthy ten-book tangent of SLIGHTLY and SIMPY books. Now, at last, Book 3 has been published in hardcover--THE PROPOSAL. Mary is giving away all three books.

THE PROPOSAL
Order Today
THE PROPOSAL is the story of Lady Gwen Muir, the widowed Lady Gwen Muir, the widowed sister of Book 1's hero. She suffered a miscarriage during her marriage as the result of a riding accident, which also left her lame. Her husband died accidentally one year later, and ever since she has been determinedly uninterested in remarrying--until she meets Hugo Emes, Lord Trentham.
As well as completing a trilogy, THE PROPOSAL begins a new seven-part series. Six men and one woman spent several years together during and after the Napoleonic Wars on the estate of the Duke of Stanbrook, recovering from terrible war wounds. Now they meet there once a year. They call themselves the Survivors' Club. Each will have a story. This is Hugo's, a man whose mind cracked after a deed of extraordinary valor brought him his title and fame.
Visit Mary on Facebook.
Contest ends: June 11, 2012