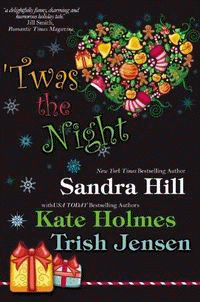 Leave a comment today on Story Garden's guest blog post for a chance to win the book Trish and Sandra wrote together, 'TWAS THE NIGHT, along with a signed copy of Sandra's THE NORSE KING'S DAUGHTER and either a print or ebook copy of WITHOUT A CLUE from Trish.
SOME MEN ARE TOO BAD TO BE TRUE...
Is he really a Viking with a vampire's bit? An angel with the body of a thunder god? A lone wolf with love on his mind? Alexandra Kelly, his prey, thinks Vikar Sigurdsson is either flat-out crazy or he's trying to maneuver her into his bed—which is hardly where a professional reporter should conduct an interview, tempting as that prospect might be.
SOME MEN ARE TOO GOOD TO BE TRUE...
Until Vikar does something a teensy bit unexpected, and Alex begins to wonder whether her mystery man could really be everything he says he is: a Viking Vampire Angel on a thousand-year-long mission with his pack of sinful brothers—and a man who's finally found the woman of his dreams. By then, Vikar is already wrapping his chiseled arms around Alex's body...and sinking his wicked fangs right into her neck. If this is sin, why does it feel so good?
---
Food fight, love match, or both? She's a lovable klutz trying to save her family's restaurant chain. He's a stuffed shirt angling to buy it. Who will trip up and fall in love first?
Darcy Welham's dad is ready to sell his five-star restaurants and retire, but she's determined to prove she can be trusted to keep the family business going. Darcy's sure it's what her mother would have wanted. Only one problem: her life turns into a comedy show when she's nervous. Pratfalls, spills, slips and fires—all in a day's misadventures for Darcy. She can't even wait on tables without dumping food into the customers' laps. When supper lands on a sensitive area of businessman Michael Davidson's finely creased trousers, he tries to have his gorgeous but careless waitress fired, only to discover that she's the person he has to win over if he wants to buy the restaurant chain for his bosses.
From that antagonistic start, Darcy and Michael soon find that there's more to each other than first expected. She's clumsy because she's got low self-esteem. She may be a disaster as a waitress, but she's a genius as a cook, with a talent for creating mouth-watering new dishes. Darcy begins to realize that Michael is not a stuffed shirt at heart—he's patient, strong and brave, which any man who dates Darcy has to be, because she turns into a Danger Zone every time he makes her heart flutter.
You must leave a comment on Story Garden guest blog post to win.
Contest ends: May 9, 2012