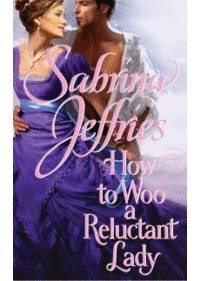 While readers anxiously await Sabrina Jeffries' October novel 'TWAS THE NIGHT AFTER CHRISTMAS, the bridge book between her bestselling Hellions of Halstead Hall series and her 2013 Regency romance series titled "The Duke's Men," they can pass the time by revisiting their favorite Hellions. May is all about Minerva, the Gothic novelist and headstrong heroine in HOW TO WOO A RELUCTANT LADY (Hellions of Halstead Hall, Book #3).
With Sabrina's May prize selection, one lucky winner will be equipped to write her own masterpiece and review important correspondence with a beautiful Burlwood Pen and Letter Opener set. An autographed copy of HOW TO WOO A RELUCTANT LADY rounds out this Regency–themed prize package, courtesy of New York Times bestselling author, Sabrina Jeffries.

HOW TO WOO A RELUCTANT LADY
Order Today
Lady Minerva Sharpe has the perfect plan to thwart her grandmother's demands to marry by year's end: become engaged to a rogue! Surely Gran would rather release Minerva's inheritance than see her wed a scoundrel. And who better to play the part of Minerva's would-be husband than wild barrister Giles Masters, the inspiration for the handsome spy in the gothic novels Minerva writes? Truth be told, the memory of Giles' passionate kiss on her nineteenth birthday has lingered with Minerva, though she has no intention of marrying such a rakehell!
Little does she know, Giles is a covert government operative. When the two team up to investigate the mystery behind her parents' deaths, their fake betrothal leads to red-hot desire. Then Minerva discovers Giles's secret double life, and he must use all the tricks of his trade to woo back his reluctant lady.
Consistent Starred Reviews for The Hellions of Halstead Hall books:
"Jeffries pulls out all the stops for her Hellions of Halstead Hall finale. With depth of character, emotional intensity and the resolution to the ongoing mystery rolled into a steamy love story, this one is not to be missed."
—RT Book Reviews Top Pick for A LADY NEVER SURRENDERS
"Marvelous characterization, lovely conversation, and drama perfectly leavened with humor makes this a grand romantic adventure."
—Publishers Weekly, starred review for TO WED A WILD LORD
"Jeffries has launched another sparkling series with winning potential. Lively repartee, fast action, luscious sensuality, and an abundance of humor make the first installment of the Hellions of Halstead Hall essential for libraries."
—Library Journal, starred review for THE TRUTH ABOUT LORD STONEVILLE
"A perfectly matched pair of protagonists who engage in a spirited battle of wits and wiles, and a lively plot blending equal measures of steamy passion and sharp wit come together brilliantly in the second addition to Jeffries' tempting new Hellions of Halstead Hall series."
—Booklist, starred review for A HELLION IN HER BED
"Quick pacing, witty dialogue, and charmingly original characters set Jeffries's books apart, and this one is sure to please old fans and make plenty of new ones as well."
—Publishers Weekly, starred review for HOW TO WOO A RELUCTANT LADY
To keep up with Sabrina, follow her on Pinterest, Twitter and visit her on Facebook and www.SabrinaJeffries.com. Be sure to download her free app from your mobile phone app store for the very latest news.
Contest ends: May 31, 2012