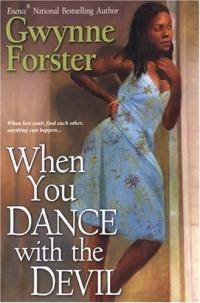 Purchase
When You Dance With the Devil
Gwynne Forster
Dafina Books
August 2006
Featuring: Sara Jolene Tilman; Richard Peterson
304 pages
ISBN: 0758213085
Trade Size
$14.00
Add to Wish List

After the death of her bitter and demanding mother, Sara Jolene Tilman finds herself alone in the world for the very first time—and ready for a fresh start. Leaving behind the pain and isolation of her former life, Sara becomes Jolene, and moves into the aptly named Thank the Lord Boarding House, a modest oceanside sanctuary that houses eleven other "misguided souls," as proprietess Fannie Johnson thinks of them. Surrounded by strangers, Jolene is forced to confront how socially awkward—and achingly lonely—she really is. Taking care of others is all she has ever known. Can she learn to take care of herself? But as Jolene naively begins her stumbling— sometimes treacherous—search for love and belonging, she finds she is not alone…
Disillusioned by romance and material success, Richard Peterson has decided to give up his high-powered international career and return to his U.S. roots. On the advice of a friend, Richard registers at Thank the Lord Boarding House. But while he planned to shed the trappings of wealth along with his business suit, he is taken aback by the humble surroundings, including the down-to-earth housemates for whom his status means nothing. Nonetheless, as Richard is forced to turn inward, he is also drawn into local life and discovers simple pleasures—including an unexpected new friendship and a promising new relationship.
Behind the scenes is Fannie Johnson, shepherding her unlikely flock—two of whom just may surprise her. For in a community where character is everything, Jolene and Richard must struggle to find themselves at last.
Comments
No comments posted.

Registered users may leave comments.
Log in or register now!