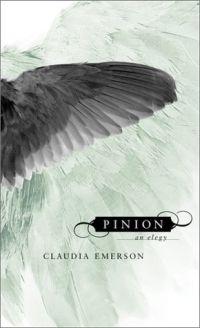 Purchase
An Elegy
Southern Messenger Poets
Louisiana State University Press
February 2002
55 pages
ISBN: 0807127655
Trade Size
$16.95
Add to Wish List

In this eloquent long poem, Claudia Emerson employs the voices of two family members on a small southern farm to examine the universal complexities of place, generation, memory, and identity. Alternating between the voices of Preacher and Sister, Pinion is narrated by the younger, surviving sister Rose, in whose memory the now-gone family and farm vividly live on.
Sister tells of her observances in day-to-day life in the 1920s and her struggle to take care of her father, grown brothers, and Rose-"the change of-life-baby"-after the death of her mother: "The hens had hidden their heads beneath / their wings; they blinded themselves as I dusted / the kneading bowl with flour sifted fine as silk, and so / I disappeared as I sank my fists into it." Preacher feels keenly the burden of running the farm and fears being the last one to live on the place: "I was held fast there, pinioned, not / dying, growing numb and light, wait-crazed / and finally calm." Both wrestle with a desire for independence and the duty to home they are bound to by birth; neither marries or leaves.
Pinion is ultimately a wrenching elegy that Rose creates. She is the one who escaped, only to realize, "I survive them all, but I find I have become the house they keep."
Media Buzz
NewsHour with Jim Lehrer - May 4, 2006

Comments
No comments posted.

Registered users may leave comments.
Log in or register now!