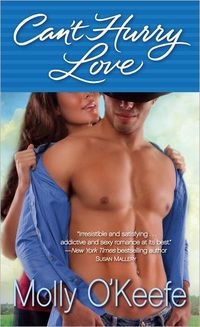 Purchase
Loveswept
August 2012
On Sale: July 31, 2012
384 pages
ISBN: 0345525612
EAN: 9780345525611
Kindle: B006411WM4
Paperback / e-Book
$7.99
Add to Wish List

From award-winning author Molly O'Keefe comes a wonderfully written contemporary romance about second chances at life and at love.

Victoria Baker, the penniless widow of a disgraced financier, is ready to stand up, be counted, and make a new life for herself and her beloved son in Texas. She's taking over Crooked Creek ranch, her birthright, and turning it into something special. All that stands in her way is Eli Turnbull, a rugged, too-handsome cowboy who wants the land just as badly.

If Victoria wants a fight, Eli will give her one. He's devoted his life to Crooked Creek, and he's not about to let some pampered city girl—even one as brave and beautiful as Victoria—turn it into some silly spa. But Victoria's and Eli's burning anger and frustration only fuel heat of another kind: uncontrollable passion. And soon they each realize that the person standing in their way is the one they can never do without.
Comments
16 comments posted.
Re: Can't Hurry Love

I like my heroes of all ages. I will admit that I have
always liked the salt and pepper look though. It comes with
experience and knowing what you want out of life. I still to
this day love George Clooney the ultimate silver fox! My
husband is almost 30 a little younger than me and is going
grey, and I love it. I have the best of both worlds :) Love
your books looking forward to buying Can't Hurry Love soon!
(Brandy Bosquez 12:34pm August 1, 2012)
Now that I'm getting older, I like them in their late 30's early forties. james Garner is an example of a guy who was great looking when he was younger, but even better with some age on him.
(Anne Muller 2:20pm August 1, 2012)
I guess since my hero (hubby of 45 yrs) is older than me (7 1/2 yrs) I prefer older men. Even as a teenager my screen idol was Jeff Chandler because of his gray hair. Now my husband has gray hair & is even sexier than ever.
(Pat Moore 2:26pm August 1, 2012)
Very cleverly done, mentioning patrick dempsey as a handsome older man. which I am so with you. He looks infinitely sexier now than he did in (as I said, very clever!) Cant Buy Me Love. The other guys too. Including Doogie. He does look so much better now. I love when that happens! haha Enjoyed reading. Cute post!
(Lisa Hutson 6:43pm August 1, 2012)
Remember seeing George Clooney on the Facts of Life and E/R, a series starring Elliot Gould. He's definitely improved with age!
(Mary Chin 8:10pm August 1, 2012)
I haven't really had a chance to stop and think about the age of my heroes, but now that I have, I think that I prefer the older ones. I don't know if it's the fact that I'm getting older myself, but I think that the older ones are more grounded, and know what they want not only out of life, but out of their women!! They are more polite, gentle to a degree, helpful, and can be just the opposite at times, but not out of disrespect. I think you know what I mean here. They are just more well-rounded, and more of a joy to be around. Even their humor is worth listening to. It isn't as crass. Yes, they might have a couple of wrinkles around their eyes, but you can read so much about them by looking into those twinkling eyes of theirs!!
(Peggy Roberson 9:35pm August 1, 2012)
it doesn't much matter ... depends on the guy ... sean connery
will always be sexy, right? in real life i almost always date
older, when i've dated younger men it never worked out
(Caroline Godin 11:53pm August 1, 2012)
Hugh Jackman is one guy that just gets even yummier as he ages. (Could
be all that body-building he does now for his Wolverine role, but still!)
Thanks for the chance to win- the book looks great!
(Debbie Burdeen 3:37pm August 2, 2012)
Age doesn't matter to me. I like them old and I like them young.
(Rita Wray 5:13pm August 2, 2012)
Wow! Thanks everyone for commenting! The fact is that some men look better with a little grey, a few more wrinkles. I like my husband's looks more now than I did when he was 25.

Sean Connery, George Clooney, Indiana Jones (why is his name escaping me) Clint Eastwood - all good looking older men. Paul Newman...we could on all day, couldn't we!
(Molly Fader 5:30pm August 2, 2012)
oh, you know looking at those pictures again, I don't like the one of Jon Hamm as much as I originally did - he looks too angry - what do you think?
(Molly Fader 5:31pm August 2, 2012)
Age doesn't matter---maturity does and that usually comes with age.
(Sue Farrell 5:33pm August 2, 2012)
Yum-Yum! I love the older men portrayed on TV and in movies. They are so
solid and sexy. Could this be that I am "a bit" of the older generation and
having been married to my wonderful husband for nearly 46 years, I still find
him very sexy!!

As for Jon Hamm, I think his particular scowl is meant to be more of a turn-on
that turn-off!! He's delicious! :-)
(Connie Fischer 6:09pm August 2, 2012)
In my late teens and early to mid-20's I liked younger men but now that I'm aging (gracefully I hope) I like men with a little more experience and edge to them. Who wouldn't love to tangle with Hugh Jackman, Michael Fassbender, Daniel Craig, Kevin McKidd or Vin Diesel? (that voice, oh that voice)
(Dana Wong 9:25pm August 2, 2012)
I think it depends on the life stage that the characters are going through. There is the famous coming of age novel, there is the getting established in a career path situation, the middle aged situation, and rarely but occasionally the senior life stage.
The best way to work in senior people and their heroes is to work them around other people in the community as we do not expect them to carry the story at a greater age. Young heroes, sure, they are learning as much as doing so they can carry the story. Middle life heroes can carry the story but we don't expect the heroine to be any less feisty at that age.
(Clare O'Beara 6:00am August 3, 2012)
Since I haven't ever seen any of the show you listed (but do like the photos of both gentlemen!), I'll add a couple of names of my own.

Alan Alda in anything (but if he could get rid of those round glasses he wears nowadays?).

On the Food Network: Geoffrey Zakarian, a judge on "Chopped" and an "Iron Chef". Even if he doesn't have a knife in his hand, he's sexy! AND has a wicked sense of humour!!

Also on the Food Network: Alton Brown, host of "Iron Chef" and a judge/mentor on "The Next Food Network Star", and former host of "Good Eats." That man has a twinkle in those eyes, and the humour to go with it!

Later,

Lynn
(Lynn Rettig 1:30pm August 4, 2012)
Registered users may leave comments.
Log in or register now!