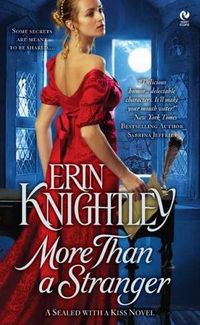 Purchase
Sealed with a Kiss #1
Signet
June 2012
On Sale: June 5, 2012
Featuring: Lady Evelyn Moore; Benedict Hastings
336 pages
ISBN: 0451237714
EAN: 9780451237712
Kindle: B0073XV358
Paperback / e-Book
$7.99
Add to Wish List

When his family abandoned him at Eton, Benedict Hastings found an unexpected ally in his best friend's sister. Her letters kept him going—until the day he had to leave everything behind. Years later, Benedict has seen his share of betrayal, but when treachery hits close to home, he turns to his old friend for safe haven….
After five torturous years on the marriage circuit, Lady Evelyn Moore is finally free to live her life as she wishes. So when her brother shows up with a dashing stranger, she finds herself torn between her dreams...and newfound desires. Despite his determination to keep Evie at a distance, Benedict cannot deny the attraction that began with a secret correspondence. Yet as they begin to discover one another, the dangers of Benedict's world find them, threatening their lives, their love, and everything they thought they could never have…
Sealed with a Kiss
Comments
42 comments posted.
YES!!! YES, you should go! :)
Sadly, I haven't been. Wish I could go. It's on my bucket
list, actually :)
If you can go, please do.
Also, Gerard Butler is always the first guy that comes to my
mind whenever somebody mentions a Scotsman. He's SO yummy.
You're so lucky you've met him. (am a little jealous)
(Monica Restivo 4:01am June 2, 2012)
Go--just the accent alone would be worth it. I'll date myself by saying Sean Connery and his Scots burr still thrills me but you get the idea, right?
(Dolores Feagin 8:26am June 2, 2012)
Definitely go. Unfortunely I haven't been off the contintent however I would love to go to Scotland and England. I have fallen in love both after I started reading historical romances.
Gerard Bulter is yummy. I remember him most in the 300 wearing a little more than a loin cloth. I am a huge Highlander fan so I think of Adrian Paul first when it imagining a Scotish warrior.
(Ora Amis 8:39am June 2, 2012)
I would tell you to go. If you gave up this chance, it would bother you the rest of your life. It's always the might have been that eats away at you as time goes by. Even if you suffer disappointment, which I'm sure you won't, it will give you added material for future books!! If I could get a signed bookmark or two from you, I would absolutely love it!! I would also love to read your book!! The cover has a classiness to it all in itself. If you do go, have a safe and wonderful trip!! I can't wait to hear about it, since I'll never have the opportunity to even leave the state I live in.
(Peggy Roberson 9:22am June 2, 2012)
Yes of course you should go! My husband is Scottish and I can assure you that we fall for the accent on my side of the Atlantic as well! Go in summer only. Very important! We have travelled to Scotland many times and maybe the best for tourism and visiting the old-style version of Scotland is to see Edinburgh. During late summer the Festival is on with the rousing Military Tattoo at the Castle. If you can possibly travel during that month and see the Tattoo, do. Unfortunately that is also the dearest month to stay in Edinburgh, of course. Aberdeen is lovely too, a city made of silver granite with a history of fishing and oil at sea. But all that oil has also made it pricey to stay there. After that, the romantic view of Scotland would lead you to the Highlands, via Stirling which has a castle and is so beautiful. Glasgow, the more industrial and shipbuilding city, was once the second city of the British Empire. Glasgow and Edinburgh are only an hour apart by train, on opposite coastlines. While in that neck of the woods, why not see Ireland too? Dublin is a 45 minute flight from Glasgow. We'd love you to visit.
(Clare O'Beara 10:11am June 2, 2012)
I would love one or two bookmarks but you may not wish to post to Ireland. If you want my details I'm at silvertrees@eircom.net
Thanks for thinking of us all!
(Clare O'Beara 10:14am June 2, 2012)
Go!!!!!!!!!! If I had the opportunity I would definitely go!! To actually experience
the cultures of your books would be awesome. You can picture everything you
experienced and encountered while writing your novels. So, I say go for it!!!
(Debbie Keeton 10:17am June 2, 2012)
I would definetly go if given the oppurtunity! Who knew so much research went into it! I mean now that you mention it it makes sense but HUH!!! Never been out of the US except a quick drive into Canada once!! So I'd go!!:)
Shannon Johnson
shannonjean14(at)gmail(dot)com
(Shannon Johnson 10:24am June 2, 2012)
No brainer - you have to go! Then when I finally get there, you can tell me all about it. Besides, it's for business all that fun, uh, research has to be done!
(Donna Steele 10:30am June 2, 2012)
I think you should definitely go. I always enjoy books about
Scotland or Ireland I think my ancestors came from there. I
would love to go on a trip like that. I will settle for some
bookmarks one of each kind you have. Thank you You can contact
me at greenorchid@att.net
(Carol Bowen 10:31am June 2, 2012)
I think you should go, what better way to get the feel of your stories than to actually go a be a part of the country and if you do not like what you see and feel, you can always change to another country! I hope I win but I know I have, please send me some of your free bookmarks, you may contact me at shopper477@yahoo.com. Good Luck and have a great trip!
(Ann Thaxton 10:40am June 2, 2012)
LOL - so I'm sensing a trend, here ;) So I suppose I should go, and if they don't *look* like I hope they would, I just need to close my eyes and listen to that sexy accent. I'm thinking this could work!
(Erin Knightley 10:51am June 2, 2012)
Go Go Go Definitely---It would be a wonderful experience.
farrell@crosslake.net
(Sue Farrell 10:55am June 2, 2012)
Yes, you should go. I spend a month during college studying in England and Ireland, but we never went to Scotland. Not enough free time to make the trip. WOuld love to see it. Do you need a traveling companion? suepete12(at)yahoo(dot)com
(Sue Peterson 10:56am June 2, 2012)
PS - I'll be shipping bookmarks after the drawing, just in case you win :) That way I only need to ship once. Thanks everyone for all the great comments!
(Erin Knightley 10:57am June 2, 2012)
Erin you should go. If I had a chance to go I so would. Will you get another
chance to go? Who cares if the Scotsman don't look like your imagination,
but the area is suppose to beautiful. That's why you should go.
(Melody May 11:04am June 2, 2012)
If you get a chance, of course you should go. It'll add a
whole new dimension to your story and you never know what
*new* ideas might be spurred.
(Elyse Mady 11:32am June 2, 2012)
I would go if I were you just to see a castle and hear those amazing accents! bradford93@msn.com
(Renee Pajda 11:39am June 2, 2012)
You should definitely go. It's on my dream list.
I'm looking forward to reading your book. It sounds great. And I would love to
have a couple of signed bookmarks!

jarlynn [at] gmail [dot] com
(Cory Williams 12:11pm June 2, 2012)
I say go. Isn't it always said that it's the things that you
don't do that you always regret. Surely, there will be some
lovely surprises for you :)
(Jeanne Sheats 12:43pm June 2, 2012)
By all means go without regrets and see how it adds up outside your mind. See for yourself and show others the vision coming to life in all dimensions, moods, scenes and colors. Happy travels to you.
(Alyson Widen 2:58pm June 2, 2012)
How could you possibly pass up the chance for so such an amazing trip? Go go go go :) Have an amazing time an explore. I think maybe try to veer away from super touristy spots though. Go places that locals suggest or stay in the countryside away from major cities if you can. You may not see all the strapping men you picture but the scenery should more then make up for it, and you'll be able to hear about its history from it's people and be able to better picture what it was like. And if you are lucky enough to run in to Gerard Butleresque men in kilts....take pics and share lol
oooo also see if you can figure out when they might have certain celebrations or festivals. You might find people celebrating the old ways and wearing traditional garb and whatnot.
Hope you go and have an amazing time

sharocks13@yahoo.com
(Sharon D 3:24pm June 2, 2012)
go--itwould be a wonderful trip and experience...I knew a true Scott growing up and he was hot! Thye might not be, but you're the storyteller and he can be anything you imagine him to be!
(Denise Holcomb 3:56pm June 2, 2012)
**true Scot**, sorry, I'm used to typing my husband's name and put in an extra "t"...and ignore the other typos--forgot to proof
(Denise Holcomb 3:59pm June 2, 2012)
I honestly thing you should absolutely GO GO GO!!!! Scotland is one of the places on my list that I would really love to see. Although imagination can go a long way, it would be really amazing to have that personal experience to enhance your imagination and give it that special touch.
(Lori Georgeff 4:07pm June 2, 2012)
Newsflash: If you don't go, you'll be kicking yourself forever for not doing so!!

Especially go to the Highlands and the Western Islands, both the Inner and Outer Hebrides. That is some of the absolutely most beautiful country on this planet. I would go back in a flash if I could afford it!!

And you'll also find more kilts in the islands than anywhere else in Scotland. Not to mention fantastic single malts!

Later,

Lynn
lwrettig@uwalumni.com
(Lynn Rettig 4:41pm June 2, 2012)
sounds like a definate dilema ;) I say go & just remember that the part of the country you didn't see includes tons of strapping young men with killer legs in kilts and melt you where you stand lilts and brow lifts (of course that's the part I'll be visiting -- if only in my dreams) ;)
(d Kenney 7:27pm June 2, 2012)
oops, forgot my email -- dknybutinva (at) aol (dot) com :)
(d Kenney 7:29pm June 2, 2012)
Definitely go. You will feel so "at home" if you go and inspiration will hit you. I've been to Ireland twice and Scotland once and want to go back! No other place draws me like these two places.
I'd love book marks and your new book! :D
molly_wilsbacher at wowway.com
(MaryAnne Banks 9:52pm June 2, 2012)
You guys are cracking me up! I love all the responses, and the tips too. I'm actually considering taking a solo trip like my author friend Katharine Ashe did so I can concentrate on writing while there, steeped in the flavor of the place. Not sure about how hubby will feel about that though ;)

Thanks for all the great responses! If you requested a bookmark, I'll be sending after June 15. That way, if you win a prize too, I'll only need to ship once.

Cheers!
(Erin Knightley 11:02pm June 2, 2012)
Go! I'm sure it is beautiful, although I doubt the kilts are an everyday thing! Good luck!
(Sharlene Wegner 11:17pm June 2, 2012)
I Say Go enjoy the trip, and still let your imagination run free......
(Joy Gifford 11:55pm June 2, 2012)
Go! And if the all the men don't live up to your imagination, just look at the ones that do!!! :) I am with the others who have said you will regret it if you don't. I haven't been there, but it's one of the places I would go if I had unlimited funds and time. :) pmettert at yahoo dot com
(Penny Mettert 6:15am June 3, 2012)
You guys are cracking me up! I have to admit, it may just be too good of an opportunity to pass up. I'm loving all the tips and advice on here! Perhaps I'll go solo like my author friend Katharine Ashe so that I can write while soaking up the glory of the place. Although, hubby may have something to say about that ;)
Thanks to all of you for chiming in!
(Erin Knightley 10:49am June 3, 2012)
Oh yes, please go! Things will never add up in some areas of our imaginations, but I bet some will exceed in other areas! I have not been, desperately want to, but the money part stands in my way.
(Debra Simning-Chapman 1:14pm June 3, 2012)
Thank you for your post and giveaway, Erin. I say you should stay put, for two reasons.

1. You're writing fiction, not a travel guide. You can and should write about the Scotland, and Scotsmen, of your imagination. That's what the readers pay for. It's the Scotland of their imaginations too. If they want information on the real country and its people, they know where to get it.

2. That segues into my second point. If you need info about the setting of your novel, you know where to get it. You don't have to go there physically. In other words, thank goodness for Google!

Good luck with the release of "More Than a Stranger"!

maryannelanders@centurytel.net
(Mary Anne Landers 1:27pm June 3, 2012)
I have never been to Scotland, but I am intrigued by what I have read about the country; and I, too, first think of bagpipes and kilts. Romance books don't have to been too down-to-earth. I would fantacize about the country.
(Marilyn Nowlin 1:50am June 4, 2012)
I have been to Scotland, but that was in 1971, if I remember correctly. So anybody I met there would probably no longer be your image of a Scotsman, not even the great guys I saw at the Tattoo in front of Edinburgh Castle. That was one of my most memorable experiences. Having been in Scotland at least once is what I have in common with my brother-in-law, apart from our love for my little sister, and, oh yes, they are Stewarts. But seriously, going to Scotland was one of my main objects while I lived in Europe. My mother had told me about her fabulous experiences there when she lived 6 months with various members of a family in 1937, perfecting her English.
(Sigrun Schulz 2:45am June 4, 2012)
I've never been to Scotland, but if you go, you should try a multi-country touring vacation. How many times will you get to Europe, so check out England, too. penfield716(AT)yahoo(DOT)com
(Kim C 1:21pm June 5, 2012)
Book research is a great 'excuse' to go! I've been once many
years a go & would love to go back. But I don't think they
would be drinking Jim Beam - that's an American Bourbon. So
on your visit to Scotland be sure to visit some distilleries.
sallans d at yahoo dot com
(Diane Sallans 3:07pm June 5, 2012)
GOOOOO! My high school had a sister school in Scotland. Every other year a group of students could go. I went my last year of school and it was amazing! As a teenager I was in awe of the scenic beauty (it is everywhere). No matter where you are, you can feel the history! That trip was 10 years ago, but I can close my eyes and still go back to the shores of Loch Lomond or the Callanish standing stones. I cannot find the words to do it justice.
(Jessica Whitfield 9:48pm June 14, 2012)
Great blog, I think you should go.
I'm looking forward to reading your new book!
Penney
penneyw at sbcglobal dot net
(Penney Wilfort 3:39pm June 15, 2012)
Registered users may leave comments.
Log in or register now!