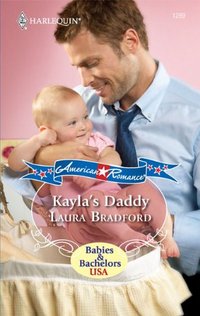 Purchase
Harlequin American Romance
January 2010
On Sale: January 12, 2010
Featuring: Phoebe Jennings
224 pages
ISBN: 0373752938
EAN: 9780373752935
Mass Market Paperback
$4.99
Add to Wish List

t came to her by mistake. Now Phoebe Jennings is driving clear across town to deliver it to its proper owner. Only, someone please tell her how on earth tall, blond and gorgeous bachelor Tate Williams could possibly be the recipient of a forty-year-old love letter?

It isn't every day a beautiful woman shows up on Tate's doorstep with a baby in tow. His Ohio hometown is already captivated by the generous-hearted artist and single mother. And Phoebe's also full of ideas about reuniting the successful architect with his estranged father, who never forgot his first love.

A letter that never reached its destination. A man who wants to heal the past. A woman ready to renew her faith in love. Plus an irresistible baby girl who just might help bring a decades-old love full circle…
Comments
14 comments posted.
Re: Kayla's Daddy

Outstanding blog, Laura! You're a fabulous writer, whether it be romance or mystery! I'm proud to be your friend!
(Sharon Galligar Chance 1:50am February 18, 2010)
I found the idea of a newscast giving you and idea for a book interesting. So often authors are asked where they get their ideas. Your experience proves they get them in just all sorts of unexpected ways.
(Gladys Paradowski 4:47am February 18, 2010)
I dearly love books with humor included and it sounds like I would find it here. It is true: Laughter is the best medicine!
(Gladys Paradowski 4:59am February 18, 2010)
What a fabulous premise for a story! And while it's a romance, I think you're still exploring the greatest mystery of all time--how two hearts, and two lives, become one.
(Joe Richardson 9:09am February 18, 2010)
Laura, I think it is pretty awesome that you ventured into an uncharted territory and came out not just on top but with lots of stars! :-)
(Nikki Bonanni 10:38am February 18, 2010)
I often talk about "the book that wants to be written." And when it wants out, there ain't nothing you can do but let it.

Great news!
(Jd Rhoades 11:51am February 18, 2010)
I enjoy hearing where ideas come from. Sometimes a conversation overheard is enough to set the mind racing and stewing.
(Alyson Widen 1:45pm February 18, 2010)
I guess you have to listen to the voices in
your head. If a book needs to be written,
you'd better do it. Sounds like it will be a
good series.
(Patricia Barraclough 9:06pm February 18, 2010)
See there, just cause you hear
voices in your head-it's not
always a sign you're crazy.
(Lisa Richards 12:59pm February 19, 2010)
I'm hooked!!
(Robin McKay 5:28pm February 19, 2010)
The letter would have stuck in my head too.
(Mary Preston 6:13pm February 19, 2010)
I loved the letter!
(Brenda Rupp 8:48pm February 19, 2010)
I guess this was good luck for us romance aficionados. I don't mind some suspense in my books, but, uh, bludgeonings, slashings, etc. are definitely not on my list of favorite things. My heart or my stomach is too tender. (grin)
(Sigrun Schulz 9:50pm February 19, 2010)
Romance can be in murder stories and murder can find its way into romance. A good author is a good author! :>)
(Karin Tillotson 12:13pm February 20, 2010)
Registered users may leave comments.
Log in or register now!