Jaymie Holland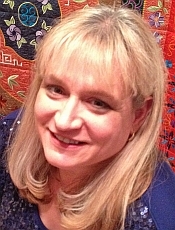 Pseudonym: Cheyenne McCray.

Jaymie Holland is the romantic erotica alter-ego of New York Times and USA Today bestselling author Cheyenne McCray. Jaymie's work should always be handled with oven mitts!
Chey has three sons, two dogs, and is an Arizona native who loves the desert, the sunshine, and the beautiful sunsets. Visit Chey's website and meet up with her at Cheyenne McCray's Place on Facebook!
Series
Books:
Kept By Seduction, August 2012
Paperback
Bound by Desire, March 2012
Wonderland: King of Diamonds
Trade Size
Claimed By Pleasure, November 2011
Paperback
Claimed, October 2011
The Auction
e-Book
Taken, October 2011
The Auction
e-Book
Sold, September 2011
The Auction
e-Book
Bought, September 2011
The Auction
e-Book
Playing Rough, August 2011
Taboo
e-Book
Taken By Passion, August 2011
Paperback
Taboo Desires, June 2011
e-Book
Alluring Stranger, May 2011
Taboo
e-Book
Losing Control, May 2011
Taboo
e-Book
Come to Me, April 2011
e-Book (reprint)
Taking it Home, April 2011
Taboo
e-Book
The Touch, March 2011
e-Book