Alan Pisarski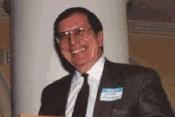 For almost 40 years Alan E. Pisarski has been involved in the national transportation policy scene, from vantage points at the original Tri-State Transportation Commission in New York, the Metropolitan Washington COG, the Office of the Secretary, U.S. DOT, or in a personal consulting capacity. In his work he has measured the transportation activities of our nation from the metropolitan, state, national and international levels. In the U.S. DOT he organized the major travel surveys of the nation and designed and managed the U.S. transportation statistical system under the Assistant Secretary for Policy, establishing programs that are still the basis of much of the U.S. transportation statistical system today. He has benefited greatly throughout his career from having had the privilege of working with many of the best people in the profession.
As a consultant in transportation public policy, travel behavior analysis and statistics his clients include all of the major transportation associations, most of the countries statistical agencies, including the new Bureau of Transportation Statistics. Outside the U.S. his clients have included the World Bank, AID, The European Tourism Commission and the World Tourism Organization. He has conducted seminars in travel and tourism around the world for more than 100 countries; and is the author of an international standard classification of tourism activities promulgated by the UN.
His work related to transportation, particularly commuting and travel behavior, has been reviewed, discussed and quoted in all of the major national news magazines, and newspapers, appearing often on major national radio and television network programs, including "Good Morning America," ABC Nightly News," "Nightline," and "20/20," discussing national transportation topics, and recently served as content advisor to a three hour NPR public television series on transportation. His works have been translated into at least eight languages. He is perhaps best known for his major studies of American commuting patterns produced for a consortium of public interest groups, entitled "Commuting in America" and Commuting in America II."
Mr. Pisarski's TRB participation spans 30 years, having chaired four Committees and served on two others. He presently serves as Chair of the Committee on National Transportation Data Requirements and Programs, and the Committee on Transportation History, and is the past chair of the Group 5 Council. He also serves on the Editorial Boards of the Journal of Transportation and Statistics, of the Bureau of Transportation Statistics, and of Transportation Quarterly of the Eno Transportation Foundation. Internationally, he has represented the U.S on the United Nation's Group of Experts in Transport Statistics and served on the UN's Expert Group in Statistical Classification Systems. He has degrees in Economics and Sociology and is a resident of Lake Barcroft Virginia.
Series
Books:
Commuting in America II, June 1996
Trade Size