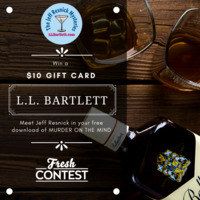 New York Times bestselling suspense author L. L. Barlett would like to introduce you to her Jeff Resnick series by offering a $10 Amazon gift card for April. The first book in her series, MURDER ON THE MIND, is to die for and best of all free for all in e-Book format! Enter now below!

The Jeff Resnick Mysteries, set in Buffalo, New York, feature a down-on-his luck former insurance investigator who, after a vicious mugging in Manhattan, is able to sense things others can't.

Soon after returning to Buffalo to reconnect with his half-brother Richard, and his wife Brenda, this heightened awareness leads him to vicious crimes that have yet to be solved.

Often reluctant at first, but then driven to know what is haunting him, Jeff will even enlist Richard to assist him in bringing the guilty to justice.

Enjoy the first in the series, MURDER ON THE MIND, free on Kindle, nook, iBooks, and Kobo!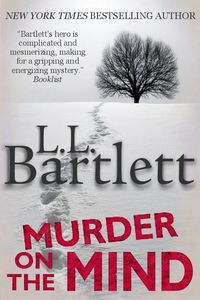 After a brutal mugging in Manhattan leaves him with a broken arm and fractured skull, insurance investigator Jeff Resnick reluctantly agrees to recover at the home of his estranged half brother, Richard. At first, Jeff believes his graphic nightmares of a slaughtered buck are just the workings of his traumatized mind. But when a local banker is found in the same condition, Jeff believes the attack has left him with a sixth sense--an ability to witness murder before it happens. Piecing together clues he saw in his visions, Jeff attempts to solve the crime.

His brother Richard is skeptical, but unsettling developments begin to forge a tentative bond. Soon, things that couldn't be explained by premonition come to light, and Jeff finds himself probing into dangerous secrets that touch his own traumatic past in wintry Buffalo--and the killer is ready to eliminate Jeff's visions permanently.
Mystery [e-Book, ISBN: 9781456555450 / ]
Contest ends: April 30, 2018