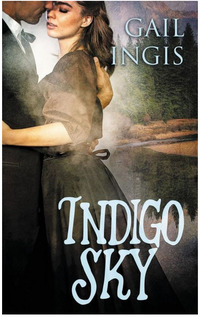 Historical romance writer Gail Ingis offers a FREE historical romance e-book, INDIGO SKY, to one very lucky reader. You'll be able to grab a glass of iced tea and settle down with this great read. Enter now!
In a whirlwind romance, a lovely New York socialite marries a fêted, debonair author. But beneath the charm is a cheating husband addicted to hasheesh. Her dream marriage turns sour and the simplicity of her life runs amok when a handsome stranger, her husband's business partner, threatens her staunch loyalty to her wayward husband.
When she faces the ugly truth about her marriage, her need to finalize her divorce sends her on mad chase across the wilds of nineteenth century America with a handsome stranger where she learns the hard lessons of murder, kidnapping, and more, that almost destroy her.
Contest ends: March 31, 2018