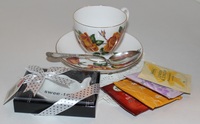 Mystery author Lorraine Bartlett wants to help keep you warm this winter. She's offering one lucky US reader a chance to win a bone china Queen Anne teacup, teabag holder, doily, silver spoon, and a selection of teas. You'll be able to connect with the character, Katie Bonner, in Lorraine's THE BROKEN TEACUP. Katie Bonner has a thing for teacups, and when she receives a broken one in the mail, she's on the trail to find out who sent it and why. To enter, please answer the question below. Entries without an answer will be disqualified.
Life on Victoria Square #3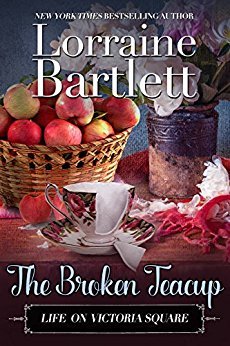 Katie Bonner needs a pick-me-up one cold and gloomy fall day, and the US Mail delivers—literally. A mysterious package arrives at Artisans Alley with her name on it, but the return address is obscured and the treasure inside, a beautiful bone china teacup, is broken. Before Katie can open the accompanying card, she's called away and one of the vendors mistakes the package for trash. Katie makes a quick rescue, but the card is gone. Who sent the cup? What is its significance? Can Katie solve this mini mystery?
Mystery Woman Sleuth | Novella / Short Story Polaris Press, On Sale: September 8, 2017, e- Book
Contest ends: February 28, 2018