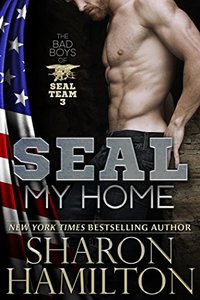 Romance author Sharon Hamilton celebrates the holidays by offering one reader a chance to win SEAL My Home in print, e-book or audio copy. All you have to do is answer her question below. It's as simple as that! Tell her what you think and be eligible to win. International entries are welcome. Entries without an answer will be disqualified.
Bad boy Rory Kennedy was raised in foster care, bouncing in and out of trouble along the way. He finds his true family and real brothers as a Navy SEAL, one of the Navyís elite warriors. When his BUD/S instructor barked the SEALís Motto: Only Easy Day Was Yesterday, he knew he had found home.
Megan Palmer works in a bookstore and finds her passion in life through reading steamy romance novels. Her brief affair with a man she later found out was married has left her damaged, until she meets the handsome SEAL, who stands ready to open her world and give her things sheís only dreamed.
On a skiing trip, Rory suffers a possible career- ending injury and also comes face to face with a past he never knew of, and a family who had abandoned him. His relationship with Megan is tested to the breaking point as Rory wades through the dark waters of recovery and whether or not he can live without the life he loves. A home-grown terrorist cell forces his hand and he discovers his true purpose.
Romance Military Self Published, On Sale: March 31, 2015, Paperback / e-Book, ISBN: 9781508858614 /
Contest ends: December 31, 2017