Beat the heat and stay indoors with a great book and comfy pillow, courtesy of Dragonfury author Coreene Callahan. The lucky winner in this Dog Days of Summer Contest will receive an autographed copy of her just- released novel, FURY OF SURRENDER, and a cool, magic sequin dragon pillow in honor of the authorís sexy dragon shifter heroes. Enter to win!
Dragonfury #6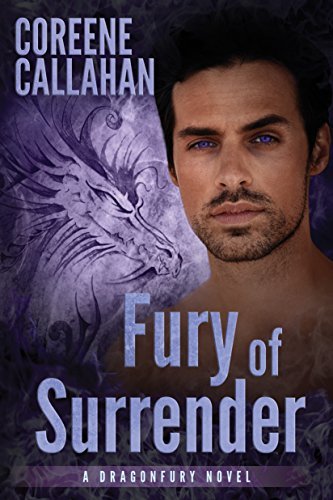 In the sixth installment of Coreene Callahanís bestselling Dragonfury series, a tormented dragon shifter finds solace in the healing powers of a womanóone who needs her own salvation.
Dragon warrior Forge has been sentenced to death by the Dragonkind elite. Recalling the memories of his familyís murders could drive him to the edge of insanity, but itís the only way to remove the target on his back. Fiercely determined to protect his pack and his newborn son, Forge agrees to undergo harrowing treatments to help him remember the trauma buried deep inside his heart and mind. When nothing works, a woman of unprecedented power is brought in to help.
Young, bright, and haunted by her own demons, hypnotherapist Hope Cunningham helps patients recover from their darkest memories. But each time she liberates a wayward soul, Hopeís personal pain digs deeperóuntil one patient ignites an unforgettable passion.
Forgeís healing journey is not without risk. Unwittingly, he has put Hope in the middle of a dangerous war, one that could shatter their eternal bond. Will the curative power of love be enough to save them?
Romance Paranormal Montlake, On Sale: July 11, 2017