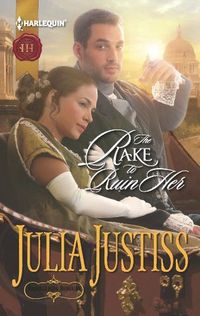 When a lady wants to be ruined, only a rake will do- -a Ransleigh Rogue!
Known as "Magnificent Max," diplomat Max Ransleigh was famed for his lethal charm until a political betrayal left him exiled from government and his reputation in tatters. He seems a very unlikely savior for a well–bred young lady.
Except that Miss Caroline Denby doesn't want to be saved...she wants to be ruined! To Caroline, getting married is tantamount to a death sentence, and meeting the rakish Max at a house party seems the answer to her prayers... Surely this rogue won't hesitate to put his bad reputation to good use?
Romance Historical Harlequin Historical Romance, On Sale: February 19, 2013, Mass Market Paperback / e-Book, ISBN: 9780373297290

A most definitely swoonworthy romance!