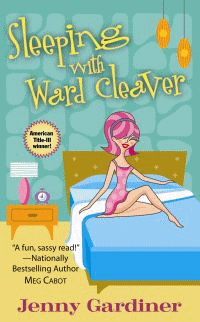 To celebrate the February release of her debut single title and American Title III winner, Sleeping with Ward Cleaver, Jenny Gardiner is giving away a fun, flirty cleaning set. The grand prize winner could wear just the colorful apron and matching gloves to snag her Ward Cleaver's attention, or she could read him her signed copy of Sleeping with Ward Cleaver. Either way, the contest prize could set the stage for a sexy, fun Valentine's celebration. The drawing will take place January 31, 2008.
Sleeping with Ward Cleaver
Pre-Order Now

Wham, bam, no-thank-you, ma'am.
That about sums up the sex life of Claire Doolittle. Once the man of her dreams, husband Jack is now a modern-day version of the bossy, flannel pajama-clad Ward Cleaver of '50s sitcom fame. Gone are their glorious days of flings in elevators and broom closets. They'd once had a world of color, of wonton frivolity. Now, life's black and white: a sitcom in reruns. Cue an old boyfriend-the "one that got away" - throw in a predatory hottie who's set her sights on our leading man, and Claire's life begins to resemble a horror flick more than a sitcom.
In the old TV show, the Beaver always goes for a happy ending. Claire wants one, too, and the fun is watching her go for it!
Be sure to visit www.JennyGardiner.net for a fun excerpt that could set the stage for your Valentine's Day celebration.
Contest ends: January 31, 2008